Percussion Auditions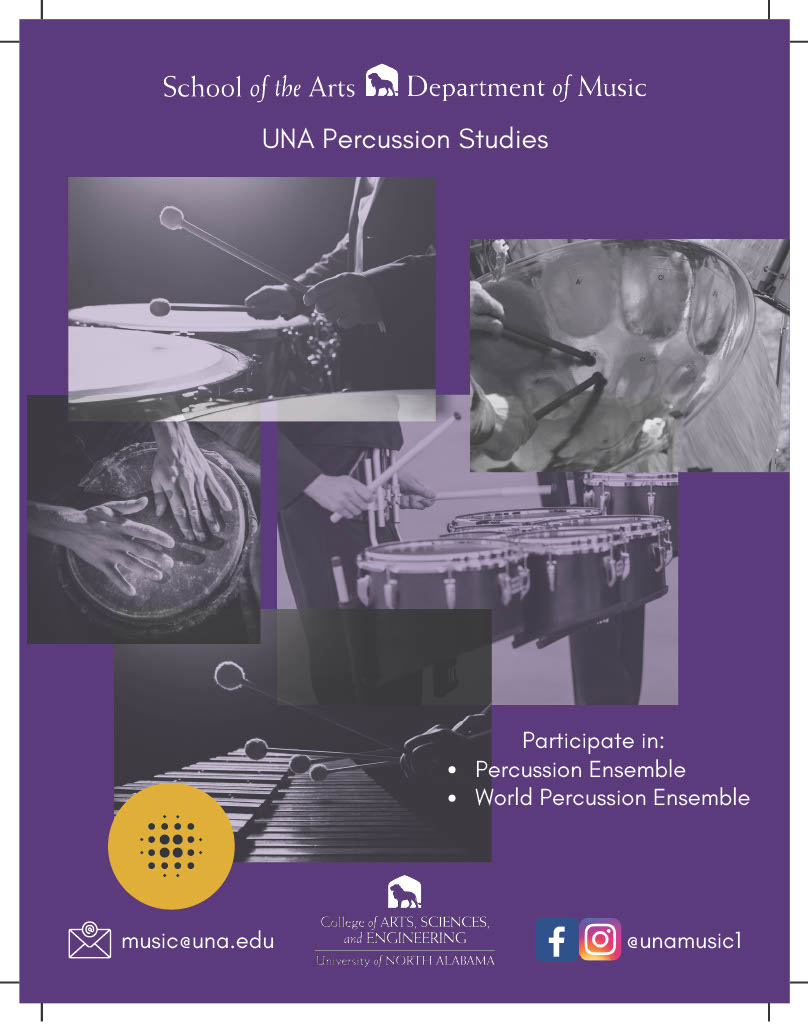 Scholarships can range from $500-5000 per semester. In addition, out-of-state state students scoring high enough on auditions may be eligible to have out-of-state tuition fees waived.
Music Majors with Percussion as the Primary Instrument
Suggested repertoire is as follows:
Snare Drum:
1 rudimental solo - Hurley, Pratt, etc.
1 concert solo or etude - Cirone, Delecluse, Lepak, Firth, etc.
Play a concert style roll which crescendos from piano to fortissimo, and decrescendos back to piano over one minute.
Keyboards:
1 two mallet solo or etude - ragtime solos, all state etudes, etc.
1 four mallet solo (not required, but highly recommended) 
Major scales and arpeggios - 2 octaves 
These can be performed on xylophone, marimba or vibraphone
Drumset (required for all auditioning as majors)
Drumset Etude  
Timpani:
1 solo or etude - Firth, Goodman, Hinger, Beck, etc.
Tuning and pitch matching will be tested.
Keyboard and/or snare drum sight reading will be required of all who audition.
You will also choose one of the below Marching Percussion Options to add to your audition. If auditioning for snare or tenors your rudimental solo can be on snare or tenors for your major audition.
Audition Dates for ALL Percussionists (choose one of the dates below - email twiggins@una.edu ) with which date you prefer)
Preliminary Video Auditions for Marching are due April 3, 2023.
Final Marching Percussion Auditions May 20-21, 2023
Other dates can be arranged with Dr. Wiggins if you cannot make the scheduled dates!
Please apply for admission to the University before coming to audition for the music faculty.
Entertainment Industry Degree with drumset as their instrument of study. 
Prepare a rudimental solo on either snare drum. Be prepared to sight-read as well as perform Paradiddles, Paradiddlediddles, Flam Accent, Open Roll.
STYLES
Demonstrate the following styles with a "play along" CD music track
1) 12 Bar Blues Shuffle (w/ backbeat on 2 & 4)
2) 12 Bar Blues Jazz/Swing Time, Medium Tempo ("Freddie the Freeloader")
3) Bossa Nova.  High Hat, then Ride Cymbal, High Hat on 2 & 4.
 ("Girl from Ipanema", "Blue Bossa")
4) Funk/R&B Groove ("Cold Sweat", James Brown)
5) Afro Cuban Mambo ("Mambo Inn")
6) 6/8 Afro Cuban Bembe ("Footprints")
7) 3 Bars of Funk Groove, 1 Bar Fill
READING
1) Read example IB, IIA from New Breed by Gary Chester
a) on snare drum only
b) with Bass Drum, over 8ths on the high hat
2) Read Syncopation Solo #1 from Ted Reed with swing 8ths over Jazz Ride, High Hat on 2 & 4
If you have any questions or concerns about your repertoire please contact Dr. Wiggins.
Percussion Majors Audition for Marching Band, Non Music Majors Auditioning for Marching Band Only and Music Minors:
Battery - prepare a rudimental solo on either snare drum (snare and bass) or tenors (examples include Rudimental Cookbook, Quad Logic, Violent Ice Cream etc). Be prepared to sight-read as well as perform Paradiddles, Paradiddlediddles, Flam Accent, Open Roll.
Front Ensemble - prepare a solo on a keyboard instrument (4 mallets) (examples include books by Mark Ford, Julie Davila, Nancy Zeltsman, All-State etudes, works by Mitchell Peters etc). Be prepared to play exercises that demonstrate 2 mallet scales and arpeggios, 4 mallet blocked chords, single alternating and lateral strokes, and green scales with inner mallets (vibes - Burton grip, marimba - Stevens grip). Be prepared to sight-read and perform major scales 2 octaves plus arpeggio and a chromatic scale (C-C 3 octaves). Bass guitar and synthesizer perform a solo as well as the 3 adjacent major scales and chromatic scale. You will also be asked to perform a 12 bar blues in the keys of C, F, Bb and Ab. For drumset be prepared to perform: 12 Bar Blues Shuffle (w/ backbeat on 2 & 4), 12 Bar Jazz/Swing Time, Funk/R&B Groove ("Cold Sweat", James Brown), 12/8 Afro Cuban, Samba.
Non Music Majors contact Dr. Wiggins at twiggins@una.edu for more information.
ALL students must also attend the final Drumline Auditions in Late April/May TBD.
Music Major or Music Minor Audition Application
Non- Music Major (just wants to play in band)  Audition Application
Steps for Auditioning at UNA:
1) Apply to UNA
2) Schedule an audition date using the appropriate link above
3) Play your audition as scheduled 
4) Attend Final Drumline Auditions April 25-26