Ensembles
University of North Alabama Marching Band

The University of North Alabama Marching Band is a popular attraction at home football games as well as marching band events throughout the region. This 240-member unit is renowned for its intricate, innovative, and entertaining field performances. Included within the band are the UNA Majorettes, Lionettes dance-line, and Color Guard. Members of the band receive an academic credit and a Band Performance Award. Dr. Lloyd Jones and Dr. Tracy Wiggins direct the marching band.
Wind Symphony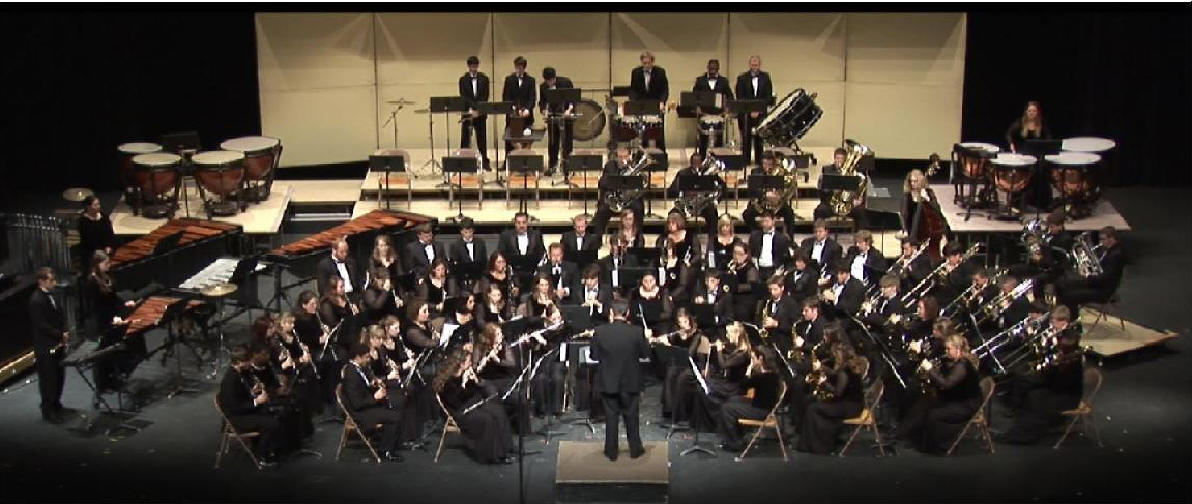 The UNA Wind Ensemble, with approximately 65 members, is the flagship of the University Band program. This auditioned group of students performs both contemporary and traditional wind band/ensemble literature. The Wind Ensemble is conducted by Dr. Lloyd Jones, Director of Bands.
Symphonic Band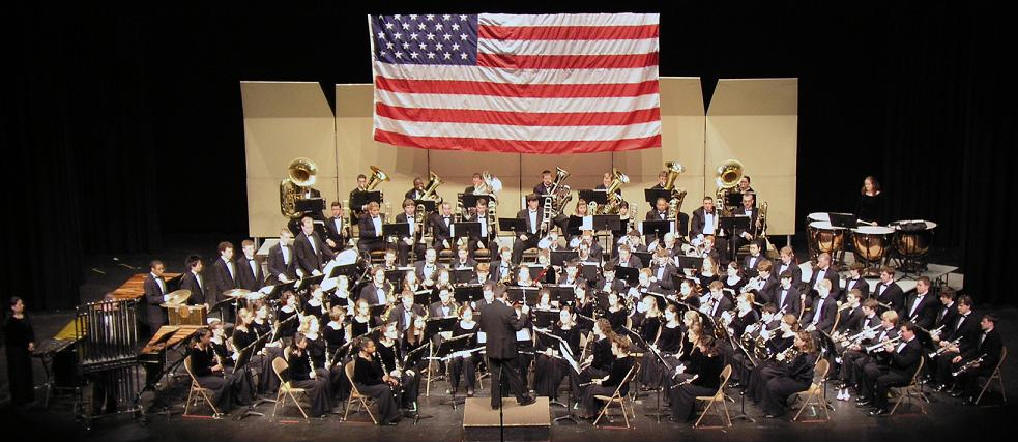 The Symphonic Band includes 125 student musicians and is a popular attraction at the annual spring concert. This band performs transcriptions, patriotic selections, and popular contemporary band literature. The Symphonic Band is conducted by Dr. Lloyd Jones, Director of Bands, and Dr. Tracy Wiggins, Assistant Director.
Studio Jazz Band

The Studio Jazz Band is a multifaceted organization. It consists of a traditional Big Band instrumentation augmented by adding 4 flutes, 5 clarinets, 4 French horns, mallet percussion, and a tuba. The result is an ensemble which is able to explore many more timbres and musical styles than the traditional Big Band. Also, students performing on non-traditional jazz instruments are given the opportunity to learn the skills necessary to play jazz - the American art form. Membership is gained through audition.
Percussion Ensemble
The UNA Percussion Ensemble is conducted by Dr. Tracy Wiggins, Assistant Director of Bands and Instructor of Percussion. Student percussionists perform a wide variety of traditional and contemporary literature in small and large ensemble settings. Students receive class credit for participation in the percussion ensemble.
Jazz Combo
The UNA Jazz Combo is selected from within the band program. This 8-9 member ensemble includes piano, guitar, bass, drum-set, trumpet, trombone, alto sax, tenor sax, and a vocalist. The group performs for campus receptions, recruitment events, civic functions, and various ceremonies. Membership is gained through audition. Dr. Jones and Dr. Wiggins oversee the rehearsing and scheduling of the Jazz Combo.
Pep Band
The UNA Pep Band performs at all men's and women's home basketball games. This energetic and entertaining ensemble provides spirited music for the enjoyment of spectators and athletes. All the members of the Symphonic Band participate in the Pep Band on a rotating schedule.