Music at UNA!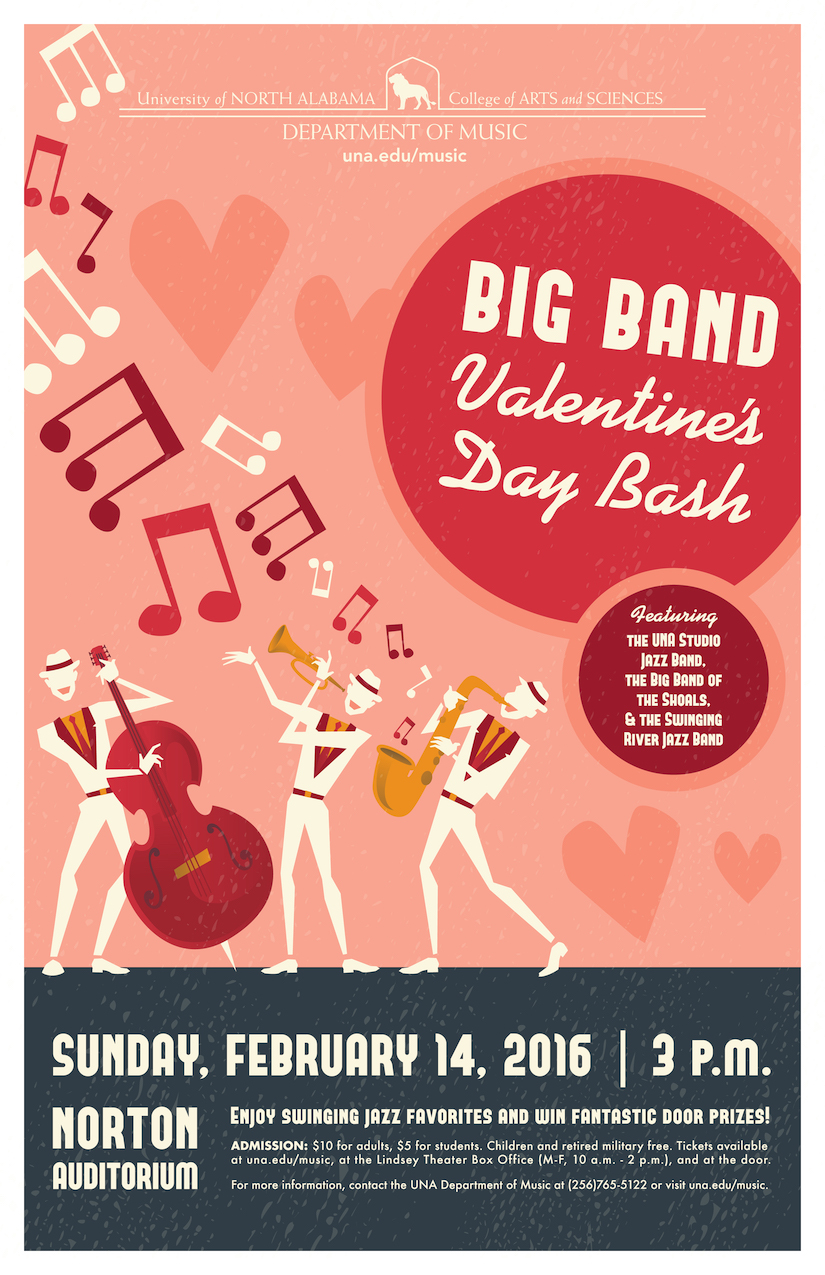 Treat your Valentine to a special date at the Big Band Valentine's Day Bash on Sunday, February 14, at 3 p.m. in Norton Auditorium. This event features the UNA Studio Jazz Band, the Big Band of the Shoals, and the Swinging River Jazz Band playing swinging jazz favorites, and audience members have a chance to win fantastic door prizes, such as a dozen roses, dinners at local restaurants, and more! Admission is $10 for adults, $5 for students, and children (10 and under) and military are free. Tickets are available at una.edu/music, at the Lindsey Theatre Box Office (M-F, 10 a.m.-2 p.m.), or at the door (free tickets not available online).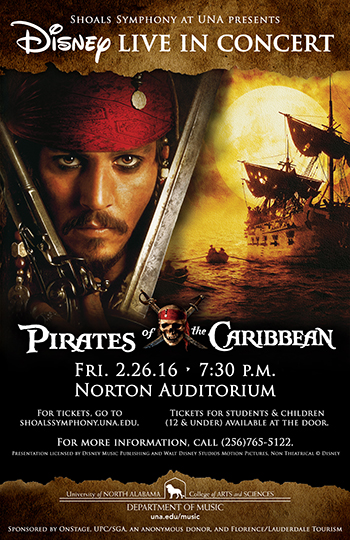 Shoals Symphony at UNA presents Disney LIVE "Pirates of the Caribbean" on Friday, February 26, at 7:30 p.m. in Norton Auditorium. The full-length PG-13 film will be presented on a giant screen on the Norton stage with the symphony orchestra providing the soundtrack LIVE. You won't want to miss this exciting concert experience! Tickets are $15-$25 for adults; students and children 12 and under are $5 at the door. For more information, visit shoalssymphony.una.edu or call (256)765-5122.
Greetings!
As an accredited institutional member of the National Association of Schools of Music, the UNA Department of Music has much to offer--outstanding faculty, exceptional performing ensembles, and quality degree programs,  including the Bachelor of Music in Performance, Bachelor of Science/Arts degree programs in instrumental music and vocal/choral music (general), and programs of study leading to teacher certification in Instrumental Music P-12 and Choral Music P-12 (music education).
Opportunities for performance in music include both large and small ensembles in the University's band, choral, and orchestral ensembles, as well as in piano, guitar, brass, percussion, woodwinds, and opera/musical theatre.  Private study is offered across the full range of applied lessons in voice, piano, band and orchestral instruments, and guitar. 
I encourage you to take some time to look at our web site to see what we have to offer in your particular areas of interest. Should you have questions regarding any aspects of our programs, please don't hesitate to contact the department office at (256) 765-4375.
We hope you will soon be among the many fine students who are preparing for exciting and successful careers through music at UNA!
Dr. David M. McCullough, Chair
Department of Music
dmmccullough@una.edu