The University of North Alabama is an accredited institutional member of the National Association of Schools of Art and Design (NASAD). The Department of Visual Arts and Design offers major programs leading to the Bachelor of Fine Arts (BFA), Bachelor of Arts (BA) and Bachelor of Science (BS) degrees; as well as minors and certificates. Subject programs for the preparation of art teachers are offered as a double major in Art and Education.
The Bachelor of Fine Arts degree program is designed for students with a professional interest in art, and six areas of concentration are offered. The Bachelor of Arts and Bachelor of Science degree programs are designed for students with a personal or academic interest in art. Students in the BA and BS programs may choose to specialize by devoting their general elective hours to course work in one of our concentrations. Bachelor of Art adds to the Bachelor of Science the global enrichment of language training.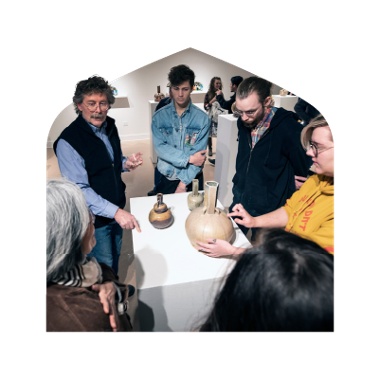 Our art galleries provides a significant contemporary art and cultural asset to the Northwest Alabama community. They offer installations by nationally and regionally recognized artists throughout the academic year in multiple sites. The works in display present a broad spectrum of media, techniques, and artistic and social content, striving to reflect the complexity and diversity of today's contemporary art world.