Interior Architecture and Design, BFA
Good interior design is not a luxury but a necessity. It can help to protect the environment, natural and human resources, and make the world a better place in which to live, work, and play. UNA's Interior Design program provides students with an affordable education in interior design. Our School is an ideal setting where students are actively involved in learning and exploring the current and future roles of the interior design profession within a global society. More particularly, this context challenges our students to critically investigate the diverse roles of interior design and inspires us to explore new avenues of thought and attitudes toward why and how we design human environments.
Focusing on preparing well-rounded design professionals, the interdisciplinary foundation of our undergraduate program educates students to work in interior design and architecture firms. Graduates from our Department are prepared to work with other professionals, including architects and engineers in the design of residential, commercial, and institutional projects.
The interior design programs strike a balance between the theoretical and practical aspects of design. The theoretical component is essential to creative problem solving; the practical component ensures the marketability of the graduate. The interior design curriculum is formulated to provide students with a comprehensive knowledge of theory, history, technology, communication, professional and design skills. There are three basic types of courses within the department: studio courses in interior design; lecture courses in interior design subjects; and lecture courses in the human environmental sciences.
 B. F. A. in Interior Architecture and Design
Visit our Prospective Student Page, for Entrance Requirements and Application Process.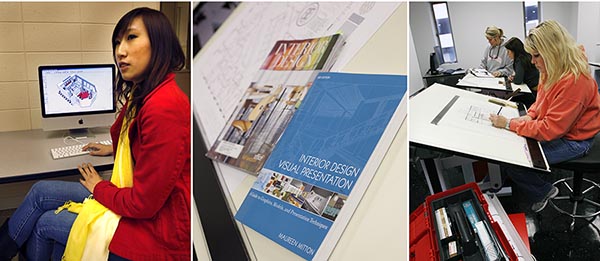 Student Attrition and Retention
78% of students admitted in 2018-2019 returned in 2019-2020, putting attrition at 22%.
Graduation Rate
Of the students graduating in 2020, 80% graduated in 4 years. 20% graduated in 5 years.
Acceptance into Graduate Programs:
33% of students who graduated in 2018-2019 applied for graduate school, and 100% were accepted.
Job Placement Rates:
67% of students who graduated in 2018-2019 are employed in interior design or a related profession.
Our graduates have been employed in a multitude of design positions. Below is a sampling of the locations of employment.
Nashville, TN
Birmingham, AL
Florence, AL
Huntsville, AL
Los Angeles, CA
Hong Kong, China
Tokyo, Japan
Lexington, SC
Chapin, SC
Columbia, SC
Waynesboro, TN
Huntsville, Al
Chattanooga, TN
Muscle Shoals, AL
Hoover, AL
Franklin, TN
Little Rock, AR
Accreditations
Council for Interior Design Accreditation (CIDA)
The interior design program leading to the BFA in Interior Architecture and Design is accredited by the Council for Interior Design Accreditation, www.accredit-id.org, 206 Grandville Avenue, Suite 350, Grand Rapids, MI, 49503.
The CIDA-accredited program prepares students for entry-level interior design practice, for advanced study, and to apply for membership in professional interior design organizations. The BFA in Interior Architecture and Design granted by the University of North Alabama meets the educational requirement for eligibility to sit for the National Council for Interior Design Qualification Examination (NCIDQ Exam). For more information about NCIDQ Exam eligibility visit: https://www.cidq.org/eligibility-requirements.