Request Accommodation Forms
To complete accommodation forms each semester:
As a student who is CURRENTLY registered AND APPROVED accommodations with the DSS Office, you will complete your accommodation request each semester using DSS PORTAL.  You will still need to meet with a DSS Staff member to review the accommodation request and discuss how to provide the information to your faculty.
1. Schedule an appointment to complete/review accommodation forms by either
Calling the office at 256-765-4214 
Using DSS PORTAL
2. Log in to the system at: https://augusta.accessiblelearning.com/UNA/
You will enter your login (email) and password (same login and email you use to login to the UNA portal/banner)
Upon first entering DSS PORTAL, you will be required to complete electronic release forms and acknowledge receipt and review of the Office Procedures. These forms will be completed annually.
3. Upon completing the electronic forms, you should see your registered courses listed for you to select by marking the check box (see example below):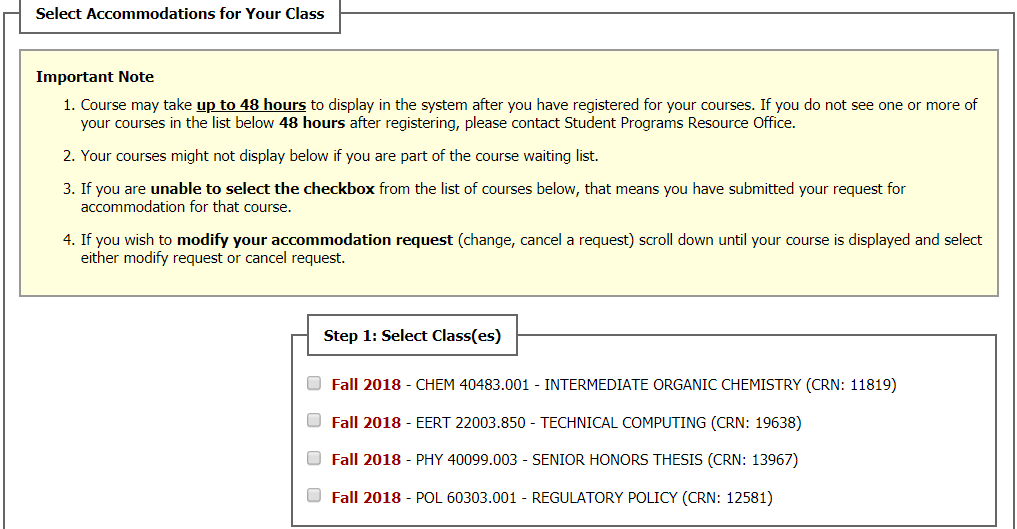 4. Once your courses are checked, you will select the individual accommodation from your approved list, for each of the classes that you selected individually (see example below):
The electronic accommodation forms will be sent to your professors after reviewed during the meeting with DSS Staff.  
The DSS staff is more committed than ever in assisting you whenever necessary, and we are excited about our new system.  Please contact the office immediately if you are not able to access any of the material or have questions at 256-765-4214 or dss@una.edu