Fifty Years Later, UNA's First African-American Student Returns to Campus for Fall Convocations and Desegregation Anniversary Events

Sep. 6, 2013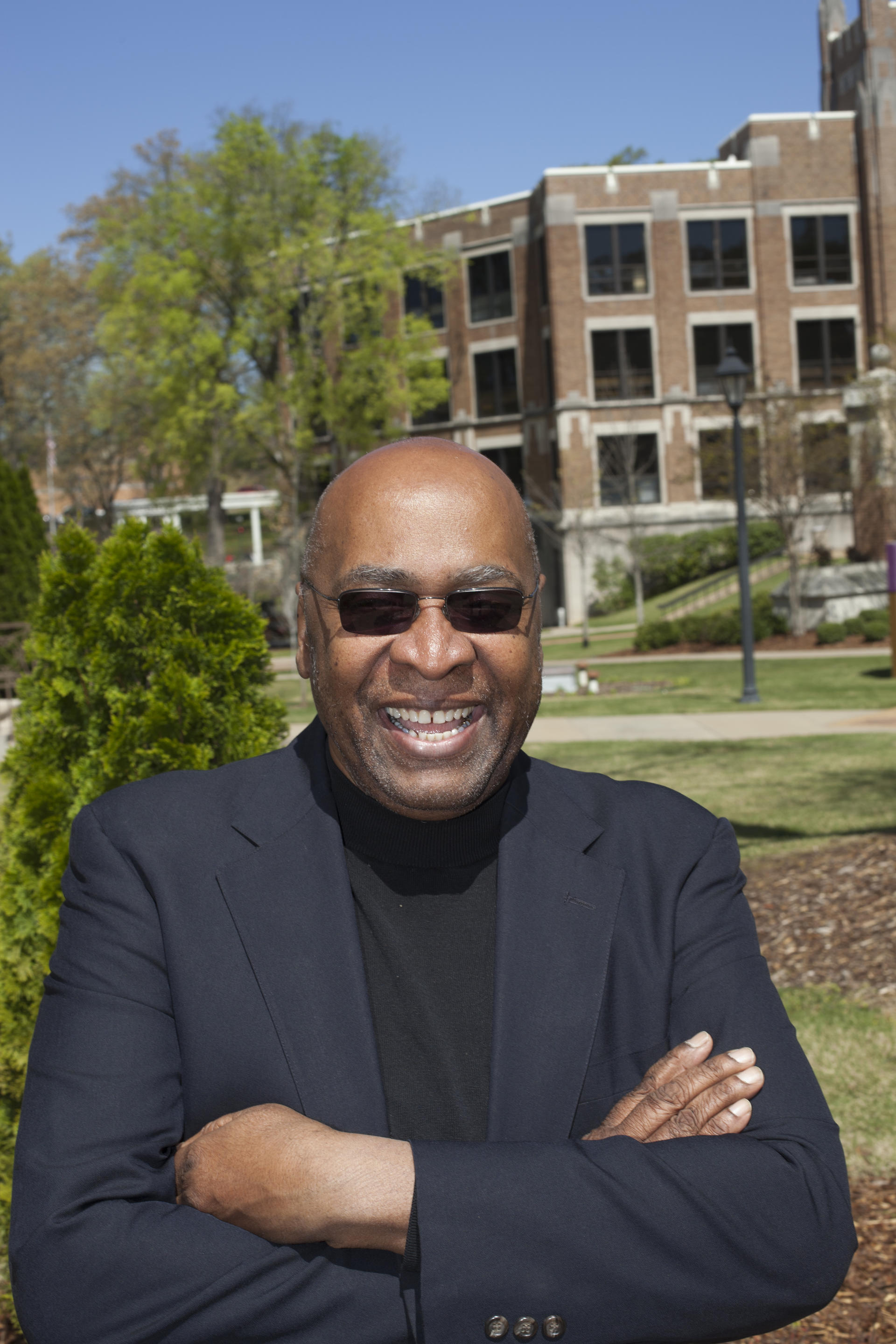 By Terry Pace, Communications and Marketing
FLORENCE, Ala. – It took a court order for reluctant revolutionary Wendell Wilkie Gunn to become the first African-American student to enroll at Florence State College (now the University of North Alabama) on Sept. 11, 1963.
But once he went through that surprisingly simple and trouble-free legal process, the Tuscumbia native – who transferred to Florence State from Tennessee State University – quickly earned acceptance and fellowship at the previously segregated northwest Alabama college.
By the end of his historic first year of enrollment, an initial atmosphere of silence, cold shoulders, suspicion, threatening phone calls, national media scrutiny and heightened security measures eventually evolved into campus-wide expressions of warmth, support and even affirmation. At Honors Day the following spring, Gunn accepted the school's Physics Achievement Award for 1964. He graduated a year later.
"The fact that it happened between '63 and '65, a time with a lot of turmoil, and the fact that my matriculation happened without incident is a testament to something," Gunn believes. "Looking back on it, it makes me think there was something special about the area."
Gunn – who served in the White House for two years as special assistant to President Ronald Reagan and assistant director for commerce and trade in the U.S. Office of Policy Development – returns to the UNA campus next week as guest speaker for the Fall Convocations Ceremony at 11 a.m. Wednesday, Sept. 11, at Norton Auditorium. In addition to his national political service, Gunn – who now lives in Stamford, Connecticut – worked for many years in the world of corporate finance and eventually founded his own successful software company, Gunn Solutions.
"I am quite certain that Wendell Gunn came to UNA for one reason – to study," UNA President Dr. William G. Cale maintains. "In the course of pursuing his dream, he opened doors of opportunity for thousands who would follow. While he would never regard himself as extraordinary, he is in fact a giant in the history of our university. For UNA, Wendell Wilkie Gunn is a shining point of pride and we are delighted to welcome him home to celebrate 50 years of learning for all who aspire to achieve."
Gunn's Convocations address takes place on the 50th anniversary of the day he registered as a Florence State student. On the first day of the fall 1963 semester, Gunn was driven to campus in a cab and escorted from class to class by Dr. Turner Allen, the academic dean at the time. A photo of Gunn's historic, high-profile arrival at the long-segregated college was distributed worldwide by the Associated Press news wire.
"I was a shy young man," Gunn recalls. "I wasn't looking for all that publicity."
In addition to Convocations, Gunn's return to UNA includes a Desegregation Roundtable Discussion, "Civil Rights in the Shoals: A Conversation," from 4-5:30 p.m. Wednesday, Sept. 11, in the Performance Center of UNA's Guillot University Center. The discussion – moderated by Dr. Lynne Rieff, a UNA history professor – will feature Gunn, Dr. Kenneth Johnson, a professor emeritus of history at UNA, and longtime Shoals residents Huston Cobb Jr. and retired U.S. Air Force Lt. Col. Arthur Graves, who is also a retired UNA faculty member. The event is free and open to the public.
"The desegregation of UNA in 1963 was a transformative event that forever changed the vision of the university," noted Dr. Christopher A. Maynard, chairman of the UNA Department of History and Political Science. "Today, UNA aspires 'to promote and celebrate diversity' by offering a high-level educational experience grounded in a culturally rich campus community. It certainly did not start out that way. For too long, the state of Alabama discarded and ignored its rich cultural heritage by maintaining a segregated society. Change did not come easily, as Gov. Wallace famously displayed when he stood in the schoolhouse door at the University of Alabama in Tuscaloosa."
Maynard added that the desegregation of UNA may not have been quite as dramatic, but it proved to be equally profound.
"When Mr. Gunn registered for his first class on Sept. 11, 1963, he started a new heritage as UNA's first African-American student," Maynard observed. "That heritage has been shared and embraced by generations of students over the past fifty years."
Gunn's Convocations address and the roundtable discussion that afternoon are just two of several events commemorating the 50th anniversary of desegregation at UNA. Later that same evening, the documentary Three Days at Foster: Civil Rights and Sports at the University of Alabama will be screened at 7 p.m. in Room 131 of the UNA Communications Building, followed by a question-and-answer session with filmmaker Keith Dunnavant. Both the roundtable and the film are free and open to the public.
Gunn will also speak at a "Celebration of Diversity" breakfast set for 7:30 a.m. Thursday, Sept. 12, at UNA's GUC Banquet Halls. Gunn will be the featured speaker, with music by the UNA Student Ensemble (under the direction of Dr. Terrance G. Brown, a UNA music professor). Advanced tickets are $15 for individuals (or $100 for a table of eight), with proceeds benefiting minority scholarship programs at UNA. Tickets are available by contacting the UNA Office of Student Engagement at 256-765-4550 or the UNA Department of History and Political Science at 256-765-4306.
On Friday, Sept. 13, the history and political science department will present "A Conference: Celebrating the 50th Anniversary of Desegregation at UNA" from 10:30 a.m. until 4 p.m. in the Banquet Halls and Loft of the GUC. Renowned Alabama historian Dr. Wayne Flynt, professor emeritus at Auburn University, will present the keynote address, "Removing Barriers Between Brothers and Sisters – Barriers of Law and Barriers of the Heart," during a noon luncheon that day.
"The academic conference will also include panel presentations featuring noted scholars and students presenting their research on multiple facets of desegregation and the Civil Rights Movement," Maynard added. "In all, the series of events held throughout the week will focus the university community's attention on celebrating and promoting cultural diversity as a core value of this university, a value that must be maintained and properly recognized so that it can continue to enrich and energize UNA's historic mission."
The public is invited to attend the conference events free of charge. Registration is available online at www.una.edu/history/desegregation.html . For details, call the UNA Department of History and Political Science at 256-765-4306.
Photos of Wendell Wilkie Gunn (by UNA Photographer Shannon Wells) from his 2011 visit to UNA, as well as the original Associated Press photo of his first day as a UNA student, are available on the UNA Gallery at: http://www.unalionsden.com/archive/album.php?album=Wendall%20Wilkie%20Gunn&year=2013