Battalion History
A Proud History-A Bright Future
The University of North Alabama ROTC Battalion has been proud to help develop the leaders of tomorrow.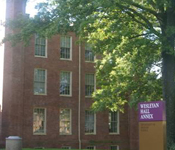 The University of North Alabama was renamed in 1974 from Florence State University which dated back to the State Normal School primarily set up for the instruction of teachers in the state of Alabama. The State Normal School had roots back to the Methodist Church's college located originally in LaGrange, AL named LaGrange College but moved to Florence, AL shortly before the Civil War it was renamed LaGrange Military Academy before being destroyed by Union Forces in1863. In 1872 the college reopened as the State Normal School and was one of the first coeducational universities in the US after women were accepted in 1874. Then in 1929 the university became a State Teachers College and named Florence State College later becoming a university when the school expanded its curriculum.
UNA's ROTC has been a vital part of the university since 1948 when the university established the first Corp of Cadets to produce officer's for the US Army. Since that time UNA's ROTC alumni have been engaged in every conflict from WWII to current operations in Iraq and Afghanistan.