Preparing for your Pre-Registration Appointment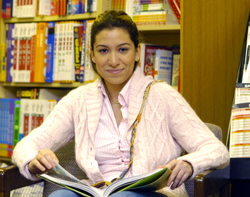 Pre-registration is the process by which you meet with your advisor to plan your schedule for the next semester. You must meet with an advisor before you can pre-register for classes.
Please review the following information before making an appointment to meet with your advisor:
Review your program of study in the catalog in effect at the time you enrolled in classes at UNA, not necessarily the current catalog.
Log into your UNA portal and go to "Unofficial Transcript" to review the courses that you have completed and are currently enrolled in.
Draft a schedule of classes that includes course number, call number and section number using a UNA Trial Schedule Form. All of this information can be found in the published schedule of classes. In order to make the most effective use of both your time and your advisor's time, come to your appointment with a draft of your schedule.
Prepare questions to ask your advisor about course selection, academic progress, and career opportunities in the field of your major.
Call your advisor for an appointment or choose a time slot from the schedule posted outside his/her office.
If you are not sure who your advisor is, contact the departmental or college secretary at the phone numbers listed below.
Keep your appointment. Telephone your advisor if you must cancel.
| | |
| --- | --- |
| Department | Phone No. |
| Art | 256-765-4384 |
| Accounting and Business Law | 256-765-4500 |
| Biology | 256-765-4394 |
| Chemistry | 256-765-4622 |
| Communication and Theatre | 256-765-4247 |
| Computer Information Systems, | 256-765-4324 |
| Criminal Justice | 256-765-5045 |
| Economics and Finance | 256-765-4270 |
| Elementary Education | 256-765-4251 |
| English | 256-765-4238 |
| Foreign Language | 256-765-4390 |
| Geography | 256-765-4246 |
| HPER | 256-765-4377 |
| History and Political Science | 256-765-4306 |
| Human Environmental Science | 256-765-4313 |
| Marketing and Management | 256-765-4234 |
| Math and Computer Science | 256-765-4286 |
| Music | 256-765-4375 |
| Nursing | 256-765-4311 |
| Physics and Earth Science | 256-765-4334 |
| Political Science | 256-765-4306 |
| Psychology | 256-765-4390 |
| Secondary Education | 256-765-4575 |
| Social Work and Criminal Justice | 256-765-4391 |
| Sociology | 256-765-4200 |
| Undecided | 256-765-4639 |