University Advising Services
Welcome to the University Advising Services homepage.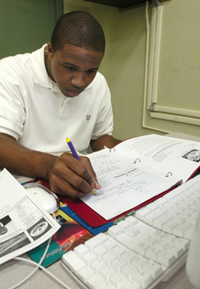 Trying to find out who your advisor is?

Go to your UNA Portal and log in
Switch to the Self Service Banner tab
Click "Student" to go to the Student Information page
Click "Student Records" 
Click "View Student Information"
Your Primary Advisor is listed on the General Student Record page. You can find your advisor's contact information using the UNA Directory. Prepare with your meeting with your advisor by using the Pride Planner; learn how with the Schedule Builder Tutorial.

Our office's services are a bit different than those you receive through your Primary Advisor. We are here to provide you with:
Academic programming for orientation sessions;
Advising assistance;
Tutoring assistance;
Academic counseling, which offers the support you need to help you achieve academic success; and
Testing Services (e.g., ACT, SAT, PRAXIS) for the University and the community.
Please use the links below to find the information you need or come by our office and let us help you.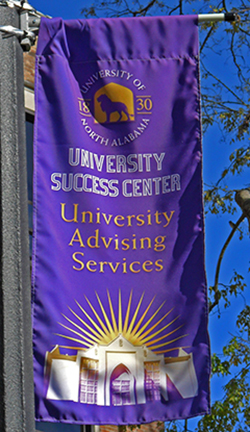 If you would like an appointment with an advisor, go to unaadvising.mywconline.com to schedule one. You must register with WCOnline by clicking the "First Time User" link. We highly recommend that you use your UNA Portal email address and password. When you complete your registration, you will be sent back to the log in page. Once you have logged in, you will be able to select the week in which you would like your appointment. In order to narrow down the appointment options to those that suit your needs, you must select the appropriate area of advising from the "Limit to" drop-down menu. The white sections of the table show the available appointment times. Select the one that best fits your schedule, then fill in the information requested in the pop-up window.
Hours of Operation
You can come by our offices on the second floor of The Commons anytime Monday through Friday from 8:00 a.m. to 4:30 p.m. If you need to stop by during the summer semester, our hours will change to 7:30 a.m. to 4:00 p.m. If you prefer to make an appointment or simply have a question, you can call our office at 256-765-4722 or use the appointment scheduling link below to register with WCOnline.
Information
Success Center Staff
Dr. Robert Koch Jr.
University Success Center Director
Center for Writing Excellence Director
The Commons 223
256.765.4131
Ms. Tammy D. Rhodes
Administrative Assistant
The Commons 204
256.765.4722
256.765.4764 (FAX)
Dr. Amy E. Crews
University Advising Services Director
Active Suspension Coordinator
The Commons 221
256.765.4437
Mr. Matthew Little
First-Year Experience Director
The Commons 215
256.765.4133
Dr. Kathleen Richards
Center for Writing Excellence
Assistant Director
The Commons 219
256.765.6015
Prof. Marlow B. McCullough
Mathematics Learning Center Director
The Commons 217
256.765.4213
Dr. Matt Price
Learning Support Coordinator
The Commons 220
256.765.5949
Ms. Kenda H. Rusevlyan
Testing Coordinator
University Advisor
The Commons 214
256.765.4773
Ms. Elizabeth C. Haggerty
University Advisor
The Commons 213
256.765.4722