In Memoriam: John Waters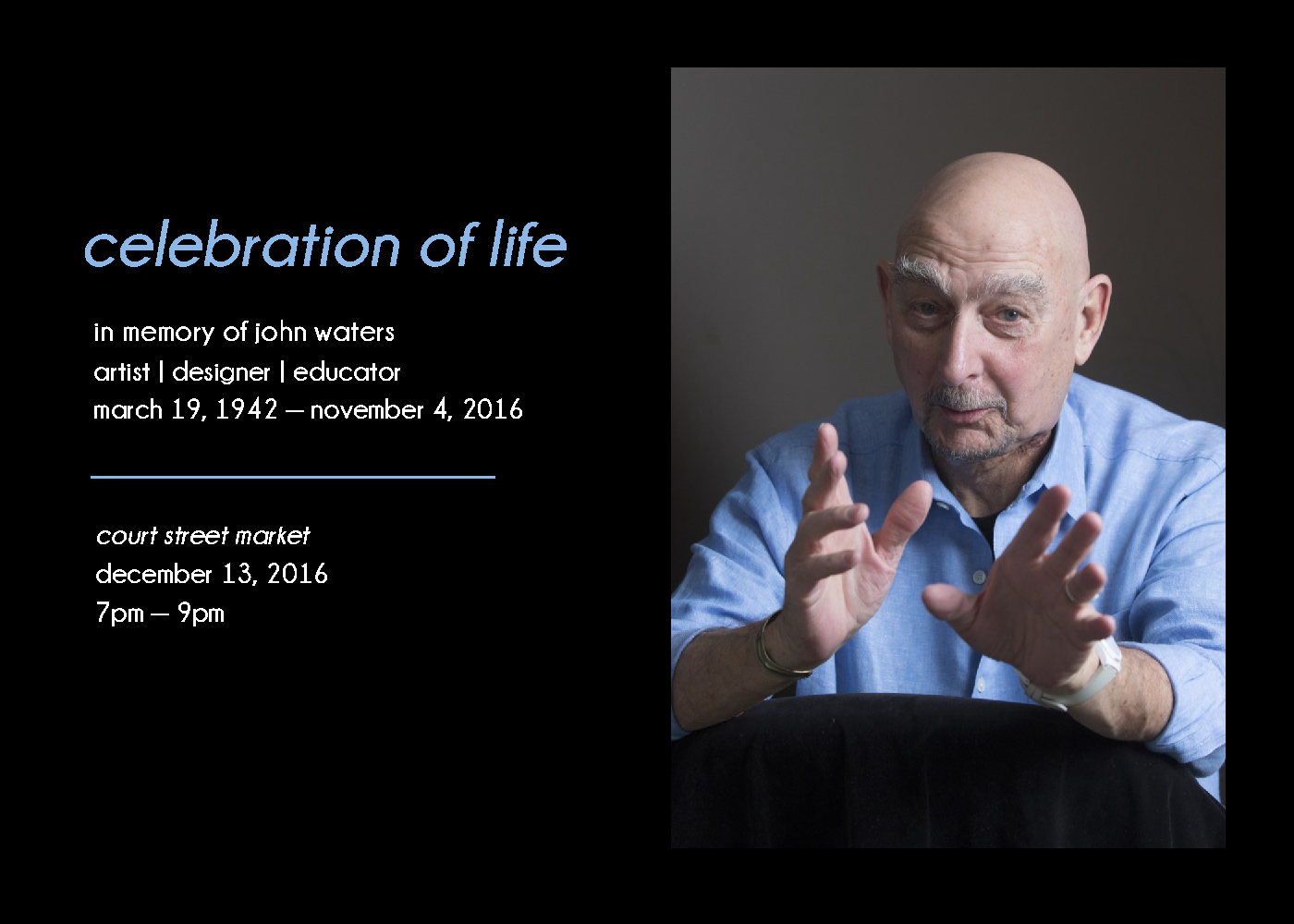 Born in Rocky Mount, N.C. to William Dixon Waters and Mary Caroline Waters (nee Shearin), John Waters was an artist, designer and educator who pioneered the use of computers in digital design, including being one of the first to work with the Lightspeed Computer Aided Design System (1985).  As the President and Creative Director of Waters Design Associates, Inc. (1977 – 2003), John provided brand strategy and communications for clients such as American Express, Arrow Electronics, IBM, The Wall Street Journal, The National Museum for Women in the Arts and the United Nations among many others.  John's clients, his students and he received countless design awards, and in February 2013, John was selected by the readers of Graphic Design USA as one of the fifty most influential graphic designers of the past fifty years.  The work of Waters Design was featured in numerous magazines over the years, including Art Direction, Communication Arts, Creativity, ID Magazine and Print, as well as in the books Clients and Designers, Graphic Design: New York (1 & 2), Design in Depth, The Business of Graphic Design, Web Design Now, and Graphis Interactive Design.
While still in New York, John taught students at the Pratt Institute, the School of Visual Arts and Syracuse University.  His "second career" took him first to Georgia, where he served as a Professor of Graphic Design at the Savannah College of Art & Design (2006 – 2013), including three years as Chair of the department.  From August 2014 forward, John inspired his most beloved students as a Visiting Associate Professor of Art at the University of North Alabama, in Florence, where he had his most recent show of prints and sculpture in a solo exhibition entitled Beyond the Garden Gate in September 2016. 
A lifelong learner, John earned his BFA in Communications Design from Virginia Commonwealth University in Richmond, VA, in 1964.  In October 2016, John returned to Richmond and family, where he was surrounded by love when he passed, following a spirited fight against cancer.  John A. Waters kept his unparalleled optimism, wit and creative energy until the very end.
John was preceded in death by his older brother, William D. ("Bill") Waters; he is survived by his sister Ann Beard and her husband John; his daughters Sasha (John), Nell and Emma, and their mothers, Helen Bally Waters and Cheryl Oppenheim; his many nieces, nephews and their children; and his partner in love and mischief for the past two years, Shannon Wells. 
In keeping with his faith in science and at his request, John's remains were donated to The Virginia State Anatomical Program, whose mission is to educate health professionals in the teaching of anatomy and medical research.  In lieu of flowers, donations are welcome at Hospice of Virginia and/or the University of North Alabama Department of Art.