Brochures - Training, Certifications, and Courses
Click on the images below to review copies of our latest brochures or return to Continuing Education Course Catalog.

Please call us at 256-765-4862 if you have any questions or if we can help you with course registration.
---
Click on the link or image below to review 2021 UNA Governmental Auditing Seminars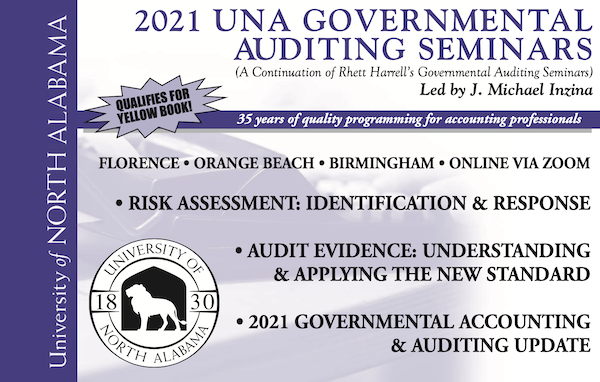 Return to Continuing Education Course Catalog.
If you need information on any of the program areas listed below or need customized training, please call our office at 256-765-4862 or email us at ceu@una.edu. We will be happy to send information to you and add you to our mailing list.
Accounting/Gov. Auditing/CPE
Law Enforcement Training
Local Officials/Municipality Planning
Geographic Information Systems
Paralegal / Legal (CLE)
Health Care / Nursing / Social Work / CME
Personal Enrichment (leisure activities, hobbies, etc)
Programs for Retirees
Summer Youth Program
Computer Training and Software Applications
Supervisory Development / Management Training
Human Resource Management


Certificate Programs
Certificate in Human Resource Management
Certificate in Leadership Training
GIS Analyst Certificate


Please remember to notify our office if your mailing address or email address changes.  Thank You.