Light The Fountain 2019
UNA Traditions: Light The Fountain
Light the Fountain has been postponed to the rain date, March 17.
"The Light the Fountain event is a University tradition that began in the spring of 2016 after President Kitts awakened to the lights the previous spring and had the idea that students could enjoy what he awakened to that morning.  The event provides students the opportunity to engage with one another and the campus community in this shared experience, and to appreciate the symbolic representation of the campus "coming alive" with spring weather and the second half of the spring academic term.  Students and guests witness the lighting of the fountain and the first seasonal flow of its water while enjoying food, fun, and entertainment.  The event further emphasizes the beauty of UNA's campus, the generosity of donors, and the enjoyment of being together at UNA."


-- Vice President for Student Affairs Dr. Kimberly A. Greenway
#LightTheFountain #MyUNA
Upcoming Light the Fountain Events:

March 17, 2020
March 11, 2021
March 10, 2022
Harrison Fountain, the most iconic symbol of the generosity of UNA alumna Laura M. Harrison, has become a signature piece on UNA's already gorgeous campus.  Each year, when the fountain is turned on, students and visitors alike know that warmer weather is on the way. 
UNA's "Light the Fountain" is open to the public.  For more information:  Please call UNA Student Affairs at 256-765-4698 or visit Student Affairs.

Light the Fountain Itinerary
March 17, 2020

6:30 pm - Hot Dogs / Music Begins
7:00 pm - SGA hands out t-shirts
7:10 pm - UNA Faculty/Staff Step Sing Encore
7:15 pm - Pep Rally Begins
7:30 pm - Lighting Ceremony Begins
7:45-9 pm - Music to close the evening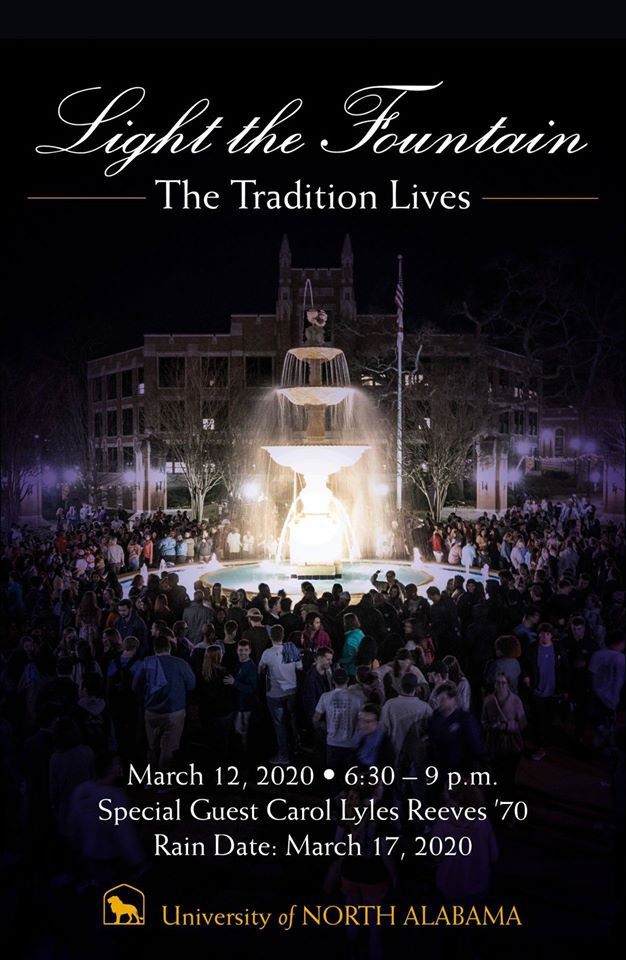 Light the Fountain is March 17, 2020 from 6:30 to 9:00 pm with special guest Carol Lyles Reeves '70.