Employee Guide to Title IX
Are employees protected?
Title IX, along with other federal laws, applies to employees in addition to students. If you, as an employee, experience discrimination on the basis of sex or gender, including sexual harassment, and would like to make a report, please contact UNA's Title IX Coordinator or file a report here.
Title IX Reporting
---
Listen --> Support --> Report  
All UNA employees are considered "mandated reporters." That means that any employee (that is not otherwise designated as a Confidential Reporting option) who receives notice of sexual harassment, sexual violence, dating/domestic partner violence, or stalking is obligated to report the information to the Title IX Coordinator.
As an employee, it is not your job to investigate or adjudicate an allegation of sex or gender-based harassment or discrimination; however, it is your job to Listen. Support. Report. For more information about your obligations, check out the UNA Employee Response Guide for Incidents of Sexual Misconduct and our Sexual Misconduct Resource and Response Cards.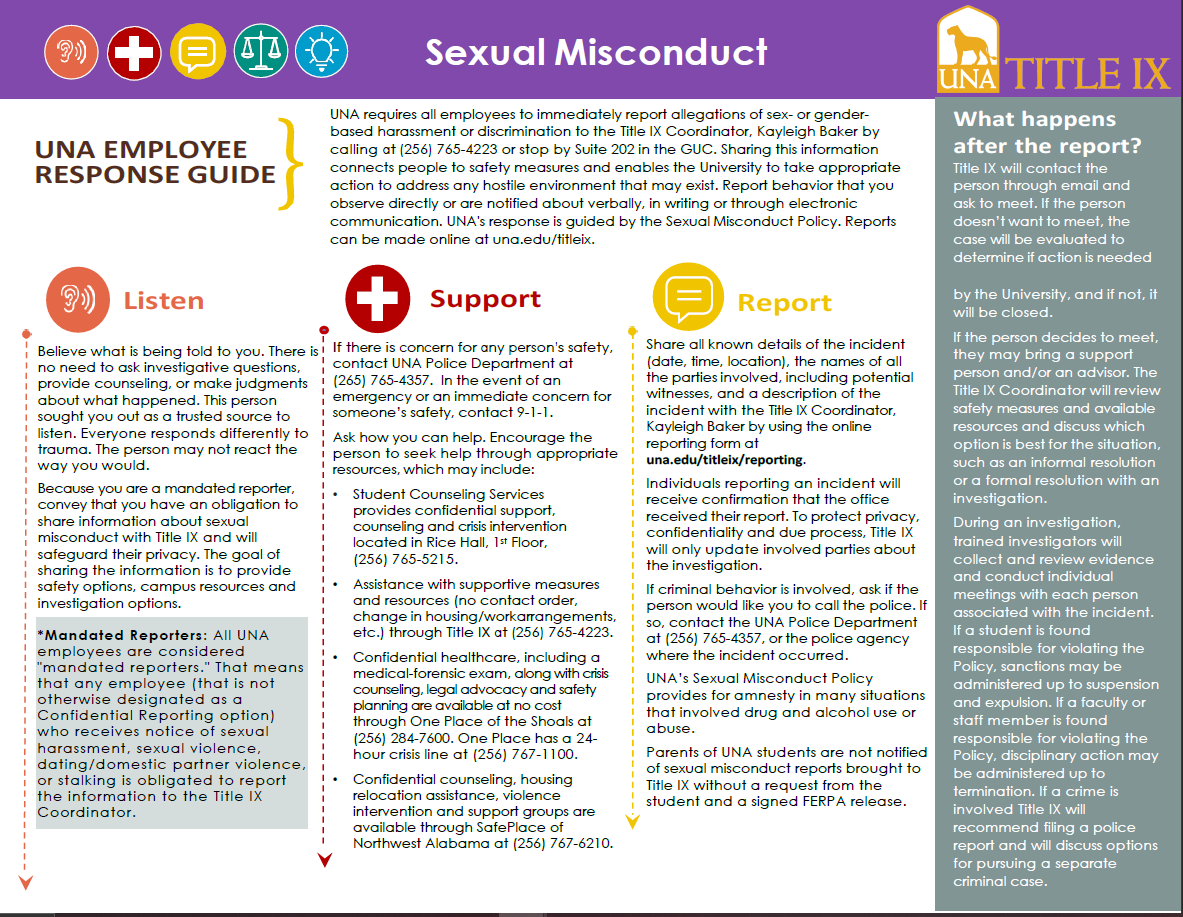 UNA's Employee Response Guide was adapted, in part, from our friends at Western Michigan University.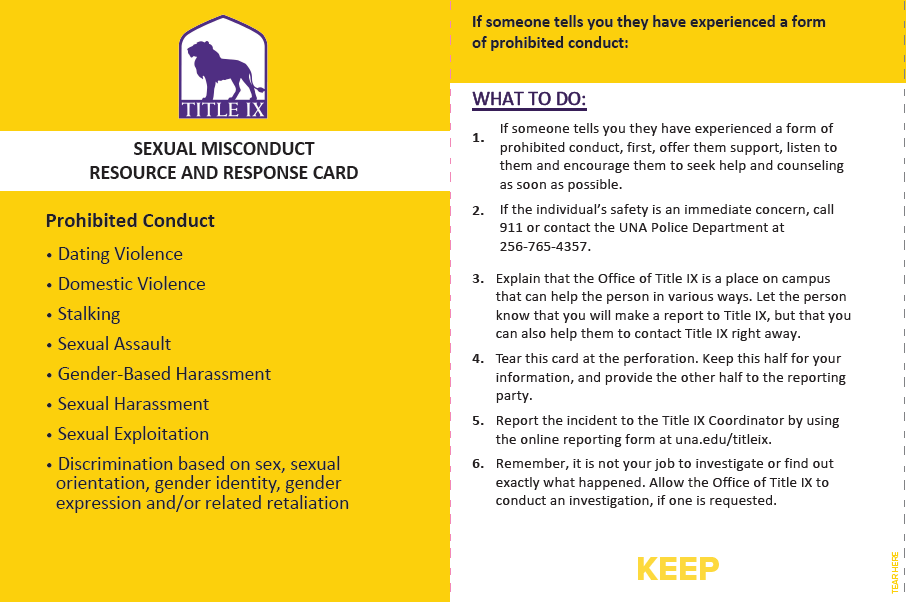 UNA's Resource and Response Cards were inspired by our friends at the University of Alabama at Birmingham. 
Common FAQs
Other Reporting Obligations
In addition, UNA employees may have other reporting obligations under state and federal laws. These reporting requirements may include statistical reports under the Clery Act and mandatory reporting obligations of child abuse. 
Complete this form and return it to UPD to report abuse or neglect of a child (under 18). 
Child Abuse or Neglect Reporting
Title IX Training and Information
It is critical for our UNA community to prevent hostile environments on the basis of sex, prohibit sexual harassment and sexual violence, protect from retaliation, and remedy the effects of other gender-based forms of discrimination. One step in addressing this issue is making sure that University employees know to whom and how information should be reported when an individual reports being a victim of this behavior.
As mandated by federal law and in an effort to comply with the overall Title IX compliance effort, the University provides Harassment Prevention training to all employees through our partner, Get Inclusive. This course is usually assigned and due in late fall. For questions, please contact Human Resources or visit the website for more information. For troubleshooting, contact titleix@una.edu
The Office of Title IX also has created optional training modules for your review. For information on optional training, contact the Interim Title IX Coordinator at titleix@una.edu. 
The Office of Title IX also routinely calls for volunteers to serve as volunteers in the Title IX Grievance Process. Those volunteers receive extensive training related to Title IX. Employees who are interested in serving in the Pool are encouraged to contact the Title IX Coordinator.
---
Faculty Syllabi Requirements
Per Shared Governance approval in March 2015, faculty must put information about Title IX on their syllabi. This strategy educates our students about resources and reporting mechanisms should they be a victim of sexual violence or know someone who may be a victim. The below statement has been created by the Office of Title IX in light of the updated 2020 Title IX Regulations. It has been simplified to one version, with optional additions, in order to accommodate UNA's transition to a Simple Syllabus. 
---
First-Year Experience (FYE) Instructors
Trained facilitators provide a 50-minute class discussion in all FYE classes, or any other class, dedicated to explaining Title IX, campus policies, consent, bystander intervention, reporting options, and resources.
Submit an online request for a facilitator email titleix@una.edu. 
Quick Links
---
In the case of an emergency, CALL 911 for immediate assistance. Report forms are not checked after business hours.