Proofpoint Email Filter
In order to cut down on the amount of possible spam in your Inbox, including threats to the campus (such as phishing, malware, ransomware, and others), ITS, in coordination with the University Executive Council, has implemented a new email protection product. 
 
Proofpoint
The product behind the filter, Proofpoint Email Protection, attempts to stop malware and non-malware threats such as impostor email (also known as business email compromise, or BEC). To protect the organization from virus attacks and to protect you from receiving hundreds of spam messages, all incoming email is filtered by Proofpoint on Demand – an anti-spam and anti-virus email filtering service. Proofpoint on Demand uses an advanced machine learning filtering technique called MLX™ to ensure that no valid mail is improperly filtered.
Proofpoint uses a Quarantine - a location on a server where email messages that are suspected to be spam, or messages that contain a virus, are stored temporarily so that they can be reviewed and retrieved, if necessary. You can review and take action on your own quarantined email through the use of the End User Digest. Messages that are not released from the Quarantine are automatically deleted after a designated period of time.
 
What is an End User Digest?
If email messages addressed to you were stored in the Quarantine, you will receive a regularly scheduled email notification, called an End User Digest in your inbox. The End User Digest provides you with a list of the messages addressed to you that are stored in the Quarantine. You can look at the message subject headers to determine their content and decide what actions you want to apply to the messages. You will not be sent an End User Digest if there are no messages in your Quarantine.
Up to twice a day, you should receive an End User Digest from UNA Spam Filter (if you have not been receiving and digests, check your Clutter folder). The body of the email should include the following: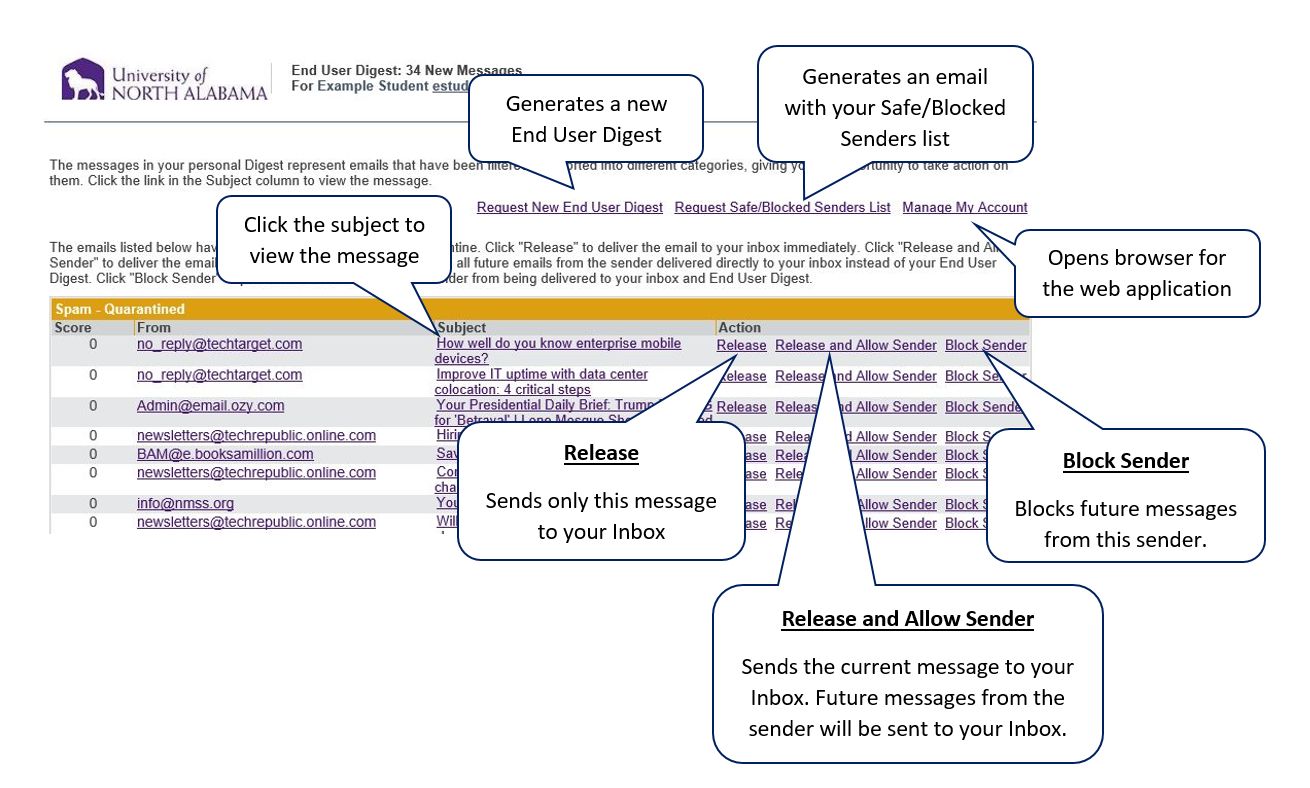 The End User Digest displays messages that have been classified as spam. The End User Digest allows you to determine how to handle future messages from the senders – either allow the messages to be delivered or continue to block them. The Safe Senders list is simply a list of approved senders of email. When a sender address is included in the Safe Senders list, the Proofpoint Protection Server does not filter the message for spam. Messages will still be filtered for a virus or inappropriate content. To mark an email address as safe, simply click the Release and Allow Sender link next to the appropriate email message in the Digest. In addition:
Request New End User Digest – sends you the latest Digest, which may or may not include new messages in the Quarantine.
Release on an email in your digest means only that single email will be allowed through to your Inbox.
Each time you select Release and Allow Sender, the address from that sender is added to your personal Safe Senders list.
Block Sender - By clicking this, future messages with these characteristics will be scored as spam and blocked.
To view your personal Safe/Blocked Senders list, click the Request Safe/Blocked Senders List link.
To manage your preferences from the Web Application, click the Manage My Account link.
 
FAQ and How-To Instructions
The following is a growing list of answers to questions, clarifications, and instructions for common tasks. Some of the tasks discussed will require you to log directly into the UNA Proofpoint portal.
 
Log directly into UNA Proofpoint here - be sure to use your entire email (yourname@una.edu).
 
I haven't received an End User Digest, what's wrong?
Most likely, nothing is wrong. Not receiving an End User Digest may simply mean you have not received any email the Proofpoint Email Protection views as spam. If you'd like to be sure, you can always log directly into the system and checking your Quarantine list, and if you'd like, change your End User Digest settings so that you receive an email even if your Quarantine is empty.
 
I've chosen to "Release" an email or "Release and Allow Sender," why hasn't it shown up in my Inbox?
Some emails released from your Quarantine will be filtered into your Junk or Clutter folders by Microsoft. Once you've located the emails in one of those locations, you can right click on them and either set up rules for them or mark them as "Not Junk" and set Outlook to trust the sending address.
For a more permanent solution, you can also disable your Junk folder in Office 365, allowing the Proofpoint filter to handle this job instead. Go to our Office 365 FAQ page for information on disabling Junk.
   
How do I block a sender?
Selecting Block Sender from an email in your End User Digest will block future messages from that sender. You can also add the sender to your personal Blocked List manually. Log into the web application using the link above and click on the "Lists" link in the bottom right corner of the window. From your lists, choose "Blocked Senders List" and then select "New" from the options above the main section of the window. Enter the email address or domain you'd like to block and click "Save."
 
I've added a sender to my Safe Senders list in my account, how come some emails are still getting blocked?
Many larger services, such as Yahoo, MSN, or Facebook, use multiple addresses to send emails. You may be allowing only a single email rather than a domain. For example, if you allow username@yahoo.com, only email from that username@yahoo.com will be allowed.
If you'd like to allow email from any yahoo.com email address, you'll need to log directly into Proofpoint using the link above and add "@yahoo.com" to your Safe Senders List (under your "Lists" link in the bottom left corner of the screen). In addition, if you wish to allow mail from any yahoo.com host, enter "yahoo.com" without the @ symbol - this will then allow email from any yahoo host/sub-domain.