Camp and Clinic Percussion Information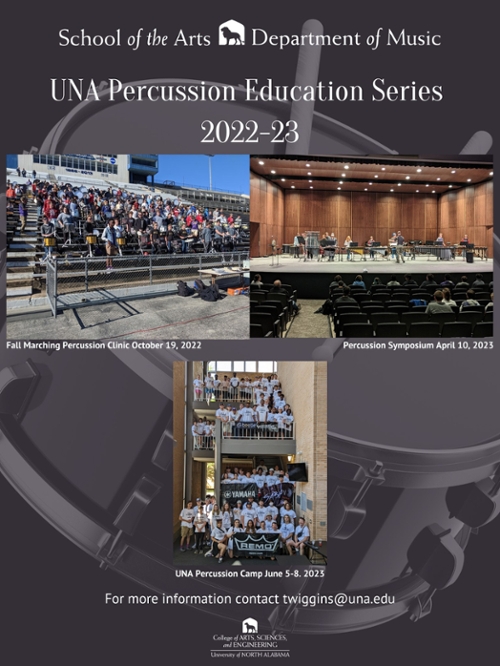 UNA Hosts multiple percussion events throughout the school year for middle and high school students.
On this page, you will find all of the necessary registration information for each event.
2022 Fall Marching Percussion Clinic
October 19, 2022, Braly Municipal Stadium (Norton Auditorium is the rain location), $20 per student Admission. Each full line will have the

opportunity to perform for, and be coached by, the guest clinicians! You can also choose to just participate

in the mass drumline sections of the clinic. (note that lunch is on your own)
2023 Concert Percussion Symposium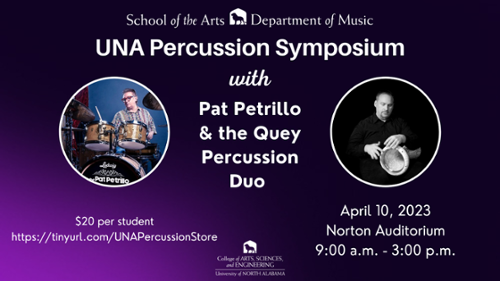 This event is geared towards concert percussion and features clinics and performances on all of the major areas of percussion including snare drum, timpani, mallets, drum set, and world percussion. High School and Middle School percussion ensembles are also invited to perform.
April 10, 2023, UNA Music Building. The cost is $20 per student for the day of clinics, door prizes, and more! - (Note that lunch is on your own).
2023 UNA Percussion  Camp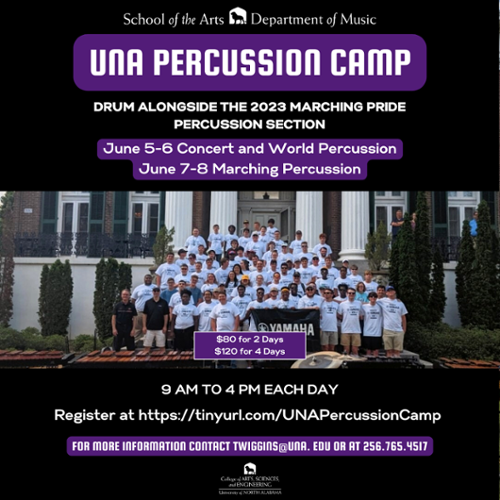 Our Summer Percussion Camp gives students the chance to study concert, world, marching, and drumset over a 4 day intensive. For the marching portion, students can work with UNA Marching Pride staff as well as drumming side by side with the UNA Drumline!
June 5-8, 2023
9-4, UNA Music Building; Cost is $80 per student for 2 days, $120 for all 4 days 
Registration
What to Bring
Drum/carrier/stand that you plan to play on for the duration of the camp. All equipment should be in good working order. UNA does not supply battery instruments, carriers, or stands.
Keyboard instruments will be provided for front ensemble members.
Sticks/mallets.
Practice Pad.
Comfortable clothes and tennis shoes (no flip flops!).
Light jacket (rehearsal spaces might be chilly).
Sunglasses.
Water Bottle.
Money for Lunch.
Please note that housing and meals are not provided in order to keep the cost reduced for all involved. People traveling from longer distances have booked hotels for the camp in the past.