KME - AL Beta Chapter

Kappa Mu Epsilon is a specialized honor society in Mathematics. KME was founded in 1931 to promote the interest of mathematics among undergraduate students. Its chapters are located in colleges and universities of recognized standing which offer a strong mathematics major. The chapters' members are selected from students of mathematics and other closely related fields who have maintained standards of scholarship, have professional merit, and have attained academic distinction. UNA's KME chapter was founded in 1935.
For more information about the AL Beta Chapter of KME,
contact Dr. Ashley Johnson or Dr. Miranda Bowie.
For information about the 2020 Spring KME Southeastern Regional Convention, go here.
Spring 2017 Inductees
Pictured: Dr. Bowie, Keeley Osborne, Samuel Oliver, Emma McFall, Anna Mosley, Emma Fancher, Brooke Maupin, Chandler Hawkins, Dr. Johnson
Fall 2016 Inductees
Pictured: Dr Johnson, Joshua Kent, Evan Lott, Derek Brown, Grant Bentley, Millainya Cammarata, Kelsey Varner, Dr. Bowie
Fall 2015 Inductees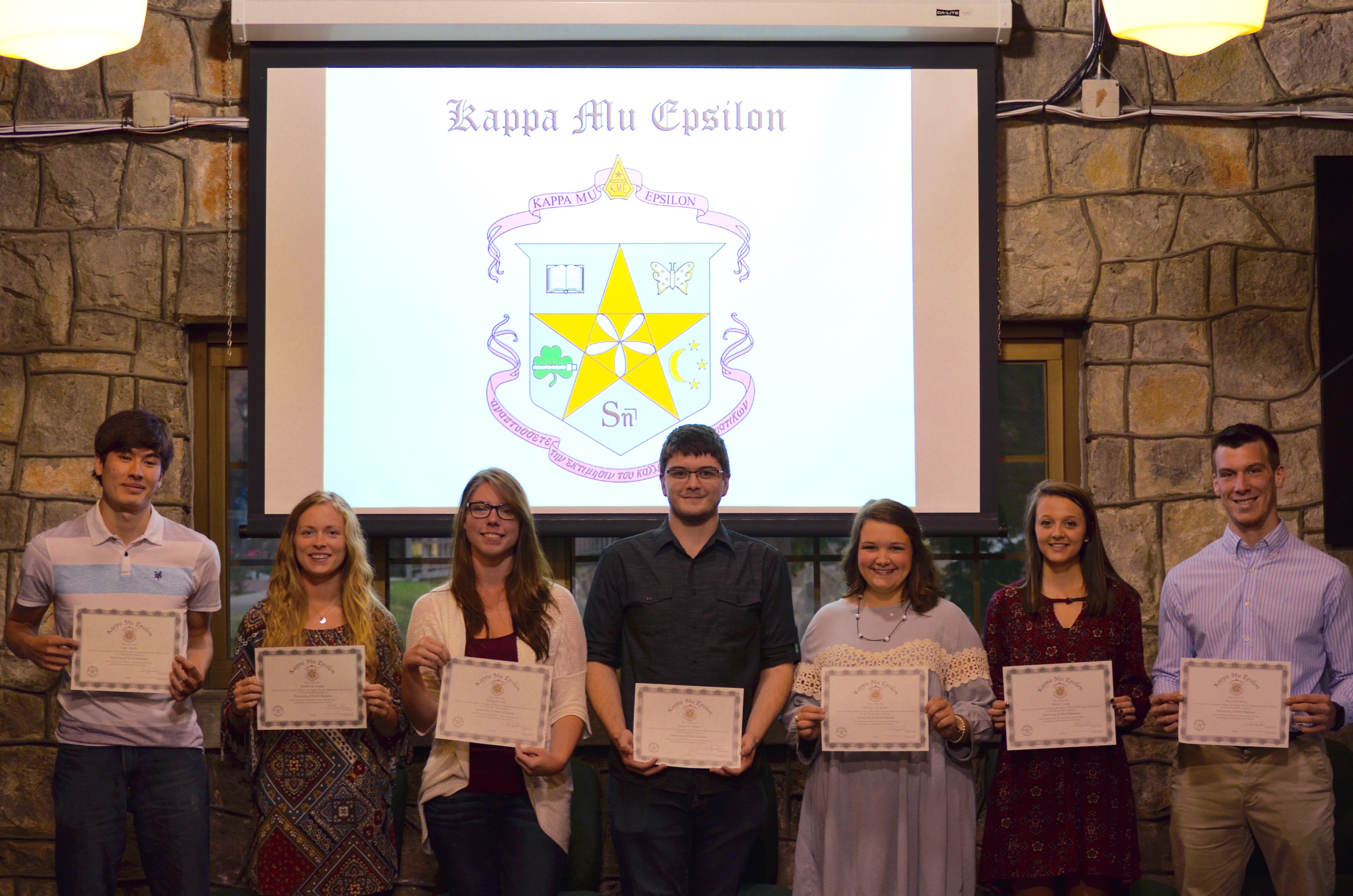 Pictured: Tyler Yasaka, Kaitlin Snyder, Nealey Sims, Joseph Schafer, Katelynn Gordon, Erin Cosby, Aaron Avery
Spring 2014 Inductees
Monica Achard, Jeffery Allen, Lauryn Ayers, James Beaver, Kelsey Brown, Katherine Coggins, Joseph Cole, Elly Couch, Andrew Craft, Kayla Dailey, Sharon Eccleston, Alex Edwards, Jake Harrington, Leslie Harvey, Elizabeth Kee, David Lundberg, Audrey McGee, Autumn McMunn, Ben Moore, Austin Oldag, Seth Pettus, Kathryn Russell, Andrea Shipley, Hannah Williams