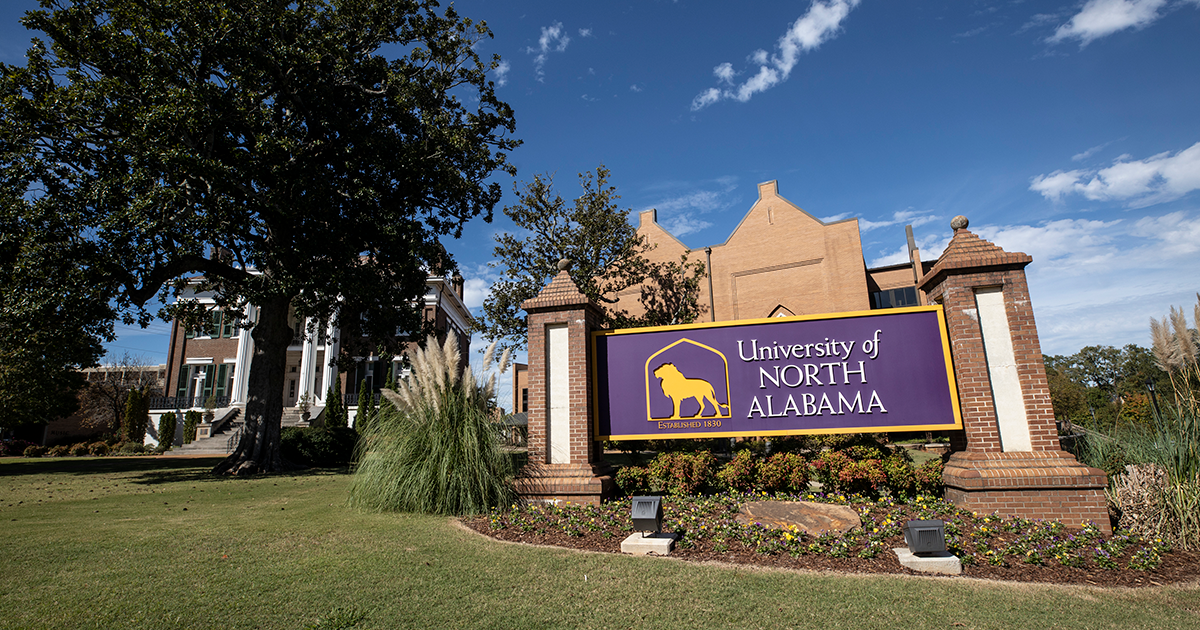 University Creates Tech-based 'yearbook,' Makes Strides On Social Media
Apr. 14, 2014
Michelle Eubanks, UNA, at media@una.edu, 256.765.4392 or 256.606.2033
By Hannah Mask, Student Writer
FLORENCE - Incoming freshmen at the University of North Alabama will feel immediately welcomed into the pride, introduced to the community before stepping onto campus in some cases.
That was the idea that prompted Interim Enrollment and Marketing Coordinator Nikki Yarber's creation of a second UNA Instagram account dubbed "Meet Our Pride."
Students attending SOAR, as well as students and faculty who already call UNA home, are encouraged to add their names and a short biography to the page. This technology allows them to become a part of an online, constantly evolving yearbook of sorts.
"Instagram is a hot place that students use frequently; and new students can visualize themselves as a part of campus right away," Yarber said.
Already, the popularity of UNA's social media outlets (Facebook page, Twitter account and an additional Instagram account) is on the rise
Nearly 25,900 people "like" the university on Facebook, while almost 9,200 keep up with UNA on Twitter. More than 1,400 have followed the university's established Instagram account.
Web Communications Manager Jeremy Britten said after employing several tones on both Facebook and Twitter, he's now found a nice balance between "professional" and "laid back."
"Twitter is a great resource for people to find out about campus news, like closings or delayed openings," he said. "Those Tweets usually generate a lot of discussion, and I can respond to students individually, which is what people want to see."
When campus was closed or delayed several days in February, Britten found himself fielding sometimes angered or annoyed responses from those who sought a campus closing Tweet but found none.
One student Tweeted at the university during February's snow storms encouraging UNA to cancel all classes. He included a photo depicting Star Wars characters marching through the snow.
"I won't be able to get out in these conditions," the student wrote.
Britten responded, "In the event of an All Terrain Armored Transport invasion, we would certainly cancel class," "Nobody needs to go out in that."
Britten's Tweet fetched 17 retweets and 37 favorites.
"Twitter is a lot more casual," he said. "People say the UNA Twitter 'has so much sass. It's a good thing, because it's really helped with engagement."
Facebook, he added, is decidedly less sassy, but no less effective; it's primarily used for sharing news and photos taken around campus.
With the addition of "Meet Our Pride," both Britten and Yarber said they hope incoming students will get a feel for the people they can expect to work with, learn from and count as friends.
"I've gone out and personally accosted students about adding their photos," Yarber joked. "I've also sent emails to students, and I've gotten pictures from those personal interactions."
Faculty, current and prospective UNA students who would like to add their own photos to the "Meet Our Pride" account should send their image, name, major and hometown to nmyarber@una.edu.
"They can also include something about UNA they love," Yarber said.