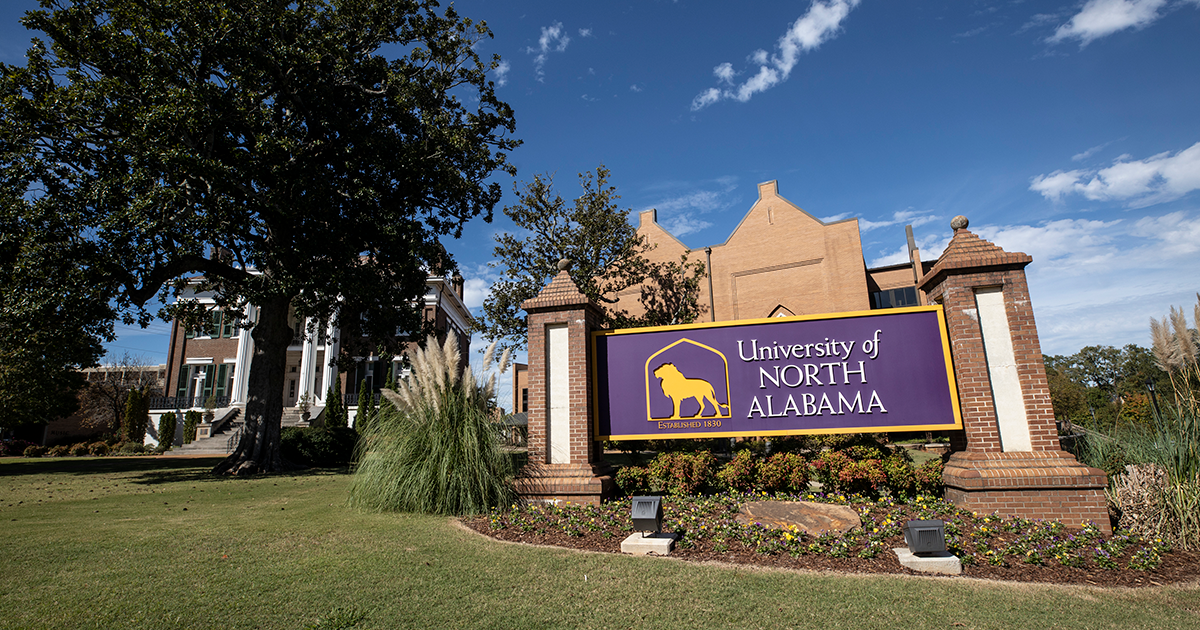 University Of North Alabama Opera Presents Hansel And Gretel
Apr. 12, 2018
Michelle Eubanks, UNA, at media@una.edu, 256.765.4392 or 256.606.2033
Vanessa Borelly Vega,
UNA Department of Music
FLORENCE, Ala.- TheUniversity of North Alabama Department of Music will soon transform Norton Auditorium into a modern downtown metropolis as UNA Opera presents a fresh take on Engelbert Humperdinck's classic "Hansel and Gretel," April 20 and 22.
Production Director, Dr. Tiffany Bostic-Brown, reflects, "Taking away the fantasy element makes the story more human, instead of being overwhelmed by just the visual elements of the story. In order to strengthen the line of communication between performer and audience member, I wanted the characters to be more relatable. Music often helps communicate and understand common struggles. Hansel and Gretel is a great example of very tangible modern issues of families."
Similar to her character Hansel's story, Cassia Mathis, shared her own intimate story, "I know personally what it is like to have a drunken father who is rarely ever home and only uses whatever money there is for alcohol. My family struggled for so long, but struggling has made us stronger. I think that's one of the main points of the show."
A tale by Brothers Grimm, "Hansel and Gretel" recounts the tale of a brother and sister abducted by a witch who lives deep in the forest. The two children eventually break free after outsmarting the witch.
"In this production, the audience will once again be dazzled by the students' capabilities. The title characters are truly powerhouses and there is only a small moment when they are not present on stage. They maintain an amazing sense of focus, stamina, beauty of voice and direction that is beyond their years of study."
This will be a great show for the family; as there is a children's chorus, only a 90-minute running time, and English text with supertitles.
Performances are Friday, April 20 at 7:30 p.m., and Sunday, April 22 at 2:00 p.m.
Tickets are $12 for adults in advance ($15 at the door) and $5 for students. Tickets may be purchased online at: www.una.edu/music, or at the Lindsey Box Office. Box Office hours are Tuesday, Thursday and Friday from 11:00 a.m. - 5:30 p.m.
For more information: Vanessa Borelly Vega at 256-765-5122 orvborelly@una.edu.
UNIVERSITY OF NORTH ALABAMA
The University of North Alabama is an accredited, comprehensive regional state university offering undergraduate and graduate degree programsthrough the colleges of Arts and Sciences, Business,Education and Human Sciences, and the Anderson College of Nursing.Occupying a 130-acre campus in a residential section of Florence, Alabama, UNA is located within a four-city area that also includes Tuscumbia, Sheffield and Muscle Shoals. UNA Athletics, a renownedcollegiate athletics program with seven (7) Division II National Championships, is now a proud member of the NCAA Division I's ASUN and Big South Conferences.The University of North Alabama is an equal opportunity institution and does not discriminate in the admission policy on the basis of race, color, sex, religion, disability, age or national origin.