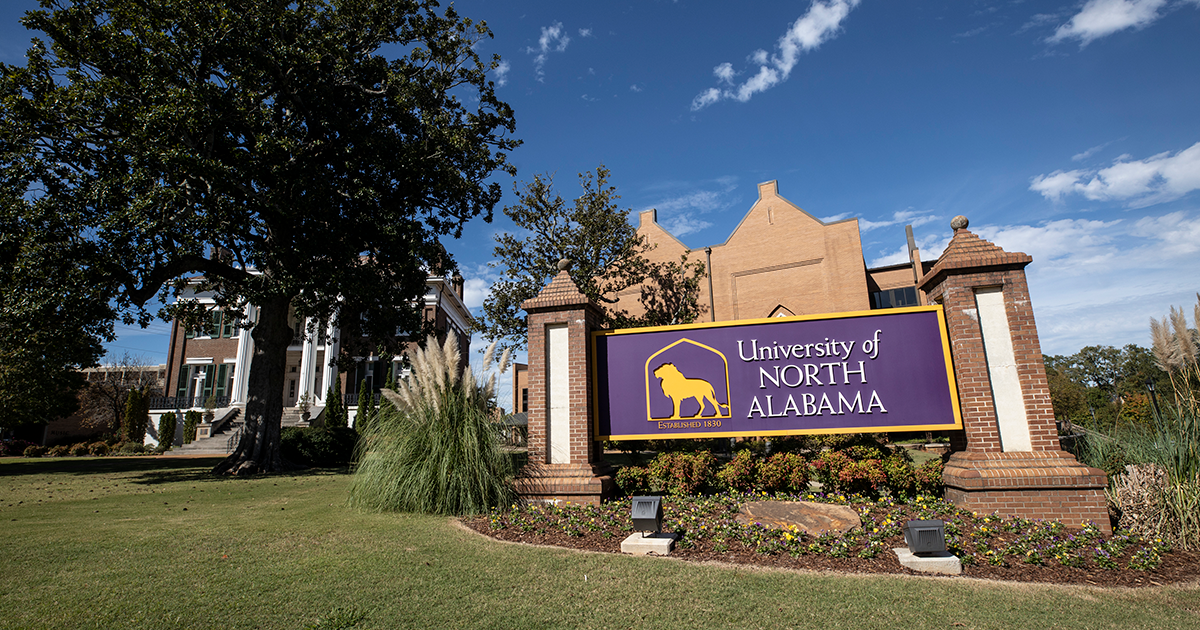 Bobby Wallace Hired As Una's Head Football Coach
Jan. 02, 2012
Michelle Eubanks, UNA, at media@una.edu, 256.765.4392 or 256.606.2033
FLORENCE -- Bobby Wallace, the architect of the University of North Alabama's unparalleled football success in the 1990s that included three straight NCAA Division II National Championships, returned to UNA Monday to become the Lions' ninth head football coach. Wallace, 57, fills the vacancy left by the departure of Terry Bowden after three seasons at UNA in which he led the Lions to a combined 29-9 record and three straight playoff appearances.
Wallace will be formally introduced as UNA's head coach at a press conference on Tuesday at 5 p.m. at the UNA Performance Center. The public is invited to attend.
While acknowledging the significant legacy Wallace left during a decade as North Alabama's football coach, UNA Athletic Director Mark Linder emphasized that this hire is not about the past, but what Wallace can do for the future of the Lions' football program. "We set out to hire a quality person who can coach football and that is exactly who we have hired in Bobby Wallace," said Linder. "His love and passion for UNA and the Shoals will be a great fit for our University and department as we move into the future. "Bobby is a fantastic football coach, but what was revealed during the search process is that he is even a better person," Linder added. "The support from our alumni, our community, and our region for Coach Wallace is amazing. At this point in time, I cannot think of a better head football coach for UNA, and I am really excited about working with Bobby." Wallace was head coach at UNA from 1988-97, posting an 82-36-1 record that included six NCAA Division II playoff appearances, three Gulf South Conference championships and three consecutive NCAA Division II National Championships (1993-95). Wallace's 1993-95 teams had a combined 41-1 record, making Wallace the first coach in collegiate football history to win as many as 40 games in just three seasons. The three straight national titles also made UNA the first school in the history of NCAA scholarship football to win three straight national titles. A three-time GSC Coach of the Year and three-time Division II National Coach of the Year, Wallace was also selected as the Division II Coach of the Quarter Century (1972-97). His 1995 squad was invited to the White House to meet with President Bill Clinton and became the first Division II team to receive such an invitation. Following his time at UNA, Wallace coached at Temple University from 1998-2005, and at the University of West Alabama from 2006-10. He was inducted into the Division II Football Hall of Fame in 2010, the UNA Athletic Hall of Fame in 2011 and was also previously inducted into the Alabama Sports Hall of Fame. Following his 10 years at UNA, Wallace became the head coach at Temple University on December 23, 1997. He coached the Owls for eight seasons, compiling a record of 19-71. Although his first team at Temple finished 2-9, one of the wins became arguably one of the biggest upsets in college football history. On October 17, 1998, the 0-6 Owls traveled to Blacksburg, Virginia to play the Virginia Tech Hokies. The Owls overcame a 17-0 deficit and numerous injuries to upset the Hokies 28-24. The win gave the Owls their first ever Big East road win, and their first win over a ranked opponent in 11 years. Two weeks later, the Owls won again in improbable fashion, this time overcoming a 20-0 deficit to defeat Pittsburgh. In five seasons at West Alabama, from 2006-10, he led the Tigers to three winning seasons and the school's first NCAA post-season appearance since 1975. West Alabama's 6-5 record in 2006 marked the Tigers' first winning season in 14 years. He retired from coaching following the 2010 season.
ALL-TIME UNA HEAD FOOTBALL COACHES (1949-2011)
Coach Years Record Winning Pct. Playoff Appearances Hal Self 1949-69 109-81-8 57.1 Durell Mock 1970-72 8-24-0 25.0 Mickey Andrews 1973-76 18-21-1 46.2 Wayne Grubb 1977-87 84-33-6 70.7 3 Bobby Wallace 1988-97 82-36-1 69.3 6 Bill Hyde 1998-2001 20-21 48.7 Mark Hudspeth 2002-08 66-21 75.8 5 Terry Bowden 2009-11 29-9 76.3 3 Bobby Wallace 2012-
WALLACE'S YEAR-BY-YEAR COACHING POSITIONS
1976 Mississippi State Graduate Assistant 1977-79 East Carolina Defensive Backs Coach 1980 Wyoming Defensive Backs Coach 1981-85 Auburn Defensive Backs Coach 1986 Mississippi State Defensive Coordinator 1987 Illinois Defensive Backs Coach 1988-97 North Alabama Head Coach 1998-05 Temple Head Coach 2006-10 West Alabama Head Coach
WALLACE'S YEAR-BY-YEAR COACHING RECORDS
North Alabama Lions (Gulf South Conference) (1988-1997) Year Team Overall Conference Standing Playoffs 1988 North Alabama 2-8 2-6 8th 1989 North Alabama 6-5 4-4 5th 1990 North Alabama 8-3 6-2 T-2nd NCAA Division II First Round 1991 North Alabama 3-7 1-5 7th 1992 North Alabama 7-4-1 2-2-1 T-2nd NCAA Division II Second Round 1993 North Alabama 14-0 7-0 1st NCAA Division II Champions 1994 North Alabama 13-1 7-0 1st NCAA Division II Champions 1995 North Alabama 14-0 8-0 1st NCAA Division II Champions 1996 North Alabama 6-5 4-4 T-5th 1997 North Alabama 9-3 6-2 3rd NCAA Division II First Round North Alabama: 82-36-1 47-25-1
Temple Owls (Big East Conference) (1998-2004)
Year Team Overall Conference Standing 1998 Temple 2-9 2-5 T-6th 1999 Temple 2-9 2-5 T-6th 2000 Temple 4-7 1-6 7th 2001 Temple 4-7 2-5 6th 2002 Temple 4-8 2-5 T-6th 2003 Temple 1-11 0-7 8th 2004 Temple 2-9 1-5 T-6th Temple Owls (NCAA Division I-A Independent) (2005) 2005 Temple 0-11 Temple: 19-71 10-39
West Alabama Tigers (Gulf South Conference) (2006-2010)
Year Team Overall Conference Standing Playoffs 2006 West Alabama 6-5 3-5 6th 2007 West Alabama 1-9 0-8 11th 2008 West Alabama 4-7 2-6 T-8th 2009 West Alabama 8-5 5-3 T-3rd NCAA Division II Second Round 2010 West Alabama 7-4 5-3 5th West Alabama: 26-30 15-25 Career Record: 127-137-1