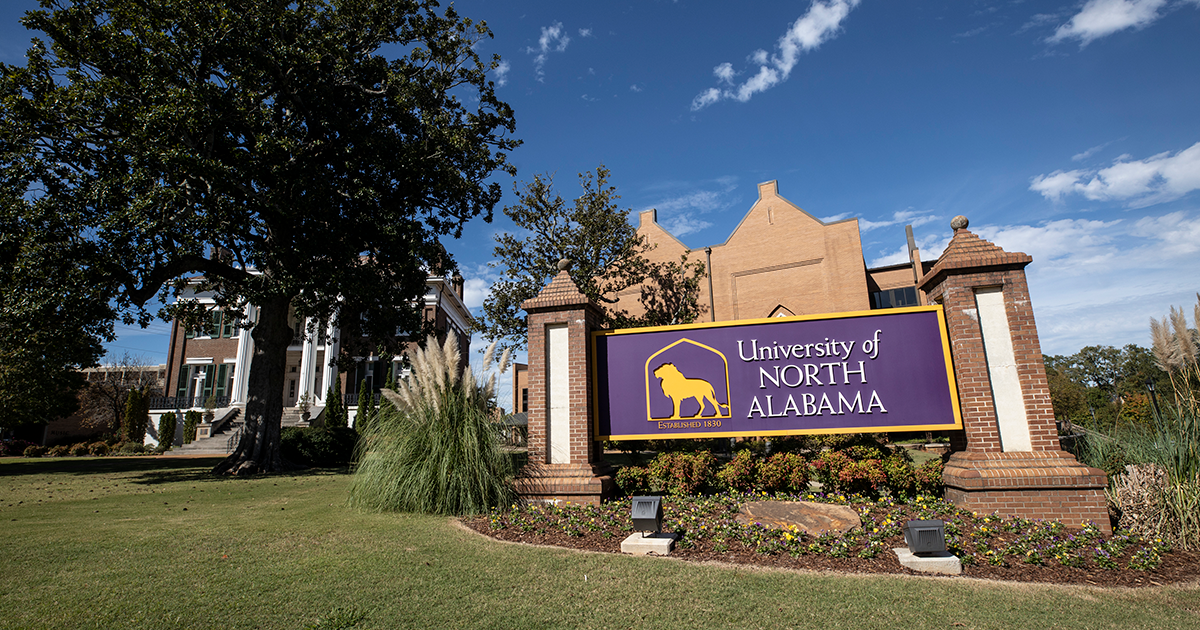 Una Professor Takes Time To Complete Multiple Projects
Jan. 04, 2016
Michelle Eubanks, UNA, at media@una.edu, 256.765.4392 or 256.606.2033
Bryan Rachal, University Communications
FLORENCE, Ala. -There aren't many professions where one can simply say, "I need to take off half a year," and the boss agrees to it. Of course, there is maternity/paternity leave and things of that nature; but what if you're an author and you simply need to finish some writing? Well, if you happen to be a professor like Dr. Matthew Schoenbachler, you can ask for a sabbatical.
Schoenbachler is a professor in the University of North Alabama department of History, where his expertise is in Early American history. As mentioned, he's also a published author.
"Basically, I'm just trying to finish a bunch of projects I started over the past few years. I published a book in 2009, titled Murder and Madness: The Myth of the Kentucky Tragedy, which is the story of this 19th century murder. And I've been working on textbooks and getting a manuscript together," said Schoenbachler. "Dr. Nelson was a colleague of ours who passed away last year and he left behind a manuscript that I've been editing."
Schoenbachler said that during the process of writing the larger projects he's had some smaller articles and studies that have interested him over the years. And because of that, he said he has five partially completed articles on various topics.
"They're in various stages of completion, so what I wanted to do was take off a semester and just finish them all," he said.
The articles he'll be working on next year will cover the influence of Lord Byron on early America; the cannabis eating fad that took place in the 1850s; interracial violence across the Ohio River in early Kentucky history; early American businessmen's paradoxical reactions to the social changes they themselves unleashed; and, finally, early American attitudes toward corporations.
"What they are is just side projects that I've stumbled on over the years, that just intrigue me," he said. "I've done the research for all of these and I just need to sit down and have the uninterrupted time to complete them."
Once finished, Schoenbachler will submit the essays to academic journals. He said the goal of publishing things like this at a regional institution is mainly to be a part of the overall discussion. Schoenbachler said that when it comes to history, there's little to no grant money associated with publishing these types of works; it's really just about his passion for the topic at hand.
"It's also about reinvigorating your own knowledge base so you're not just teaching the same thing year after year," he said. "So for instance, if I'm covering Andrew Jackson, I can tell them that here's what I've been reading, but the source material and archives say this actually happened rather than that. So research at a place like UNA is also a means of invigorating your teaching."
Schoenbachler said the faculty leave program at UNA is relatively new, but it's becoming more popular. He said many research one university's offer faculty leave and sabbaticals for senior faculty members but it's heavily related to just that, research. This will be Schoenbachler's first leave of absence during his 13 years at UNA.
During his time away adjunct and full-time professors will pick up the slack when it comes to his coursework and honors classes. His sabbatical will begin in the fall of 2016.
For more information on UNA's Dept. of History: https://www.una.edu/history/