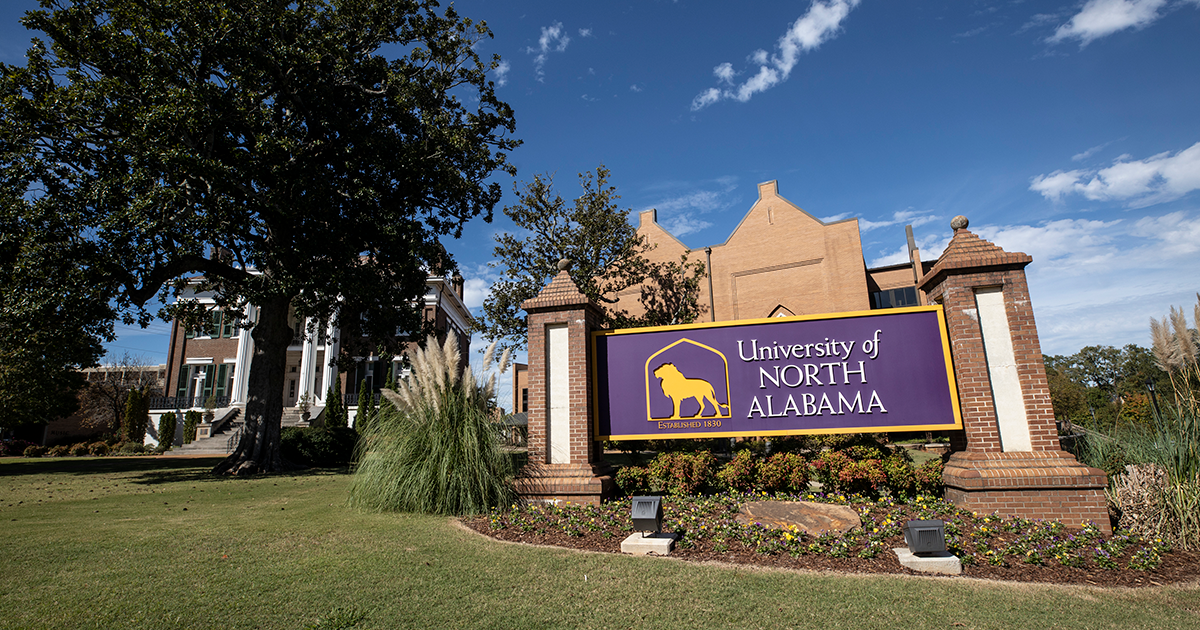 Una Student Wants To Combat Antibiotic Resistance With Simple Test
Jun. 30, 2016
Michelle Eubanks, UNA, at media@una.edu, 256.765.4392 or 256.606.2033
Bryan Rachal, University Communications
FLORENCE, Ala. -The Centers for Disease Control and Prevention website states antibiotic resistance has been called one of the world's most pressing public health problems, and that's why one University of North Alabama student and her professor are trying to find a cheap test that can help combat the problem.
"You have to remember, a hundred years ago, so 1916, we didn't even have antibiotics," said Dr. Lisa Ann Blankinship, associate professor in the UNA department of biology. "So less than a 100 years out and we're pretty much seeing resistance to every class of antibiotics at some level," she said.
According to Blankinship, a majority of the resistance comes from hospital-acquired sickness. "If you're out in the community and your son or daughter has a sinus infection and then you get sick, more than likely that's going to be a virus not a bacterium. But if you go to the doctor, they're going to give you an antibiotic to treat that."
Blankinship said that once you get into health care that's where the issues arise. The reason being that if a patient can't have certain strains of penicillin, then there's really only about three or four drugs that can used to treat them and that's why a test is important.
Blankinship has teamed up with UNA Student Allison Shelton to develop a low cost test that would be similar to a home pregnancy test in terms of affordability and ease of use. Shelton, who graduated from UNA with a nursing degree, said she sees the issue of antibiotic resistance on a daily basis.
"Well I was talking about a research project I could do, Shelton said, "and I'm currently a nurse at the hospital here, and one of the things I saw was the prescription of antibiotics without actually knowing what the causative pathogen is," Shelton said. "I met Dr. Blankinship on a mission trip to Costa Rica and we were talking about how we could combat the issue of antibiotic resistance. And for those people who had an infection, the only antibiotic we had to give was amoxicillin. So even though we didn't know what was causing the infection, that's the only thing we could throw at it," she said.
That's a big issue, according to Shelton and Blankinship; and the reason why is simple. If those patients were to have an adverse effect to the antibiotic or if they were immune to it and it didn't work, they would have no recourse. As in, by the time they figured this out, the mission group would be long gone and so would their medication and expertise.
And while there are currently tests that will check for the causative pathogen, Shelton said they can cost upward of $700, "so that's not really a feasible option for many people," she said. It's also another reason why she said they feel their affordable test has a market.
Now, if a person were to take an antibiotic that they were resistant to, it wouldn't necessarily cause them immediate harm, but Blankinship said the long-term effects are what should be concerning.
"You're also going to promote any bacteria that can survive that antibiotic, so basically you'll end up strengthening them. And bacteria have a habit of sharing genes, so if you get sick with something and you've had all these antibiotics, then the bacteria that survives will share that with any other bacteria you come in contact with," Blankinship said.
Consider that in terms of a long-term care facility or hospital, and then consider the number of patients that go through? How many different types of antibiotics they're given? And how much "sharing" is going on?
Blankinship and Shelton both said they feel that the best way to solve this problem is with early detection, and that's where the affordable test would come in.
"If we can, at the clinic level or gatekeeper level, have available tests that tell a doctor that their patient has an infection, you know they may think it's bacterial. So a test like this would let them see if their patient was resistant to this drug before they give them 14 days of it," Blankinship said.
Shelton and Blankinship had planned on field testing their new test in Cost Rica later this month during another medical mission trip, but they don't think they'll have a prototype ready in time. However, once completed, they hope their test will be able to deliver results within five minutes and in a paper-based format so that it can be conducted without large amounts of chemicals, which makes it beneficial in less developed countries. Additionally, since most antibiotics come from a certain group, the test wouldn't be as specific as to tell you which one, it would simply tell you the group that you're immune to.
"I think there is a market for this, if you can get the price down low enough," said Blankinship. "Which is why we wanted something paper based. If we can get it down to stuff that you would have in your home, like pantry items; that would be ideal," she said.
Shelton has started testing the product in the lab and because she is a nurse at ECM hospital in Florence, she now has access to samples with which she can test her new product. Shelton said she has plans to attend medical school and will be taking the MCATs soon.
As for their test, Blankinship and Shelton have not given it a name yet, but with or without one, once completed, this product could be a game changer.
For more information on UNA's Department of Biology: https://www.una.edu/biology/
Pictures of Shelton and Blankinship can be found here: http://www.unalionsden.com/archive/gallery.php?album_id=1390
UNIVERSITY OF NORTH ALABAMA
The University of North Alabama is an accredited, comprehensive regional state university offering undergraduate and graduate degree programs through the colleges of Arts and Sciences, Business, Education and Human Sciences, and Nursing. Occupying a 130-acre campus in a residential section of Florence, Alabama, UNA is located within a four-city area that also includes Tuscumbia, Sheffield and Muscle Shoals. UNA also operates a renowned collegiate athletic program in NCAA Division II's Gulf South Conference. The University of North Alabama is an equal opportunity institution and does not discriminate in the admission policy on the basis of race, color, sex, religion, disability, age or national origin.