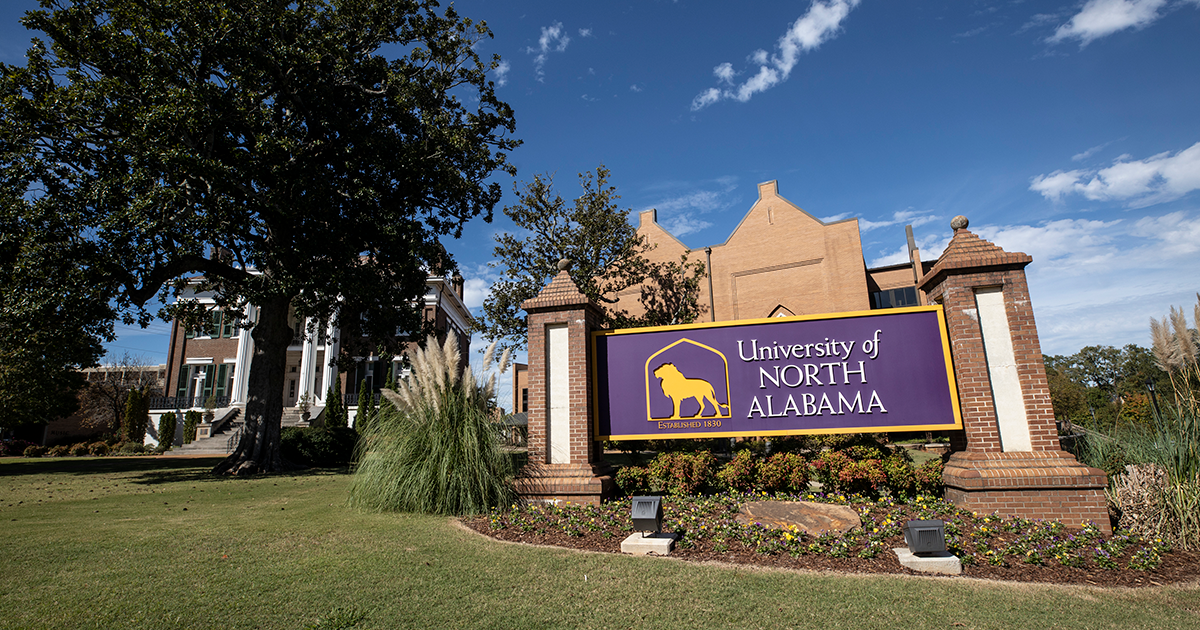 University Of North Alabama Teams Up With Northwest-shoals Community College And Shoals Scholar Dollars
Aug. 24, 2016
Michelle Eubanks, UNA, at media@una.edu, 256.765.4392 or 256.606.2033
FLORENCE, Ala. - The University of North Alabama and Northwest-Shoals Community College (NW-SCC) are teaming up to provide a new scholarship opportunity in cooperation with the Shoals Scholar Dollars Program.
Officials with UNA and NW-SCC have been working on an agreement with Shoals Scholar Dollars representatives that would provide a scholarship for students who plan on transferring from NW-SCC to UNA. The Shoals Scholar Dollars program, which was founded by the Florence and Sheffield Rotary clubs, was originally designed to assist students who have limited or no financial assistance to pay for tuition at NW-SCC. However, this new agreement will change that to include UNA.
UNA President Dr. Ken Kitts said he met recently with NW-SCC President Dr. Humphrey Lee to discuss ways in which both schools could strengthen their partnership.
"This new scholarship is a perfect example of both institutions working together with the Shoals Scholar Dollars program to make higher education more accessible," said Kitts. "We've all seen the impact Scholar Dollars has had on higher education in the Shoals, and we're excited about the role UNA will play in the program going forward. But these are the types of things that can happen when you put education and students first, and we're looking forward to a long partnership with SSD and NW-SCC," he said.
NW-SCC is the leading community college feeder institution for UNA, and their work with the Scholar Dollars program has already demonstrated their commitment to higher education in the area. However, this new partnership between the three entities will provide more opportunities for students with financial needs in the Shoals.
According to NW-SCC President Dr. Humphrey Lee, this is the kind of growth in the program he had envisioned. "When the Scholar Dollars program began we saw this as a scholarship to educate students in the Shoals area and increase our workforce," said Lee. "Now, with the help of UNA, we can take that mission to a new level by rewarding those students who are successful at Northwest-Shoals with a scholarship to UNA."
The new scholarship will be available to students who maintain eligibility while at NW-SCC, have financial need and wish to go on and complete a four-year degree at UNA. Students transferring to UNA after two years in the Shoals Scholar Dollars program at NW-SCC will be expected to meet the scholarship renewal criteria of the current program.
Federal Pell Grant or partial Pell Grant students who enter the Scholar Dollars program at NW-SCC this fall will be eligible for the scholarship at UNA beginning in fall 2018.
For more information on the Shoals Scholar Dollars program: http://www.shoalsscholardollars.com/
UNIVERSITY OF NORTH ALABAMA
The University of North Alabama is an accredited, comprehensive regional state university offering undergraduate and graduate degree programs through the colleges of Arts and Sciences, Business, Education and Human Sciences, and Nursing. Occupying a 130-acre campus in a residential section of Florence, Alabama, UNA is located within a four-city area that also includes Tuscumbia, Sheffield and Muscle Shoals. UNA also operates a renowned collegiate athletic program in NCAA Division II's Gulf South Conference. The University of North Alabama is an equal opportunity institution and does not discriminate in the admission policy on the basis of race, color, sex, religion, disability, age or national origin.
Northwest-Shoals Community College
Northwest-Shoals Community College (NW-SCC) is part of the Alabama Community College System and home to more than 3,700 students. NW-SCC offers over 100 certificate and degree programs and is committed to providing career technical, academic, and lifelong educational opportunities that promote economic growth and enrich the quality of life for people of the Northwest Alabama. For more information about the NW-SCC, visit www.nwscc.edu
About The University of North Alabama
The University of North Alabama is an accredited, comprehensive regional state university offering credential, certificate, baccalaureate, master's, and doctoral programs in the colleges of Arts, Sciences, and Engineering; Business and Technology; Education and Human Sciences; and the Anderson College of Nursing and Health Professions. The first-choice University for more than 10,000 on-campus and online students, UNA is on a bucolic campus in Florence, Alabama, part of the historic and vibrant Shoals region. Lions Athletics, a renowned collegiate athletics program with seven (7) Division II National Championships, is now a proud member of the NCAA Division I's ASUN Conference. The University of North Alabama is an equal opportunity institution and does not discriminate in the admission policy on the basis of race, color, sex, religion, disability, age, or national origin. For more: www.una.edu and www.una.edu/unaworks/