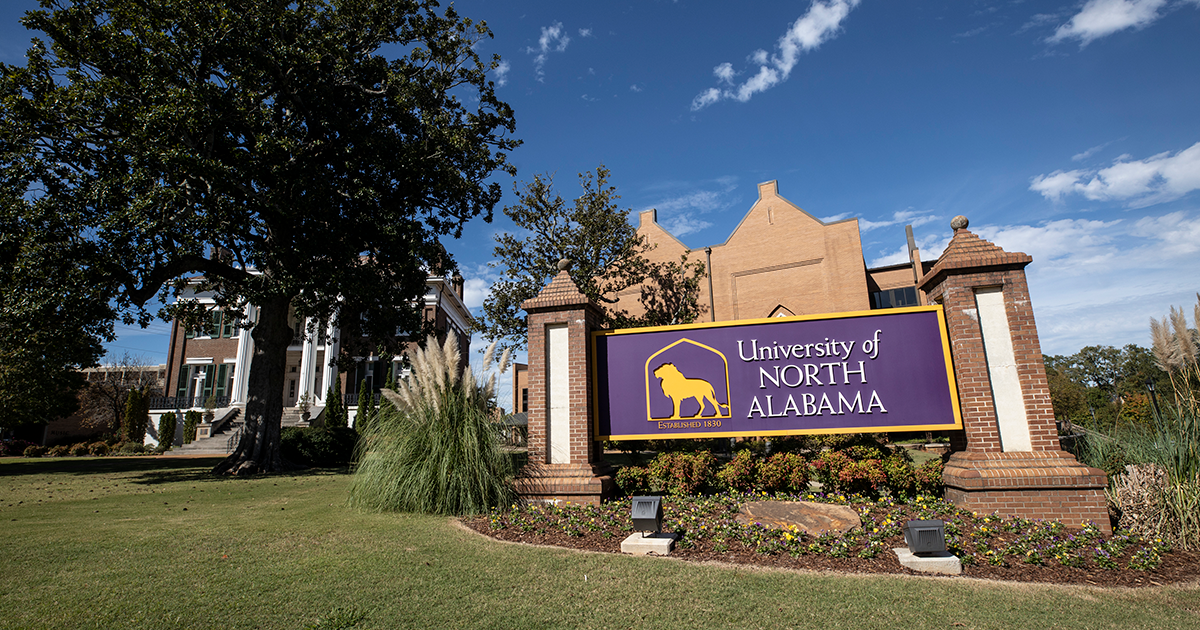 Una Hper Students Intern With Yellowstone National Park
Jul. 31, 2017
Michelle Eubanks, UNA, at media@una.edu, 256.765.4392 or 256.606.2033
Kelsey Herston and Dominic Summerhill
Student Writers, University Communications
FLORENCE, Ala.-Two University of North Alabama students are spending the summer enjoying the wildlife at Yellowstone National Park, while also interning with the non-profit organization, Yellowstone Forever.
Sara Cathryn Bayles and Cody Ringelstein said their days are very diverse, and they participate in a variety of activities. This includes teaching classes such as "Who's There? Owls of Yellowstone" and "Fly-fishing for Beginners." They also act as risk managers on hikes to make sure everyone stays safe.
We recently had the opportunity to interview both students about their experiences so far.
Q: What is your major?
Sara: My undergraduate will be in Recreation with an emphasis in Outdoor Education. I will begin my master's in Sport Management this coming fall.
Cody: B.S. Sports and Recreation Management with a focus in Outdoor Recreation.
Q: When did you start your internship and when is your last day?
Both: Our first official day with Yellowstone Forever was May 15 and our last day will be September 6.
Q: Tell me about your experience as an intern.
Sara: So far it has been an incredible experience. I've learned so much about the wildlife, plants and geology of Yellowstone, as well as learned so many things about myself in the process. It truly has been an incredible experience that I will take with me forever.
Cody: My experience so far is hard to put into words. I live in one of the most remote and wild areas of the park. I've seen wolves and grizzlies just a half mile or so from my cabin. Bison herds and Pronghorn wander through the ranch almost every other day. There's a badger and a weasel that I see from time-to-time hunting the ground squirrels that are all over the ranch. I've learned so much, that it feels like my brain is at max capacity. It's been exhausting, but in the best way possible; definitely one of the most rewarding experiences of my civilian life.
Q: What is the internship exactly? What do you do there?
Cody: Sara and me are actually the first interns that this agency has ever had, so I believe they are building one from us. I work as a program volunteer at the Lamar Buffalo Ranch in Yellowstone National Park. I rotate between being a caretaker (camp duty) for the ranch and assisting programs as a risk manager and bus driver. I usually have a program every eight days or so with a day or two off and camp duty between each program.
Q: What is your favorite part of the internship?
Sara: My favorite part about working at the Lamar Buffalo Ranch is connecting with the instructors and participants that come through for programs. Each week, around 25 new people come in for programs, and it's amazing to hear their stories and build a relationship with them. I've met so many people with an incredible amount of wisdom and advice about careers, relationships and life in general. It is amazing how Yellowstone can really bring people together and bring out the best in people.
Q: What kind of job would you like after graduating? How has this internship helped prepare you for your future career?
Sara: My dream job is to teach college level courses as a professor, and hopefully take students to experience national parks and monuments like I was blessed enough to do at 21. Being here for my internship has confirmed that dream even more, and already working in Yellowstone gives me practical experience and knowledge that I can take with me throughout my graduate and Ph.D. work, and hopefully in a university classroom one day.
As an intern, I've learned how important relationships are, how to better retain information, and what hard work really looks like. I believe I will be looking back and taking lessons from my internship throughout my whole career.
Cody: Yellowstone Forever is the official non-profit organization of Yellowstone National Park, aka the world's first national park. Having them on my resume along with the knowledge I've gained from this agency is almost like I already have one foot in the door of a career out here or in any national park.
Q: Final thoughts?
Sara: I'm so thankful for this opportunity and for the people in my life who have supported and pushed me along the way to go after my dream. It's been amazing the way that the faculty and staff in the HPER department at UNA have guided me throughout this process. Dr. Thomas Coates, along with his whole team of professors and staff are truly a blessing to the students who come through that department.
Cody:If you love the outdoors and are willing to leave your comfort zone of home, then there is no other internship that UNA has that can compare to what you will experience out here in the Wild West. It is a life changing opportunity that will challenge you and inspire you all at the same time.
UNIVERSITY OF NORTH ALABAMA
The University of North Alabama is an accredited, comprehensive regional state university offering undergraduate and graduate degree programsthrough the colleges of Arts and Sciences, Business,Education and Human Sciences, and the Anderson College of Nursing.Occupying a 130-acre campus in a residential section of Florence, Alabama, UNA is located within a four-city area that also includes Tuscumbia, Sheffield and Muscle Shoals. UNA also operates arenownedcollegiate athletic program in NCAA Division II's Gulf South Conference.The University of North Alabama is an equal opportunity institution and does not discriminate in the admission policy on the basis of race, color, sex, religion, disability, age or national origin.