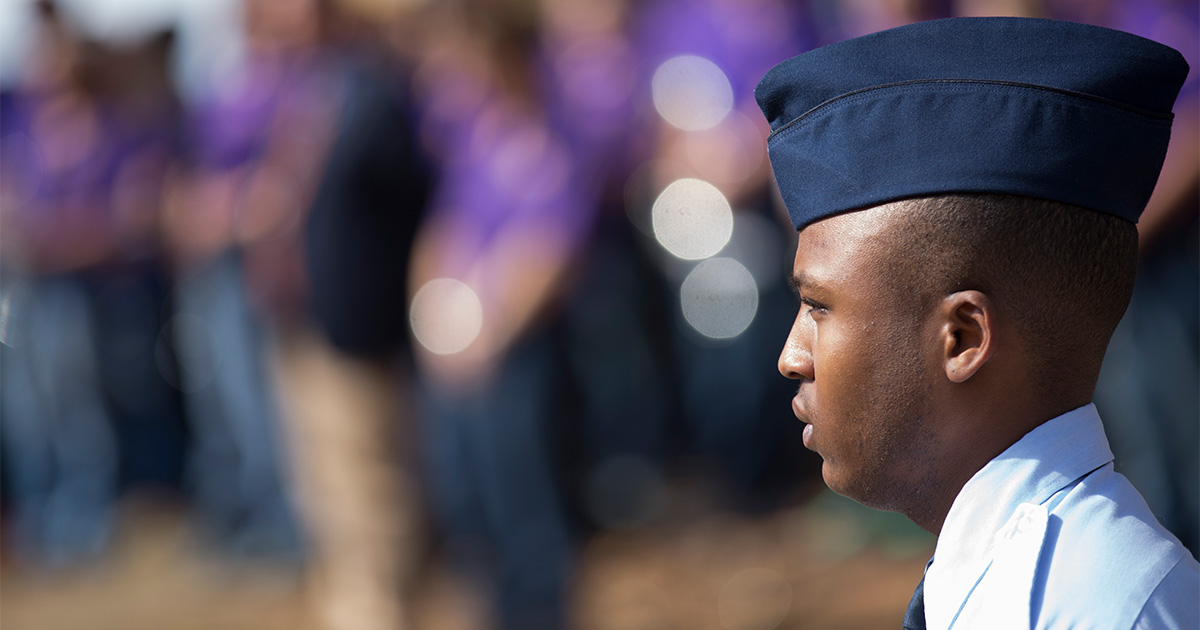 In Service to Our Country
Nov. 11, 2022
Caroline Conkle , at cconkle@una.edu
In Fall 2022, the University of North Alabama was recognized by U.S. News & World Report as the 8th Best College for Veterans among Regional Universities South. According to the publication, which releases these lists annually, the ranking reflects the institutions that participate in federal initiatives that assist veterans and active-duty military pay for and complete their degrees. 
UNA has a long history of supporting veterans as well as student cadets. In fact, UNA's ROTC is among the oldest in Alabama and is known on campus as the Lion Battalion. 
In March of 1947, Florence State Teachers College, as it was known then, made an informal request for an ROTC program, which would be followed by formal applications for cadets that would be submitted later that year. By July 1, 1948, a Military Reserve Officer' Training Corps unit would be established at the institution, making it among the first to be activated in Alabama since the beginning of World War II. 
According to UNA Historian Dr. Jeffrey Bibbee, all men who were considered able-bodied were required to participate in the ROTC Battalion. That changed by 1971, when ROTC became voluntary. By the next year, in 1972, nine women were admitted to the program at what was then Florence State University, putting the school among the 10 colleges and universities nationwide that were authorized to issues commissions to women upon graduation. 
There may be no one who loves – or understands the history of – UNA's Reserve Officers' Training Corps, or ROTC as it is most often known, quite like Pat Jones. As someone who worked within the ROTC Department for almost 40 years, she holds the key to the ROTC's history within the Wesleyan Annex, and she also holds its heart.
Jones began her career in the late 1960s, working as an administrative assistant of sorts in Wesleyan Annex. During that time, she said she had the opportunity to come into contact with hundreds of people who passed through the program. 
"I wanted to help the cadets," she said. "My main goal was to work with them and be of service to them as they were of service to the institution as well as, ultimately, to the country. In all those years, I got to work with some incredible people. One was a very sweet young woman, and the rest were young men. They treated me like a princess."
Even after retiring, Jones is still well-known in Wesleyan Annex, and she stops by on occasion to visit with cadets as well as the military faculty, among them is LTC Rashaun D. Warren, Department Chair of the Program and a Military Science professor. 
Whereas women were among the first to create a diverse ROTC in the early 1970s, today's program is even more reflective of the student – and greater – population. 
"It is more diverse now – with the inclusion of African American cadets, Hispanic cadets, and, of course, female cadets," he said. "I believe it is going in the right direction. We are more community-based now, and we are teaching them how to be a soldier in the army, but, at the same time, I believe it is about being a selfless servant. What all can we do now that we are here?" 
While Jones worked with cadets during their years as UNA students, the institution also plays a key role ensuring veterans have an opportunity to transition into a college career through the Military Veterans Service Center housed in the Guillot University Center. Here, student veterans and their families can count on receiving the highest level of support and dedication from the staff who are there to help them succeed.
"The MVSC is intended as a service center and a safe space for veterans," said Doug McClain, the Center Coordinator. "Veterans and their dependents can come for assistance in applying for and/or utilizing their state and federal benefits, and, typically, nontraditional students can come and be around like-minded student veterans who have had a shared life experience." 
In addition to the assistance with applying for benefits, veterans can also take advantage of the Center's break room, computer lab, and meeting room, which can be used at their convenience.
"To the veterans that use the facility, it is a great, quiet place for them to study and complete school work before, in between, or after classes, so, when they go home to their families in the evenings, they are able to devote their time and energy to family life," McClain said. 
On the cusp of its 75th anniversary of being a mainstay on the UNA campus, the ROTC has graduated hundreds of cadets, many of whom have gone to serve the country during wars, conflicts, and peacekeeping operations. Others, like McClain and Warren, have returned to the University in order to serve today's cadets and veterans. 
"This service – it's a way to preserve our freedom," Jones said. "They sacrifice seeing their families because they know they are doing something so important. The veterans who returned have always been so great for those cadets as they filled an important role."
Jones keeps in touch with some of cadets with whom she came into contact, and hers is a name that is often still spoken by those in the department in Wesleyan Annex.
"I said I wouldn't shed a tear when I left," she said. "But, when you love something for so many years, it is so hard to leave. I couldn't have been more fortunate."
About The University of North Alabama
The University of North Alabama is an accredited, comprehensive regional state university offering credential, certificate, baccalaureate, master's, and doctoral programs in the colleges of Arts, Sciences, and Engineering; Business and Technology; Education and Human Sciences; and the Anderson College of Nursing and Health Professions. The first-choice University for more than 10,000 on-campus and online students, UNA is on a bucolic campus in Florence, Alabama, part of the historic and vibrant Shoals region. Lions Athletics, a renowned collegiate athletics program with seven (7) Division II National Championships, is now a proud member of the NCAA Division I's ASUN Conference. The University of North Alabama is an equal opportunity institution and does not discriminate in the admission policy on the basis of race, color, sex, religion, disability, age, or national origin. For more: www.una.edu and www.una.edu/unaworks/