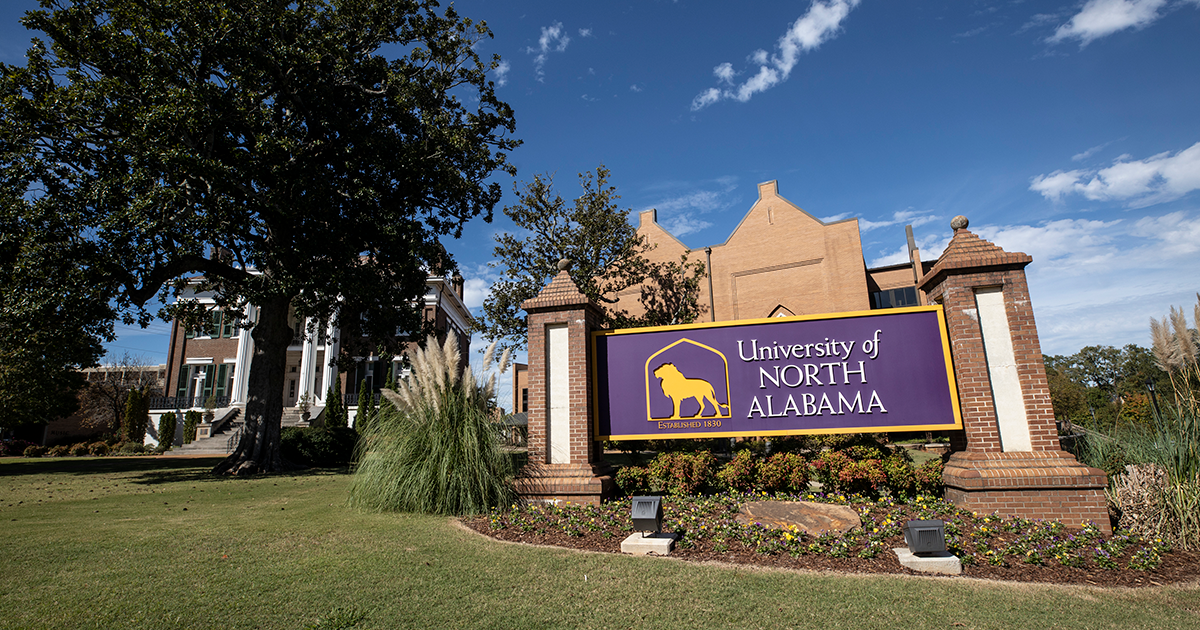 For Second Year In A Row, University Of North Alabama Has Two Students Competing For Prestigious Fulbright Scholarships
Mar. 05, 2018
Michelle Eubanks, UNA, at media@una.edu, 256.765.4392 or 256.606.2033
Bryan Rachal,
University Communications
FLORENCE, Ala.-For the second time in school history, the University of North Alabama has two students competing as semi-finalists for the Fulbright U.S. Student Scholarship Program.
This year marks UNA's second foray into applying for the Fulbright program, which has been a focused effort by Dr. Matt Price, UNA's director of Premiere National and International Awards.
"UNA has had four semi-finalists in the last two years," Price said; "and 14 applicants total, with five coming this year. So if you're looking at the numbers, 30 percent have become finalists. That's phenomenal," he said.
Senior Alexandria Buttgereit and graduate student Elisa Coker are representing UNA as semifinalists; and while both share that similarity, with the exception of UNA and Price, their paths to this point were relatively different.
Buttgereit is majoring in Commercial Spanish with a minor in French, Global Studies and Marketing and Communication Technology. Coker is earning a master's in Education; she wants to teach English as a Second Language or work in the ESL field.
And while it's clear that Price's involvement with the process has helped produce more applicants, there seems to be another common denominator that the semi-finalists share.
Travel abroad.
Buttgereit said her passion for language and travel started at a young age.
"I remember at a young age I would pretend to speak Spanish and then I'd try to teach my siblings Spanish. And I just found that I really enjoyed languages and the idea of travel. Then the summer before my senior year in high school, I visited France for the first time," she said. "I just fell in love with the people and traveling. Ever since then I've loved it."
For Coker, the situation was similar.
"In 2012, I spent over two months in Niger, West Africa, with the International Mission Board and my home church in Birmingham, the Church at Brookhills," Coker said.
"That was the hardest and best summer of my life. It was of course a third-world nation with the highest infant mortality rate in the world. So there was the language barrier and the cultural shock, but that really solidified that I knew I could use ESL to reach the nations," she said.
Price said he believes their experiences abroad helped Buttgereit and Coker stand out among the crowd. And that's just one way he's helped guide them.
As non-traditional student, Coker said she was a little hesitant to apply because she had some confidence issues
"I'm so thankful for Dr. Price," Coker said. "Because he walks you through it step by step and makes it less daunting."
In the case of Buttgereit, Price's influence helped guide her toward which country might be the best fit.
"I got an email from Dr. Price about the Fulbright Scholarship, and I was a little hesitant because there were so many countries to choose from," said Buttgereit. "I had some other options for scholarship work, but I thought I could maybe use the Fulbright program to perfect my Spanish? So Dr. Price suggested trying out for Spain," she said.
The goal for both students is to teach English abroad. As mentioned, Buttgereit applied to Spain, while Coker has decided on rural Malaysia. Neither will know the decision until later this spring.
For those considering it, Coker has one thing to say:
"I would definitely encourage them to do it," Coker said. "I think the process of writing your essay builds those writing skills, but it also enhances specific items that maybe you didn't think were important for your resume. But just the opportunity to go and explore and learn about different cultures and different groups makes it worth it," she said.
Buttgereit echoedthe same sentiment:
"I encourage students to go for something like this. I think expectations and fear of failure, I'm learning, are probably two of the biggest things that stop students from doing something," she said. "You don't know how much time you have in life, so be careful and plan, but also don't be afraid to go for something. The worst you can be told is no. You won't regret the experiences you go through to get there."
According to Fulbright online,The FulbrightU.S. Student Programis the largest U.S. exchange program offering opportunities for students and young professionals to undertake international graduate study, advanced research, university teaching, and primary and secondary school teaching worldwide.
The program currently awards approximately 1,900 grants annually in all fields of study, and operates in more than 140 countries worldwide. Fulbright U.S. student alumni populate arange of professions and include ambassadors, members of Congress, judges, heads of corporations, university presidents, journalists, artists, professors and teachers.
UNIVERSITY OF NORTH ALABAMA
The University of North Alabama is an accredited, comprehensive regional state university offering undergraduate and graduate degree programsthrough the colleges of Arts and Sciences, Business,Education and Human Sciences, and the Anderson College of Nursing.Occupying a 130-acre campus in a residential section of Florence, Alabama, UNA is located within a four-city area that also includes Tuscumbia, Sheffield and Muscle Shoals. UNA also operates arenownedcollegiate athletic program in NCAA Division II's Gulf South Conference.The University of North Alabama is an equal opportunity institution and does not discriminate in the admission policy on the basis of race, color, sex, religion, disability, age or national origin.