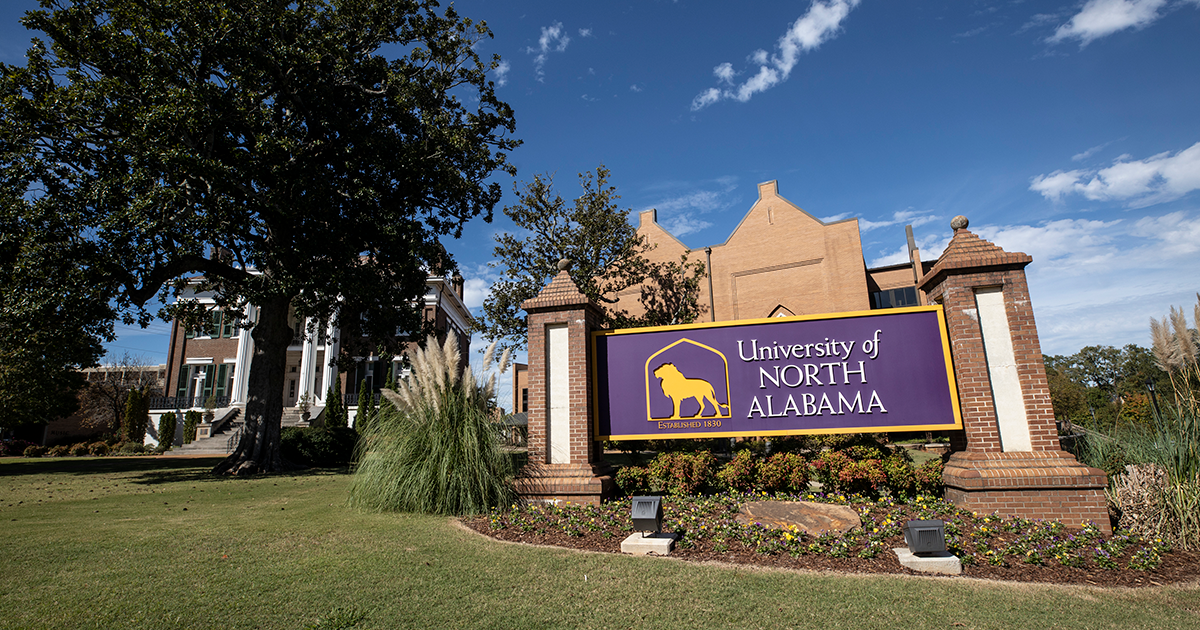 Una's Geography Department Sees Dramatic Increase In Student Presenters
Dec. 11, 2017
Michelle Eubanks, UNA, at media@una.edu, 256.765.4392 or 256.606.2033
Bryan Rachal
University Communications
FLORENCE, Ala.- To have a few students present at a conference is one thing, but to have 18? Well, it turns out that is a record number of student presenters and they belong to the University of North Alabama Department of Geography.
"This fall we've had 18 students present research at conferences," said Dr. Francis Koti, chair of the UNA Department of Geography. "They presented at one international conference and three regional conferences and represented both graduate and undergraduate students."
Koti said the record number of geography student presenters and their faculty mentors travelled and presented research at three main conferences this year: the 2017 Annual Conference of the Kenya Scholars and Studies Association (KESSA), the 2017 Mid-South Aquatic Plant Management Society (MSAPMS) Conference, and the 2017 Annual Conference of Association of Pacific Coast Geographers (APCG).
One conference had 14 UNA student presenters, the 2017 Annual Conference of the Southeast Division of the American Association of Geographers (SEDAAG).
According to Koti, new funding sources are part of the reason for the uptick in student presenters. The two primary sources were the Department of Geography itself and the department's Freddie Wood Endowment Travel Fund.
"When I became department chair in 2012," Koti said, "there was a fund that we used for different things, and I said if we're going to have a presence in the professional community in the region, we need to dedicate some funds for student conference travel. Therefore, every year students compete for funds; and we give four undergraduate and four graduate grants. Recently, UNA College of Arts and Sciences introduced the Student Research and Conference Travel Fund, which significantly boosted student conference participation," he said.
In addition, Koti said students also had access to the International Student Scholars Fund, the College of Arts and Sciences Gillespie Science Student Travel Fund, and QEP Funds. Another reason for the increase in presenters was the location of a recent conference.
"Also, the SEDAAG conference was in Starkville, Mississippi, this year," said Koti. "And we wanted to have a large presence there, because we're hoping to show them we're serious about hosting the conference in 2020."
Koti said conference participants fell into three categories: students, faculty and faculty/student joint presentations. Some attendees presented their senior capstone project or master's thesis project, while others presented research that they conducted with faculty.
All presentations are reviewed by the different organizations and are then accepted or rejected. If accepted, the students then present in front of a wide-ranging audience.
"At the conference when the students present, there are professionals and academics who will ask questions and give constrictive feedback," Koti said. "Sometimes it's positive, sometimes challenging. Sometimes, they learn new research directions. For many masters' students, it's kind of a dress rehearsal for their master thesis presentation," he said.
However, according to Koti, it's all a part of the plan.
"The Department of Geography has had a tradition of producing graduates who are polished," Koti said. "To stay at that high level we dedicated funds, time and resources to specifically support that. One of the things we've made a continuing goal is experiential learning. That could be a field course, study abroad, a senior capstone, or even presenting at a conference," he said.
Koti said a recent poll of geography alums in the workforce showed experiential learning as one of the top skills they will be looking for in graduates in the next five years; along with the ability to communicate effectively.
"Communication is critical. You have to be able to effectively communicate what you've done," Koti said. "Where else would you test your ability to communicate research findings if not in front of your peers and experts in your area? Regional conferences are preferred as they are smaller and give students opportunities for one-on-one interaction with experts in the field. Furthermore, they seem less intimidating, especially for first-time presenters.
Koti said the presenting trend appears to be continuing, as some students have already submitted abstracts to present their research at the national conference of the American Association of Geographers (AAG) in New Orleans, April 10-14, 2018.
For more information about Geography at UNA:https://www.una.edu/geography/
UNIVERSITY OF NORTH ALABAMA
The University of North Alabama is an accredited, comprehensive regional state university offering undergraduate and graduate degree programsthrough the colleges of Arts and Sciences, Business,Education and Human Sciences, and the Anderson College of Nursing.Occupying a 130-acre campus in a residential section of Florence, Alabama, UNA is located within a four-city area that also includes Tuscumbia, Sheffield and Muscle Shoals. UNA also operates arenownedcollegiate athletic program in NCAA Division II's Gulf South Conference.The University of North Alabama is an equal opportunity institution and does not discriminate in the admission policy on the basis of race, color, sex, religion, disability, age or national origin.