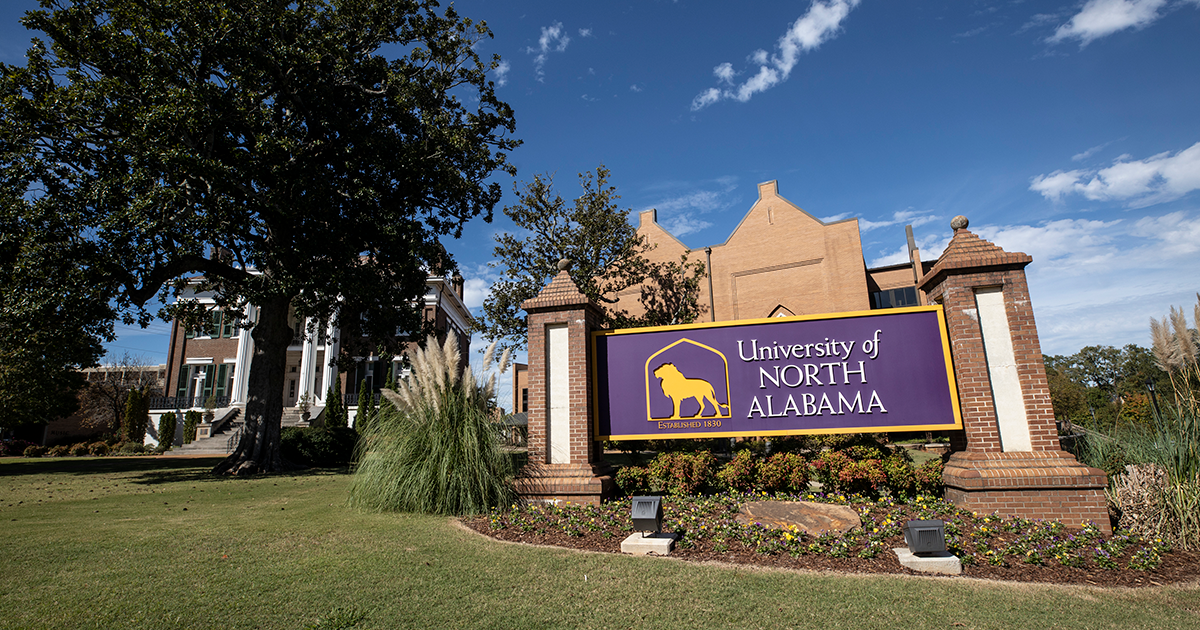 Una Students Recipients Of Gilman International Scholarship
Oct. 01, 2019
Michelle Eubanks, UNA, at media@una.edu, 256.765.4392 or 256.606.2033
FLORENCE, AL - University of North Alabama undergraduate students Leah Burns and Ashlyn Willis have been named as recipients of the Benjamin A. Gilman International Scholarship. The congressionally-funded Gilman program seeks to broaden the perspective of students from the United States by providing scholarships to study and intern abroad, when financial constraints prevent the opportunity.
Burns and Willis joined the London Study Abroad Program at UNA that was directed by Dr. Cheryl Price, an associate professor in the Department of English.
"The first (goal of the program) is to introduce students to the profound impact the city of London has had on the development of British literature," she said. "The second is to train students in completing a primary research project. Students meet these goals through an immersive program that combines cultural site visits with research time at one of the best research libraries in the world."
Price said that Burns and Willis are the perfect fit for the Gilman International Scholarship as the experience will allow them to pursue their passions for British literature and travel.
"Faculty who lead study abroad trips are always trying to find ways that make the experience more affordable," she said. "I am so glad that the Gilman scholarship is out there to help students fund opportunities to go abroad."
Burns is a secondary education major with a concentration in language arts. She said she would use her time in London to conduct research in the British Library while also creating lesson plans for her future students.
As part of the scholarship, Gilman recipients must complete a community engagement project that encourages students to study abroad and to use scholarship resources to afford the cost. As a graphic design minor, Burns said she hopes to use her skills to create a presentation for students at Wilson High School where she is an alumna. Burns wants her project to encourage high schools students to pursue a college education as well as study abroad to develop their knowledge of the world and to enrich their understanding of English literature.
Willis, an English major, said she is going to London to learn valuable archival skills to prepare her for life in academia as she continues her British literature studies. In addition to the time she spends in the British Library, Willis plans to film a documentary about her experiences in London in order to chronicle the relationship between the city and British literature.
A native of Haleyville, Willis' service project involves documenting her experiences in film and social media and sharing it with students at her high school alma mater.
Dr. Matthew Price, the Director of Premier National and International Awards, worked with Burns and Willis on their applications and has been a national reviewer for the Gilman Scholarship in 2013 and again in 2019.
"The Gilman Scholarship is up to $5,000 to study abroad for either a semester or a full year," he said. "Any students who is eligible to apply should."
Burns and Willis also received the UNA Provost's Study Abroad Scholarship which was increased from $800 to $16,000 by Vice President for Academic Affairs and Provost Dr. Ross Alexander.
"With the Provost's and Gilman scholarships, a UNA student is looking at almost 90 percent of their summer study abroad experience being covered," Price said. "The Gilman Scholarship is too good to pass up."
The Gilman Scholarship solicits applications twice each academic year, in the fall and spring. Students who are interested in applying should contact Dr. Matthew Price at mprice2@una.edu about the process and eligibility requirements.
About The University of North Alabama
The University of North Alabama is an accredited, comprehensive regional state university offering undergraduate and graduate degree programs through the colleges of Arts and Sciences, Business, Education and Human Sciences, and the Anderson College of Nursing and Health Professions. Occupying a 130-acre campus in a residential section of Florence, Alabama, UNA is located within a four-city area that also includes Muscle Shoals, Sheffield, and Tuscumbia. UNA Athletics, a renowned collegiate athletics program with seven (7) Division II National Championships, is now a proud member of the NCAA Division I's ASUN Big South Conference. The University of North Alabama is an equal opportunity institution and does not discriminate in the admission policy on the basis of race, color, sex, religion, disability, age, or national origin. For more: www.una.edu and www.una.edu/unaworks/