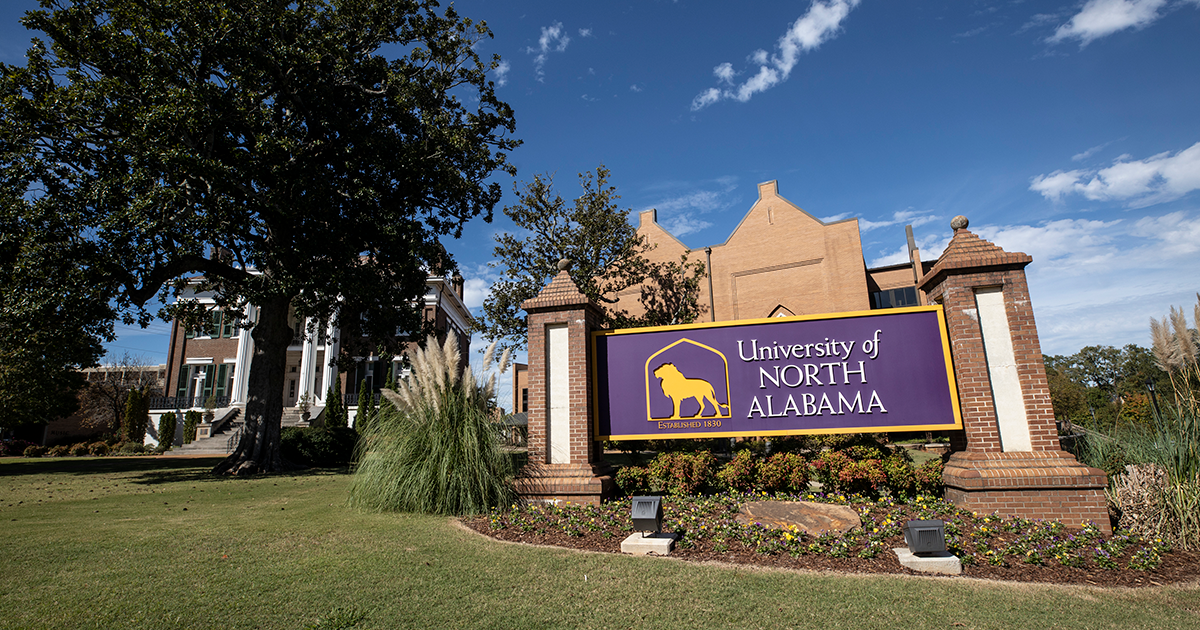 Phi Kappa Phi At The University Of North Alabama Initiates 123 Members
Apr. 29, 2019
Michelle Eubanks, UNA, at media@una.edu, 256.765.4392 or 256.606.2033
Beth Garfrerick
Department of Communications
FLORENCE, Ala.- The University of North Alabama chapter of The Honor Society of Phi Kappa Phi hadan initiation ceremony April 25 for 129 new members to the national academic honorary. Phi Kappa Phi President Stephanie Montgomery presided over the ceremony, initiating five faculty and administrative staff members, 50 graduate students,and 74 undergraduate students into the prestigious organization. The ceremonytook placeat the Guillot University Center.
To be eligible for membership, juniors must have completed at least 72 semester hours and be in the top 7.5 percent of their class. For juniors this semester, that meant having a grade point average of at least a 3.8481 on a 4.0 grading scale. Seniors must have completed at least 90 semester hours and be in the top 10 percent of their class. For seniors this semester, that meant having a grade point average of at least a 3.7634 on a 4.0 grading scale. Graduate initiates must have completed at least 18 semester hours of graduate work and be in the upper 10 percent of all graduate students.Additionally, the local Chapter elects a small number of outstanding faculty, professional staff,and/or alumni each year. They are chosen on the basis of academic record, professional achievements, and service to higher education.The following is a list of 2019 initiates:
Faculty and Staff
Florence, Ala.:Dr. Ross Alexander, Dr. Chanho Kang, Ron Patterson, Patrick Shremshock, Evan Thornton
Graduate Students
Alabaster, Ala.:Charman Harper,McKenzie Wayman
Arab, Ala.:Candice Fawcett
Ardmore, Ala.:Seth Cox
Birmingham, Ala.:Elisa J. Coker
Canton, Ga.:John Tidwell
Cottondale, Ala.:James Hardemon
Cullman, Ala.:Aimee Camp
Decatur, Ala.:Heather Perry
Ethridge, Tenn.:Hannah Adcock
Florence, Ala.:Laura Beasley, Sandor Dibble, Taylor Goodwin, Alexandra O'Steen, Abigail Smith, Paul Williams, Steven A. Young
Hartselle, Ala.:Cody Terry
Huntsville, Ala.:Kayla Rice
Knoxville, Tenn.:Daryl Johnson
Leighton, Ala.:Kristy Cole, Brandi Malone
Lexington, Ala.:Brandon White
Macon, Ga.:Janis Schoenbeck
Manville, N.J.:Donna Cutler
McCalla, Ala.:Katherine Whitley
Mt. Washington, Ky.:Jeffrey Robinson
Muscle Shoals, Ala.:Kaila Bull
New Albany, Miss.:William Sloan
Noxapater, Miss.:Jonathan Swain
Pelham, Ala.:Jennifer Piziak
Plano, Texas.:Dung Ly Nguyen
Pulaski, Tenn.:Micah Hartsfield
Ripley, Miss.:Brooke Gaillard
Rogersville, Ala.:William T. Davis, Alyssum Reno
Russellville, Ala.:Katherine Bradford, Fabian Cortez
Tianjin, China:Xiaodi Cindy Qin
Trinity, Ala.:Kayla Braidfoot, Rachel Dutton, Blake Ferguson, Lauren Ferguson
Tupelo, Miss.:Cynthia McDaniel
Tuscaloosa, Ala.:Kacie Duncan
Tuscumbia, Ala.:Sheena Burgreen, Justin Sparks, Meghan Unger
Union Grove, Ala.:Amanda Butler
Vestavia, Ala.:Sheena Hadder
Undergraduate Students
Alabaster, Ala.:Rachel Hill
Athens, Ala.:Mariah Belue, Gabel V. Duke, Chloe Greene, Rylee Lefevre, Meredith Murdock, Molly K. Palmer, Brian Presson, Presley Price
Auburn, Ala.:Joy M. Machen
Birmingham, Ala.:Margaret Freeman
Bryant, Ala.:Alexa Dishroon
Crane Hill, Ala.:Sarah Beth Mauldin
Decatur, Ala.:Cara P Humphries,Brody Knight
Florence, Ala.:Kaitlin Cornelius, Mackenzie Cottles, Kevin Hargett, Chase Holcombe, Carly Holland, Abigail Johnson, Hannah Kent, Jessica Luna, Samuel Mashburn, Ryan M. O'Connor, Jessa Plunket, Adrienne Swindle, Elena Tumminello
Gordo, Ala.:Victoria Plowman
Hamilton, Ala.:Anna Beth Kimbrough
Hartselle, Ala.:Katy Bole
Harvest, Ala.:Andrew D. Weis
Hazel Green, Ala.:Katherine Thomas
Hoover, Ala.:Holly Dunbar
Houston, Ala.:Hollison D. Sudduth
Huntsville, Ala.:Hannah Johnson, Callie Kramer, Mariana Sayago
Jacksonville, Ill.:Regan West
Killen, Ala.:Kamryn Trousdale
Kobe, Japan:Joe Nakai
Lawrenceburg, Tenn.:Logan M. Calvert
Loganville, Ga.:Malaisia Stallworth
Loretto, Tenn.:Kayley Allen, Hannah Graves, Emma Roberson
Madison, Ala.:Karnitha M. Steele
Managua, Nicaragua:Karina Juarez
Meridianville, Ala.:Savannah Miller
Morris, Ala.:Brooke Putnam
Muscle Shoals, Ala.:Kara Nix, Brenn Schmittou, Josh Williams
Northport, Ala.:Megan Puckett
Oneonta, Ala.:Morgan Sanders
Scottsboro, Ala.:Allie Roberts,Marianna Royal
Sheffield, Ala.:Brett L. Baker, Christian M. Poag
Shiraoka, Japan:Yui Omameuda
Smyrna, Tenn.:Kylea Carver
Somerville, Ala.:Ian Romine
St. Joseph, Tenn.:Lauren Coggin
Summertown, Tenn.:Maria Kerstiens,Dylan Rose
Trinity, Ala.:Macie C. Randolph
Tuscumbia, Ala.:Samantha Long
Winfield, Ala.:Loreanna M. McKinney
In addition to Prof. Montgomery, other UNA Phi Kappa Phi officers are: Dr. Wayne Bergeron, president-elect; Nikki Michael, vice president, membership; Sherri Hester, vice president, student selection: Prof. Rebecca Hamm, treasurer; Dr. Kristy Oden, secretary; and Chandler Mordedai and Kolby Thrasher, student vice presidents.
About Phi Kappa Phi:Founded in 1897 at the University of Maine and headquartered in Baton Rouge, La., Phi Kappa Phi is the nation's oldest and most selective all-discipline honor society. The Society has chapters on more than 300 college and university campuses in North America and the Philippines. Its mission is:To recognize and promote academic excellence in all fields of higher education and to engage the community of scholars in service to others.
Since its founding, more than 1.5 million members have been initiated. Some of the organization's more notable members include former President Jimmy Carter, NASA astronaut Wendy Lawrence, novelist David Baldacci,and YouTube cofounder Chad Hurley. The Society has awarded approximately $15 million since the inception of its awards program in 1932. Today, $1.4 million is awarded each biennium to qualifying students and members through graduate fellowships, undergraduate study abroad grants, member and chapter awards and grants for local,and national literacy initiatives.
UNIVERSITY OF NORTH ALABAMA
The University of North Alabama is an accredited, comprehensive regional state university offering undergraduate and graduate degree programsthrough the colleges of Arts and Sciences, Business,Education and Human Sciences, and the Anderson College of Nursing.Occupying a 130-acre campus in a residential section of Florence, Alabama, UNA is located within a four-city area that also includes Tuscumbia, Sheffield and Muscle Shoals. UNA Athletics, a renownedcollegiate athletics program with seven (7) Division II National Championships, is now a proud member of the NCAA Division I's ASUN and Big South Conferences.The University of North Alabama is an equal opportunity institution and does not discriminate in the admission policy on the basis of race, color, sex, religion, disability, age or national origin.