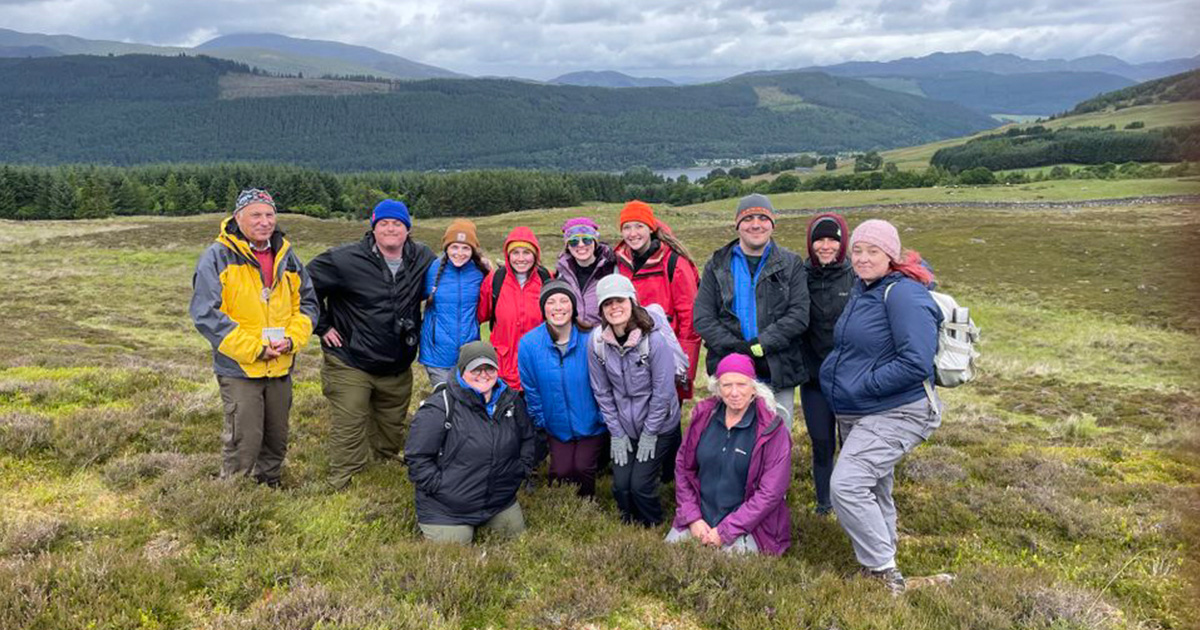 Study abroad takes student out of comfort zone
Aug. 09, 2023
Sydney Stafford
Fifth in a Series 
Sydney Stafford is a History and Secondary Education major at the University of North Alabama. As a student in the Delores and Weldon Cole Honors College, she took advantage of the study abroad opportunities offered throughout the summer. Here she is in her own words, sharing about her experience: 
As a high school student, I was timid and never went out of my way to try new things. When I came to UNA, I made the decision to try new things even if it meant leaving my comfort zone. I knew I wanted to study abroad, but I had decided to wait until after my sophomore year. I received an email in my first semester at UNA from the History Department about a study abroad opportunity in Scotland. 
I told my parents about the email and the information meeting, and they encouraged me to go. One of my favorite professors, Dr. (George) Makowski, was leading the trip with Dr. (Carrie) Crawford. The next day, I committed to the trip, and, over the next five months, we would spend time preparing for what we would be doing in Scotland. 
Our trip consisted of a week in the Scottish Highlands at the Firbush Centre. We had the opportunity to participate in water sports on Loch Tay and walk to Killin, the closest village to Firbush. We spent two days at Archan Stone Circle. There, we sketched the stones individually and, with the help of Adam Welfare, author of Great Crowns of Stone a Historic Environment Scotland stone circle specialist, helped half of our group map the Archan Stone Circle. Dr. Crawford and Eve Boyle, of Historical Environment Scotland (HES), helped us map the remains of a stone round house. 
After a very busy first three days, we spent the next two interning at the Scottish Crannog Center. There, we immersed ourselves in Iron Age attire and learned how to present history to all ages. During our free time, we visited the Kenmore Highland Games and immersed ourselves in Scottish culture. 
After our time at Firbush, we spent the rest of our time in Edinburgh at Pollock Halls at the University of Edinburgh. We visited Edinburgh Castle and saw the crown jewels of Scotland. During our last week, I visited the Britannia, National Museum of Scotland, the John Knox House, Museum of Edinburgh, and had a day trip to the Museum of Rural Life. When we were not at a museum, we spent time at the HES and the National Library Map room.
My favorite day in Edinburgh, I spent on my own, walking around the National Gallery, stopping at the Kilted Donut in the Grassmarket, going to Blackwell's Bookshop, and meeting up with my friend to eat at the smallest pub in Scotland. I didn't even get to half of my list of things to do in Scotland!
Studying abroad did not only give me a once-in-a-lifetime education, but it also gave me new friends that I would have never met otherwise. Our group had graduate students and undergraduate students, which allowed us to get to see different perspectives and learn from each other. I am incredibly thankful to be able to study abroad and meet some of Scotland's best archaeologists and historians. UNA has made opportunities like this affordable for students to experience other cultures. This was an incredible experience that only UNA could provide me with and is one more reason I am grateful I chose UNA.
About The University of North Alabama
The University of North Alabama is an accredited, comprehensive regional state university offering credential, certificate, baccalaureate, master's, and doctoral programs in the colleges of Arts, Sciences, and Engineering; Business and Technology; Education and Human Sciences; and the Anderson College of Nursing and Health Professions. The first-choice University for more than 10,000 on-campus and online students, UNA is on a bucolic campus in Florence, Alabama, part of the historic and vibrant Shoals region. Lions Athletics, a renowned collegiate athletics program with seven (7) Division II National Championships, is now a proud member of the NCAA Division I's ASUN Conference. The University of North Alabama is an equal opportunity institution and does not discriminate in the admission policy on the basis of race, color, sex, religion, disability, age, or national origin. For more: www.una.edu and www.una.edu/unaworks/