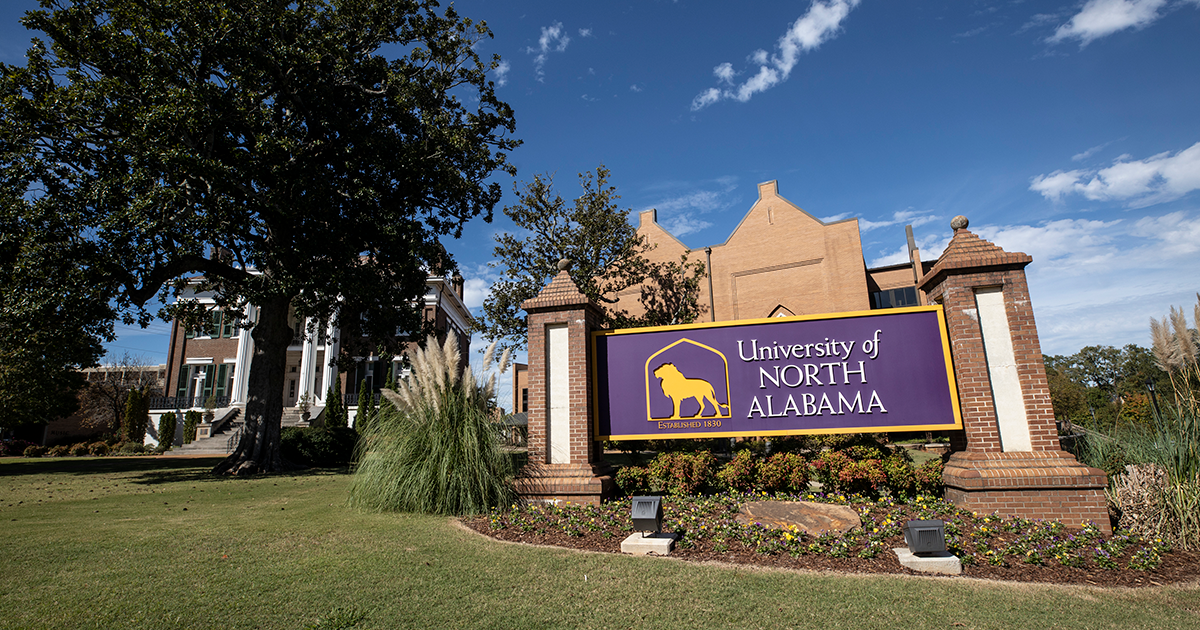 Big Band Bash Brings Valentine's Day Treat To The Shoals
Feb. 08, 2016
Michelle Eubanks, UNA, at media@una.edu, 256.765.4392 or 256.606.2033
By Carole Maynard, UNA Department of Music
FLORENCE, Ala. - The Big Band Valentine's Day Bash is a February tradition in the Shoals. Three local swinging bands promise to thrill audience members with love songs and swing hits. With great music and great giveaways during the concert, including gift certificates and roses, this year's Bash is bigger than ever.
"Once again in the Shoals, we'll have three big bands taking the stage. In addition to the UNA Studio Jazz Band, we'll have the Shoals Area Big Band and Swinging River Big Band. It'll be a great afternoon to relax and listen to some swing," said UNA director of bands Dr. Lloyd Jones.
The Swinging River Big Band is a relative newcomer to the Shoals area. Its founder and director, James Ed Champion, is a retired music educator of more than 40 years. He is known throughout the Shoals area, having taught at Deshler High School, Bradshaw High School and Florence High School. In 2008, he formed what has become the Swinging River Big Band. This band has performed at the Handy Music Festival and numerous other civic events in the Shoals area.
"It's a real treat for me to lead this group of wonderful musicians," said James Ed Champion. "There is so much great talent and music in the Shoals area. We are honored to be included as special guests and hope the audience will enjoy our brand of swing."
The Shoals Area Big Band was founded in 1979 by Dr. Lyman Mitchell. The band has performed for numerous events throughout the Shoals during its 35-year existence. Dr. Lyman Mitchell passed away in 2009 and asked Dr. Lloyd Jones to take over fronting the band. Three original members from the 1979 band-Dr. Jimmy Simpson, Mr. Edsel Holden and Dr. Edd Jones-will perform on this concert.
"It's such an honor to be fronting the Shoals Area Big Band," said Dr. Lloyd Jones. "I grew up listening to all these great musicians and always looked forward to their concerts. Dr. Mitchell's Big Band was a place where young aspiring musicians could sit-in and learn during a rehearsal. And, sometimes that young musician would get a chance to perform on a concert. The Shoals Area Big Band has helped raise over $80,000 for the UNA Bands through the years."
The UNA Studio Jazz Band was re-initiated by Dr. Lloyd Jones in 2002 and has been a very popular performing ensemble at UNA. The concept of the studio jazz band (also referred to as the studio lab band) is to experiment with additional tonal colors by augmenting the instrumentation of the traditional jazz band to include flutes, clarinets, French horns, a tuba and an additional percussionist. In doing so, the educational value of the studio jazz band transcends that of the traditional jazz band by allowing more students to learn in a specialized area.
The Big Band Valentine's Day Bash happens on Sunday, February 14, 2016, at 3 p.m. in Norton Auditorium on the UNA campus. Tickets are $10 for general admission, $5 for students, and all military and children 10 and under are free. Tickets are available at una.edu/music, at the Lindsey Theatre Box Office (M-F, 10 a.m.-2 p.m.) and at the door (free tickets must be obtained at the door).
For more information, call (256)765-5122 or visit una.edu/music.