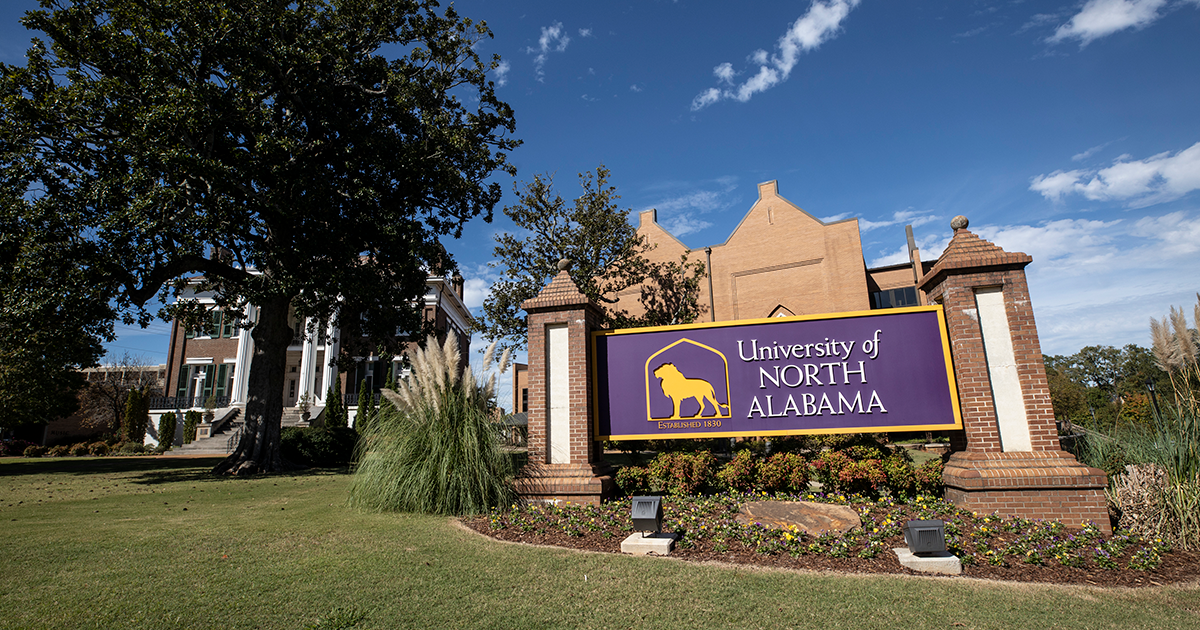 Una Is Making A Name For Itself In The Fulbright U.s. Student Program.
Mar. 04, 2019
Michelle Eubanks, UNA, at media@una.edu, 256.765.4392 or 256.606.2033
By Maddie Goodwin
Student Writer
FLORENCE, Ala.-Fulbright involvement at UNA is still relatively new, but success has been gained quickly. As of 2017, UNA is home to two Fulbright recipients. Mollie Schaefer was the first student in UNA's history to be accepted into the Fulbright U.S. Student Program, and Dr. Lisa Kirch was a Fulbright Scholar.
Fall 2018 showed a record number of UNA applicants to the Fulbright U.S. Student Program. Out of the 14 students and recent alumni that applied, the university has nine applicants that were selected as semi-finalists. These students have made it through the National Screening Committee and have been selected to move on to the final stage of the Fulbright selection process.
To put this success in perspective: Sixty-four percent of this year's applicants were selected for an award that accepts only 20 percent. Moreover, since creating a recruiting, advising and evaluation process for UNA's student applicants, 48 percent of all applicants over the last three award cycles have been selected as semi-finalists.
This achievement, and those of its kind in the past few years, has generated a lot of curiosity and interest in Fulbright at UNA.
"Essentially, the award is one year of funding in a country of your choosing, pursuing either research and/or graduate school, or teaching English," said Dr. Matt Price, UNA's director of Premiere and International Awards.
The Fulbright U.S. Student Program enables graduating seniors, graduate students and young professionals to cover their expenses through grants. Fulbright recipients will live and work with hosts in their chosen country.
This is one of the aspects of Fulbright that attracted applicants such as semi-finalist Peyton Byrd and Jimmie Waites.
"I've always been intrigued with the idea of living abroad, and Fulbright came as a great opportunity to both spend time abroad, while working toward something productive and rewarding," said Byrd, who applied for an English teaching assistantship in the Czech Republic.
"I had the opportunity to co-teach marketing in Nantong, China, this prior summer," said Waites, who hopes to be an ETA in Taiwan. "When I returned, I wanted to be involved in another cultural exchange program post-undergraduate. I expressed my interest to Dr. Price and started working on my application two weeks after returning from China."
Working through the application alone - a form, two essays, three letters of recommendation and transcripts - is no small feat for these students. These are completed over the course of roughly five months.
"The majority of an applicant's time is spent writing the two essays," Price said. "Over the course of the summer we work on those essays until the student feels that they're ready to submit. In September all applicants submit their applications to me, and then I give them to a faculty review panel that reads them, make suggestions; and together we interview each and every applicant."
Waites, along with the othersemi-finalists, consider the process a challenging yet rewarding experience.
"I, and the other applicants, continually worked on the application for roughly five months. When I finally submitted my application, I had 13 rough drafts," said Waites.
"The process was intimidating at first and a learning experience, but one that I am glad to have gone through," said Byrd. "It consisted of self-discovery as well as getting familiar with and comfortable writing about my own experiences and highlights in my life."
Price said making sure the applicants felt like UNA was supporting them was a top priority when creating the review program. He has put together a panel of incredible faculty members willing to dedicate their time and effort to helping applicants better themselves and their Fulbright work.
That involvement has not been overlooked by the students.Walker Mattox, who applied for an English teaching assistantship in Malaysia, said UNA's faculty helped her far beyond Fulbright.
"I think UNA is a wonderful school," said Mattox. "I feel like everyone has a lot of professors that care for them beyond being a student. I know all of mine do. It really is a special place."
What exactly led to the spike in Fulbright's UNA student selections? While many of the semi-finalists noted new awareness of Fulbright around campus and the support of their professors, they often claimed Matt Price as the root of the success.
"Dr. Price has been actively expanding the program and seeking out potential Fulbright scholars on campus" said Waites.
"I think most of it had to do with Dr. Price," said Mattox. "I do not think it is a coincidence that we all had the same advisor and 64 percent of us got to move to the next level."
Price, on the other hand, gives all the credit to the students and the campus community.
"What is most exciting to me is to see the hard work that UNA has put into expanding student research, studying abroad and leadership experiences paying off, said Price. "Fulbright applicants usually represent a cross-section of an institution's priorities, and the increase in semifinalists is a reflection of the hard work of students as well as academic and administrative departments at UNA."
Listed below are the nine semi-finalists along with the countries and assignments applied for:
Walker Mattox(2019-Math)-Malaysia/English Teaching Assistantship
Alexandria Buttgereit(2018-Foreign Languages)-Brazil/English Teaching Assistantship
Julie Heflin(2018-English)-South Korea/English Teaching Assistantship
Emily Farris(2019-Spanish and Communication) Spain/English Teaching Assistantship
Peyton Byrd(2019-Art) Czech Republic/English Teaching Assistantship
Alexander Gould(2018-Finance) Spain-MA Global and International Studies at University of Salamanca
Abigail Winkler(2018-Marine Biology) Brazil/English Teaching Assistantship
Barbara "Jimmie" Waites(2019-Marketing) Taiwan/English Teaching Assistantship
Bradford Carter(2018-Computer Information Systems) Taiwan/English Teaching Assistantship
Finalists/Awardees will be announced March-April.
"I think it is very significant that more UNA students are applying for the simple fact that it demonstrates how courageous and inspiring our students are," said Price.
"You have no guarantee of success when you apply for a Fulbright, but our students work on their applications-sometimes for months-honing, crafting and revising their applications in the hope that they get to make a difference in the world-that's pretty inspiring," he said.
UNIVERSITY OF NORTH ALABAMA
The University of North Alabama is an accredited, comprehensive regional state university offering undergraduate and graduate degree programsthrough the colleges of Arts and Sciences, Business,Education and Human Sciences, and the Anderson College of Nursing and Health Professions.Occupying a 130-acre campus in a residential section of Florence, Alabama, UNA is located within a four-city area that also includes Tuscumbia, Sheffield and Muscle Shoals. UNA Athletics, a renownedcollegiate athletics program with seven (7) Division II National Championships, is now a proud member of the NCAA Division I's ASUN and Big South Conferences.The University of North Alabama is an equal opportunity institution and does not discriminate in the admission policy on the basis of race, color, sex, religion, disability, age or national origin.https://www.una.edu/