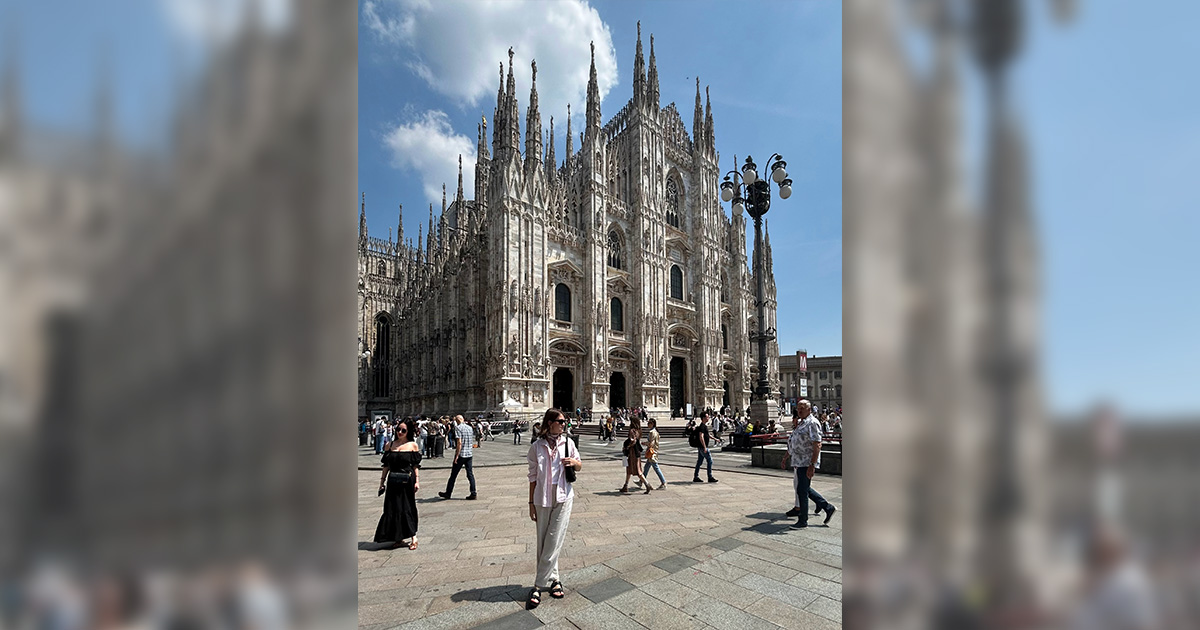 Becoming immersed in art, architecture, and culture
Jul. 17, 2023
Lauren Christmas , at lchristmas@una.edu
Third in a Series
Lauren Christmas, an architecture and interior design major from Huntsville, said going to Italy was an opportunity to indulge in her love of historic properties and historic renovation.
"My hope and plan after graduating is to become involved in some part of residential interior design, while working on become licenses," said the University of North Alabama student of her future and how UNA is preparing her for her next steps. Lauren is also a student in the Delores and Weldon Cole Honors College.
Here is Lauren is in her own words.
From the time I was a young child, I have been a creative person and had a deep connection to artistic expression. Whether I am drawing, painting, or building a model, I feel the joy and value that art can bring to one's life. During high school, and now college, my interest in art has grown to include the history of art and architecture. Reflecting on my trip to Italy with the Fashion Merchandising and Design/Interior Architecture and Design departments, I feel I have returned home with a new perspective and deeper appreciation of art, architecture, and culture.
Before this study abroad opportunity, I had taken both art history and architectural history courses, which shaped my appreciation of the aesthetic qualities and beauty of art. However, the first-hand observation of art and construction techniques I was able to experience in Italy has forever changed my perspective of art and architecture. It is easy to appreciate a building for its beauty through photographs, but I now believe that, to truly experience the building, one has to be present in the space. Buildings are a type of immersive art – an idea that I had not considered much before – but that I recognized immediately while visiting the Milan Cathedral.
As the largest cathedral in Italy, it is an excellent example of the soaring ceilings that are characteristic of the Gothic period. Everything from the ceiling height and colorful stained glass windows to the way music echoes inside is meant to make the visitor feel and act a certain way In a cathedral, the verticality of the ceilings, windows, and rib vaults is meant to make the church-goer look heavenward. The interior is an incredible example of historic construction rare in the United States. Touring the roof of the cathedral gave me a unique opportunity to view exterior features close-up, particularly the gargoyles and figures which top each spire. Having the opportunity to visit the Milan Cathedral and other similar structures allowed me to fully realize the engineering and craftsmanship required to build a place like that.
During our two days in Florence, it quickly became apparent that the city has a deep respect for its history and culture. I was able to visit the Loggia della Signoria, which houses an open-air sculpture gallery; the pieces here are incredibly well preserved for their age. Piazza Signoria houses Giambologna's Abduction of a Sabine Woman. This sculpture is absolutely stunning, and its scale provides a commanding presence. I was completely in awe of this piece and the power it held over its visitors. While walking Florence's streets, I truly felt inspired and encouraged to incorporate historical design in my own work.
Meaningful experiences with locals gave me a new perspective on travel. I had not traveled internationally before, but this trip has shown me that a lot of people are understanding and even interested to know where visitors come from. I have gained much respect for those who move abroad, as well as for other lifestyles, and look forward to the next opportunity I have in the United States to talk to visitors about their homes. Being able to observe the subtle differences in day-to-day life in Italy is an experience I will never forget.
About The University of North Alabama
The University of North Alabama is an accredited, comprehensive regional state university offering credential, certificate, baccalaureate, master's, and doctoral programs in the colleges of Arts, Sciences, and Engineering; Business and Technology; Education and Human Sciences; and the Anderson College of Nursing and Health Professions. The first-choice University for more than 10,000 on-campus and online students, UNA is on a bucolic campus in Florence, Alabama, part of the historic and vibrant Shoals region. Lions Athletics, a renowned collegiate athletics program with seven (7) Division II National Championships, is now a proud member of the NCAA Division I's ASUN Conference. The University of North Alabama is an equal opportunity institution and does not discriminate in the admission policy on the basis of race, color, sex, religion, disability, age, or national origin. For more: www.una.edu and www.una.edu/unaworks/