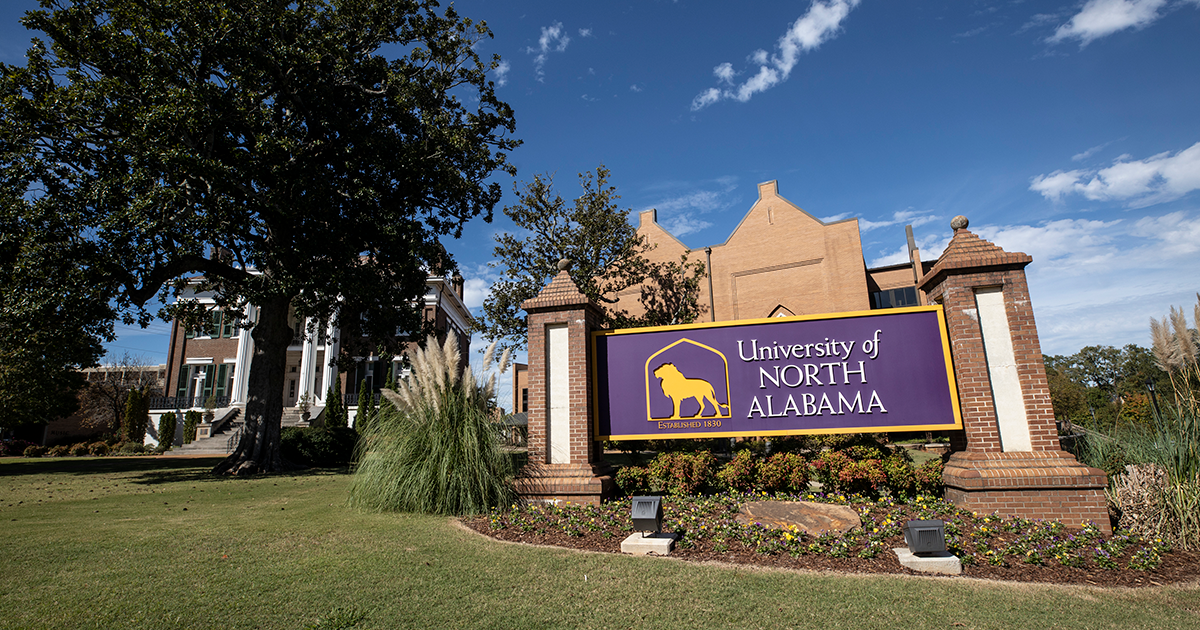 Psychology Major Erica Kelly Named Miss Una 2014 During 40th-anniversary Scholarship Pageant
Jan. 26, 2014
Michelle Eubanks, UNA, at media@una.edu, 256.765.4392 or 256.606.2033
By Terry Pace,Communications and Marketing
FLORENCE, Ala. - Twenty-year-old Erica Kelly was crowned Miss University of North Alabama for 2014 during Saturday night's 40th-anniversary celebration of the popular scholarship pageant at Norton Auditorium.
Kelly, a psychology major from Cullman, also won the swimsuit portion of the competition. She performed the vocal number "Out Here On My Own" in the pageant's talent division.
The Miss UNA Scholarship Pageant is an official preliminary for the Miss Alabama and Miss America pageants. The program provides an opportunity for contestants to compete for scholarship funding and prizes.

"I am honored to represent the University of North Alabama as Miss UNA 2014," Kelly remarked. "Although it may sound cliche, it's every little girl's dream to win such a prestigious pageant and to have a shot at representing their state."
Kelly's platform is an outreach program called "Be Aware, Don't Stare."
"It involves raising awareness and educating others on Autism Spectrum Disorders in the hopes that those diagnosed as such will be treated with respect," she explained. "I hope to bring more awareness to my personal platform, and create lifelong relationships in this community."
Kelly will represent UNA at the 2014 Miss Alabama contest, scheduled for June 4-7 in Birmingham. The first two Miss UNAs - Pam Long (1974) and Susie Vaughn (1975) - went on to be named Miss Alabama. The 1982 Miss UNA, Pam Battles, also earned the Miss Alabama crown.
Twenty-year-old music-education major Meredith Hamner, of Killen, was chosen first runner-up for 2014 and also won the talent portion of the competition (performing the vocal number "Don't Rain On My Parade"). Another major from that program - 19-year-old Victoria Roose, of McCalla - was named second runner-up. Twenty-one-year-old Danielle Patten, an entertainment-industry major from Madison, was selected as third runner-up.
"We had a packed house in Norton," noted Tyler Thompson, assistant programming director for the UNA Office of Student Engagement. "It was a wonderful evening and a terrific show."
Kelly will receive a one-year tuition scholarship, a textbook allowance, a custom Miss UNA pageant ring, hair service, a gym membership, a $1,500 wardrobe allowance and other prizes.
Other category winners included 19-year-old radio-and-television major Jovonne Baker, of Huntsville, who was named Miss Congeniality. Twenty-one-year-old public-relations major Candace Crane was selected as the People's Choice winner.
An all-new award, the UNA Bookstore Outstanding Service Award, was presented to Brittany Jordan, a 22-year-old from Florence who is majoring in secondary education. The award honors the Miss UNA contestant who has completed the most community-service hours.
"We wanted to find something more we could do to promote community service and taking ownership of the platforms the contestants promote," Thompson explained, "not just for the pageant, but for life."
Each Miss UNA contestant is encouraged and mentored to develop skills that will enrich her personal and professional life beyond her university experience. Miss UNA spends her year in service to the university and the Shoals area community. She promotes the platform of her choice, makes official appearances as a university representative and represents the university at the Miss Alabama Pageant.
Categories in which contestants are judged include an interview session, an on-stage question and a talent division, plus evening wear and lifestyle-and-fitness in swimsuit.
Kelly was crowned by Miss UNA 2013, Emily Winkler, a 20-year-old sophomore from Dora who is majoring in elementary education.
"It was a learning experience," Winkler (shown here crowning Kelly) said of the past year. "Since I was representing UNA when I was only 19 years old, it was a challenge, but I'm so glad I got to do it."
Winkler says her experience as Miss UNA will help shape the rest of her life.
"The biggest lesson was to stay true to myself," Winkler concluded. "When you win, you're put into the limelight, and it can be easy to try to conform to others' ideas of who you should be."
A high-resolution photo (by student photographer Jessica Pajaron) of Miss UNA 2014, Erica Kelly, being crowned by Miss UNA 2013, Emily Winkler, is available for media use on the UNA Gallery at: http://www.unalionsden.com/archive/photo.php?id=9908