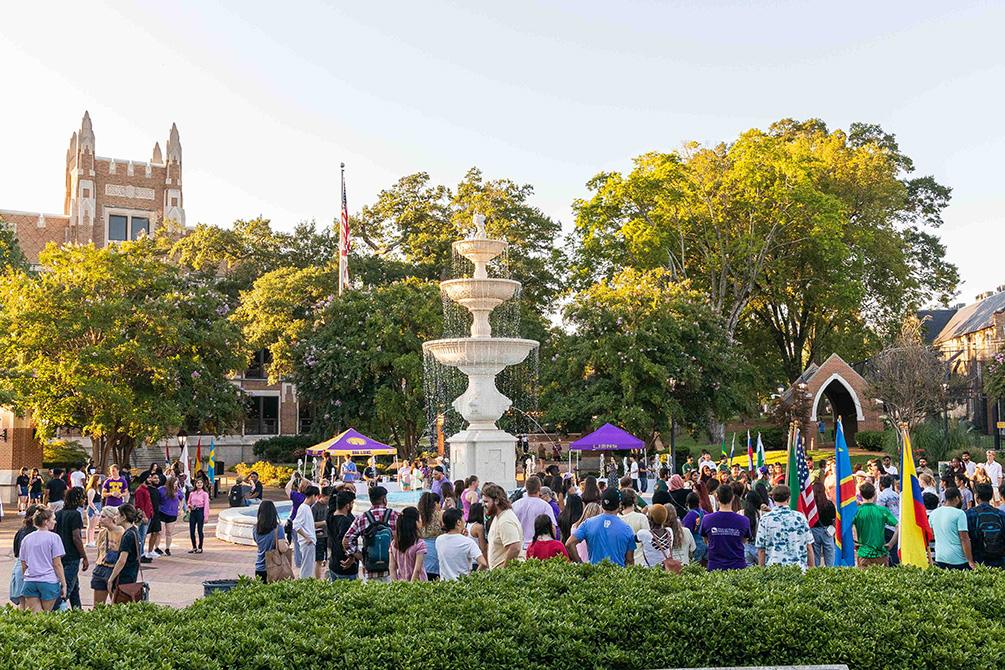 UNA's Student Enrollment Tops 9,500 for First Time
Aug. 24, 2022
Michelle R. Eubanks , UNA, at meubanks@una.edu, 256.765.4392
For the 14th consecutive term, the University of North Alabama boasts record enrollment, with more than 9,500 students enrolled in undergraduate, graduate, and credential programs at the institution. This number reflects greater than a 12 percent rate of growth from Fall 2021 and denotes increases across all student types – freshmen, transfer, international, online, and graduate.
"These impressive numbers clearly indicate the resonance and strength of the North Alabama brand and experience among every type of student – locally, regionally, nationally, and internationally," said UNA President Dr. Ken Kitts. "The vibrancy of campus is exhilarating and indicative of the University's growth and momentum. It is a great time to be at UNA!"
With the sharp increase in on-campus students, UNA has also experienced a record number of students living in University-affiliated housing, largely attributable to the University's workforce development focus and degrees that lead directly to high-paying jobs. Among those in-demand programs are computing, engineering, nursing and health professions, accounting and professional management, and elementary and early childhood education.
"The dynamism of our academic programs at the credential, baccalaureate, master's, and doctoral levels distinguishes North Alabama as a first-choice institution for all learners," said Dr. Ross Alexander, Provost and Executive Vice President for Academic Affairs. "Perhaps more importantly, our degrees are career accelerators for our students and workforce development catalysts for employers."
In addition to the increase in the number of on-campus international students, international partners, including those in China at Guizhou University-University of North Alabama International College of Engineering and Technology on the Guizhou University campus in Guiyang, China, have contributed significantly to the increase in enrollment for Fall 2022. UNA's innovative partnership with this top-100 Chinese research university launches this fall.
Further, the Delores and Weldon Cole Honors College has more than 750 students enrolled, marking its largest enrollment in its more than 15-year history at UNA.
"In an incredibly volatile and chaotic enrollment environment, UNA is experiencing atypical and unprecedented growth," said Julie Taylor, Executive Director of Admissions and Enrollment Innovation. "The University's 'diversified enrollment strategy' is both highly functioning and sustainable."
Final census figures are not anticipated until the end of October in order to accommodate Fall 2 term classes. The initial enrollment of more than 9,500, however, indicates a 40 percent enrollment increase since 2015. In Fall 2021, with a six percent enrollment increase compared to Fall 2020, UNA was recognized as the fastest-growing public university in Alabama. With a 12-percent enrollment increase this year, the University may continue to have that distinction.
About The University of North Alabama
The University of North Alabama is an accredited, comprehensive regional state university offering credential, certificate, baccalaureate, master's, and doctoral programs in the colleges of Arts, Sciences, and Engineering; Business and Technology; Education and Human Sciences; and the Anderson College of Nursing and Health Professions. The first-choice University for more than 10,000 on-campus and online students, UNA is on a bucolic campus in Florence, Alabama, part of the historic and vibrant Shoals region. Lions Athletics, a renowned collegiate athletics program with seven (7) Division II National Championships, is now a proud member of the NCAA Division I's ASUN Conference. The University of North Alabama is an equal opportunity institution and does not discriminate in the admission policy on the basis of race, color, sex, religion, disability, age, or national origin. For more: www.una.edu and www.una.edu/unaworks/