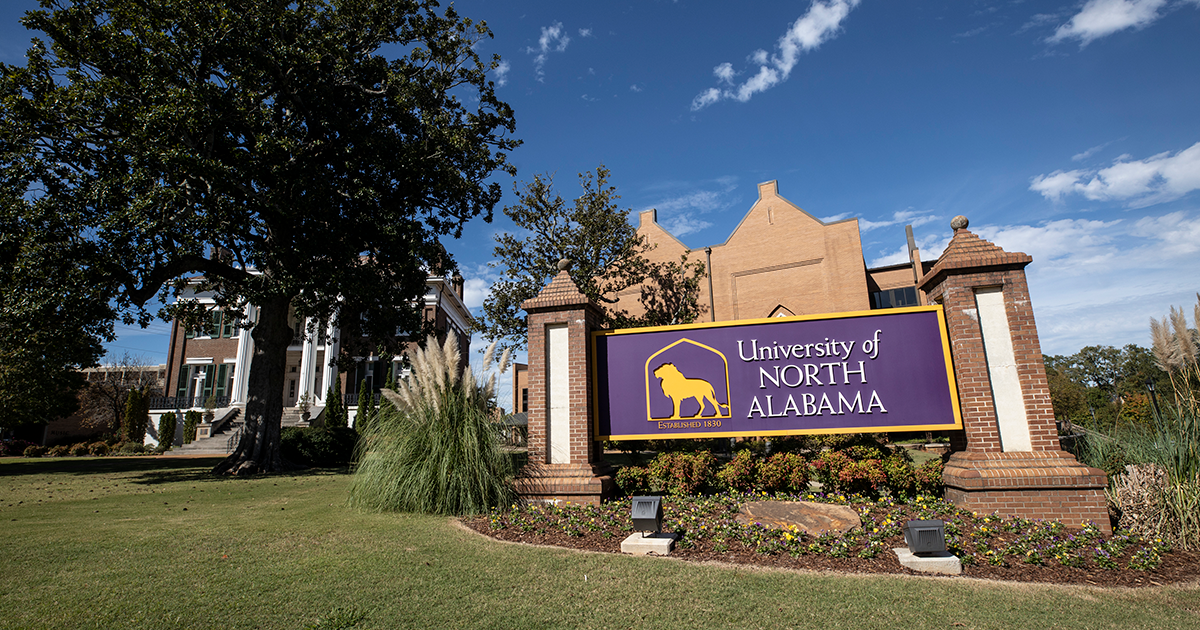 Kilby Laboratory School Art Project Wins National Contest
Jul. 01, 2021
Michelle Eubanks, UNA, at media@una.edu, 256.765.4392 or 256.606.2033
FLORENCE, AL - A project created by the 2020-2021 fourth grade class at Kilby Laboratory School, on the University of North Alabama campus, has been selected as one of the winners of the #USvsHATE national art contest. This is an annual event that encourages educators and students to "create public anti-hate messages in any media for their school communities," according to the #USvsHATE website.
For their contest submission, the Kilby fourth graders first painted two large canvases that together feature two hands holding a heart in front of a multicolor background accented with handprints and positive words, including liberty, kindness, justice, inclusion, and diversity. In addition to the painting, the students participated in a video project in which they shared their ideas on what it means to explicitly address, explore, and refuse various forms of hate, bias, and injustice in schools and society.
"I knew they were working on something class-wide and big, but I didn't realize it would turn out to be so wonderful and powerful at the same time," said Dr. Eric Kirkman, Director of Kilby. "The message is so timely, and I was extremely proud of how open and mature our students were when asked to share their thoughts about such a sensitive topic."
As an organization dedicated to promoting inclusion in schools, #USvsHATE had its inaugural contest in the spring of 2018. One of its goals, listed on the #USvsHATE website, is to "help students more fully know, value, and respect themselves and the people they share their school, community, and nation with." Contest submissions are judged based on content messaging, originality, and the efficiency with which the project communicates the message "us versus hate."
"Using art as a project is a fantastic way to integrate skills and concepts from multiple content areas, but the idea of standing up against any form of hate directly corresponds to fourth grade Alabama history standards," said Argie Campbell, the fourth-grade instructor at Kilby. "Additionally, the #USvsHATE campaign beautifully fulfills Kilby's vision statement where it says that our school 'maintains a positive, innovative school climate which respects, values, and embraces cultural diversity.'"
The submission from Kilby's fourth graders was one of seven selected as a national winner of the spring 2021 #USvsHATE contest. Although #USvsHATE provides many ideas for art projects centered around the topic of anti-hate, the organization encourage students and teachers to be creative and explore their own thoughts with submissions.
"We thought the timing for our message was perfect, considering everything that has happened in America and in the news with racial injustices and discrimination," said Jamie Pothier, Kilby's art teacher. "The students and I had some great conversations, and we decided as a group that the best way to combat hate is with love. We wanted our message to be positive and full of kindness."
The finished painting, which stands approximately four feet tall and six feet wide, is set to be relocated from Kilby to UNA in the coming months. The mural will then be displayed at the Mitchell-West Center for Social Inclusion.
To view the full list of winners and the Kilby fourth graders' complete art project, click here.
About The University of North Alabama
The University of North Alabama is an accredited, comprehensive regional state university offering undergraduate, graduate, and doctoral degree programs through the colleges of Arts and Sciences, Business, Education and Human Sciences, and the Anderson College of Nursing and Health Professions. Occupying a 130-acre campus in a residential section of Florence, Alabama, UNA is located within a four-city area that also includes Muscle Shoals, Sheffield, and Tuscumbia. UNA Athletics, a renowned collegiate athletics program with seven (7) Division II National Championships, is now a proud member of the NCAA Division I's ASUN Big South Conference. The University of North Alabama is an equal opportunity institution and does not discriminate in the admission policy on the basis of race, color, sex, religion, disability, age, or national origin. For more: www.una.edu and www.una.edu/unaworks/.
About The University of North Alabama
The University of North Alabama is an accredited, comprehensive regional state university offering credential, certificate, baccalaureate, master's, and doctoral programs in the colleges of Arts, Sciences, and Engineering; Business and Technology; Education and Human Sciences; and the Anderson College of Nursing and Health Professions. The first-choice University for more than 10,000 on-campus and online students, UNA is on a bucolic campus in Florence, Alabama, part of the historic and vibrant Shoals region. Lions Athletics, a renowned collegiate athletics program with seven (7) Division II National Championships, is now a proud member of the NCAA Division I's ASUN Conference. The University of North Alabama is an equal opportunity institution and does not discriminate in the admission policy on the basis of race, color, sex, religion, disability, age, or national origin. For more: www.una.edu and www.una.edu/unaworks/