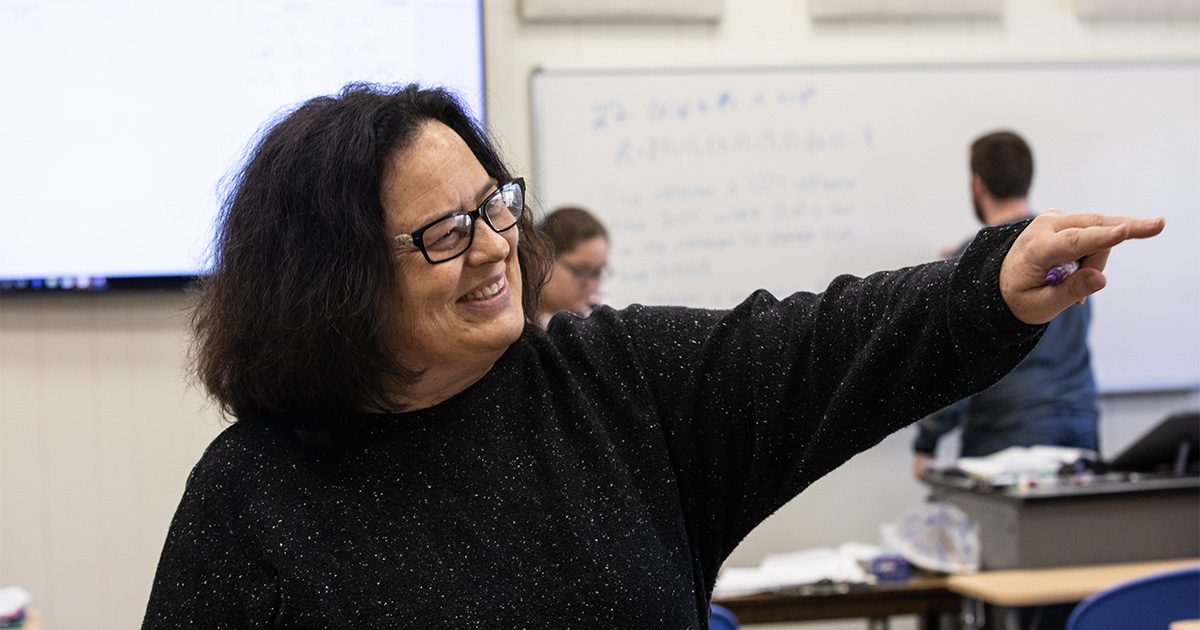 UNA Professor, Undergraduate Students Selected for Participation in National Program
Oct. 05, 2022
Caroline Conkle, Student Writer, Office of Media and Public Relations
FLORENCE, AL – Three representatives from the University of North Alabama have been selected by The Council on Undergraduate Research for the 2022-2023 Scholars Transforming Through Research (STR) Program. Dr. Cindy Stenger, a Professor in the Department of Math, along with Olivia Morris, a biology major, and computer science major Luke Terwillinger have titled their project "Characterizing our DNA Exceptions, or CODE. 
The program is a competitive application-based, professional development opportunity for teams consisting of a campus representative and one to two undergraduate students. Each team participates within a six-month program that allows them to develop their communication and advocacy skills. Empowering them to use the skills that they have gained and to convey the power of the high-impact practices of undergraduate research, scholarship, and their experience with diverse stakeholder groups.
In her role as the faculty member, Dr. Stenger will serve as the campus representative. She said she is eager to begin the journey as a mentor to Morris and Terwillinger within the STR program.
"It is a challenging and rewarding experience to serve as a mentor for undergraduate researchers," Stenger said. "Since 2018, I have worked with over 50 students in independent research at UNA. Students with no prior experience are immersed in their project and learn skills and techniques as needed. This results in measurable improvement in written and oral communication skills, scientific research skills, and increased ability to work on a team with diverse backgrounds, including biology, statistics, and computer science."
Working with the CODE class since Fall 2021, Morris said she was able to conduct research and present her findings to her classmates each week. She said she gained insight from their feedback that inspired her to analyze new aspects of the data while finding new ways to communicate the results.
Morris presented her findings this spring as part of the HudsonAlpha Symposium in Huntsville, and this summer, she worked at UNA's CODE lab where she assisted new students with project definition, homology modeling, and molecular dynamics. 
"This transformative experience awoke my curiosity about genetics and my respect for the scientific community," she said. "My participation in this research has developed both my technical skills and my personal character." 
Like Morris, Terwilliger said the CODE program has provided pathways for professional growth and career opportunities, and his research has focused specifically on genetic variants on Alzheimer's disease. He has presented his findings at the Alabama Academy of Science, and at the HudsonAlpha Symposium, he was awarded a prestigious BioTrain internship at the HudsonAlpha Institute for Biotechnology.
"Working in the Cooper Lab, I was able to combine my backgrounds in biology and computer science to develop software to enhance the lab's tool for the analysis of genetic variant algorithms," Terwilliger said. "This fall, I am working in UNA's CODE lab to assist students as they begin their research journey."
The CODE project is funded by a National Science Foundation (NSF) Improving Undergraduate STEM Education (IUSE) Education and Human Resources (EHR) grant.