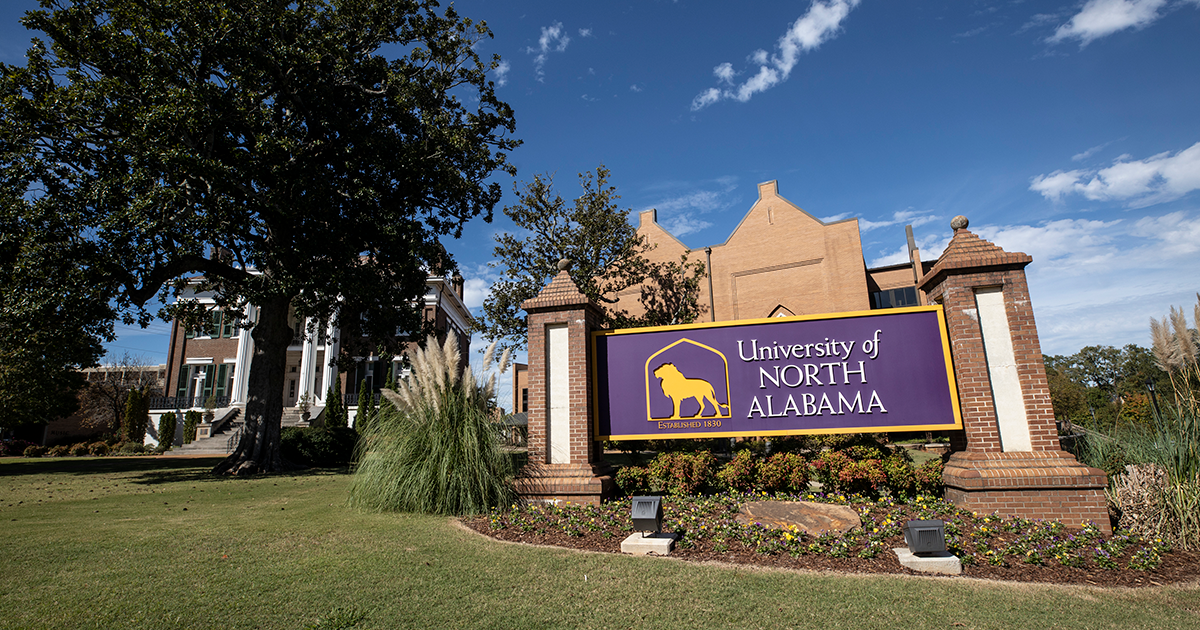 Alabama Commission On Higher Education Approves Master Of Science In Instructional Technology And Design At The University Of North Alabama
Apr. 21, 2021
Michelle Eubanks, UNA, at media@una.edu, 256.765.4392 or 256.606.2033
CONTACT: Michelle Eubanks, UNA, at meubanks@una.edu, 256-606-2033 or 256-765-4392
April 21, 2021
FLORENCE, AL - The Alabama Commission on Higher Education has approved the Master of Science degree program in Instructional Technology and Design in the College of Education and Human Sciences at the University of North Alabama.
"The College of Education and Human Sciences is excited about adding the M.S. in Instructional Technology and Design to a robust suite of programs," said Dr. Katie Kinney, Dean of the College. "Not only do schools have a need to employ individuals who understand how technology impacts the teaching and learning process, but businesses and industries do, too. As technology and innovation continue to grow, employers are seeking to hire those who understand how to take content and, in turn, effectively tool and train their workforce to meet current demand. This program is another example of UNA's commitment to preparing career-ready graduates to meet the economic needs of Alabama and the region."
The fully online program has two concentrations: Instructional Design for Teaching, Learning, and Leading is designed as a specialty for individuals focused on the educational field; the second is Workplace Design and Performance Improvement that's designed specifically for individuals focused on workplaces in business and industry.
While the global pandemic persists, there is a need for ongoing social distancing in order to protect the health of all. As such, educational and industrial environments continue to rely heavily on technological solutions to operate successfully. The Master of Science program in Instruction Technology and Design is timely as well as essential, as both education and industry must create professionals to create and implement successful learning experiences on digital platforms.
"The program will help students develop foundational skills in improvement science," said Dr. Natasha Lindsey, associate professor, Instructional Technology and Design at UNA. "The overarching goal of improvement science is to ensure that quality improvement efforts are based on not only the evidence but also the best practices they seek to implement. Students will be exposed to coursework focusing on the theory behind instructional design processes, best
practices, and researching, applying and evaluating technology as it relates to instructional technology and design for educational and industry training endeavors."
The 10-course/30-hour program is set to launch for the Fall 2021 semester. For information on the program or enrollment, log on to una.edu/graduate.
About The University of North Alabama
The University of North Alabama is an accredited, comprehensive regional state university offering undergraduate, graduate, and doctoral degree programs through the colleges of Arts and Sciences, Business, Education and Human Sciences, and the Anderson College of Nursing and Health Professions. Occupying a 130-acre campus in a residential section of Florence, Alabama, UNA is located within a four-city area that also includes Muscle Shoals, Sheffield, and Tuscumbia. UNA Athletics, a renowned collegiate athletics program with seven (7) Division II National Championships, is now a proud member of the NCAA Division I's ASUN Big South Conference. The University of North Alabama is an equal opportunity institution and does not discriminate in the admission policy on the basis of race, color, sex, religion, disability, age, or national origin. For more: www.una.edu and www.una.edu/unaworks/