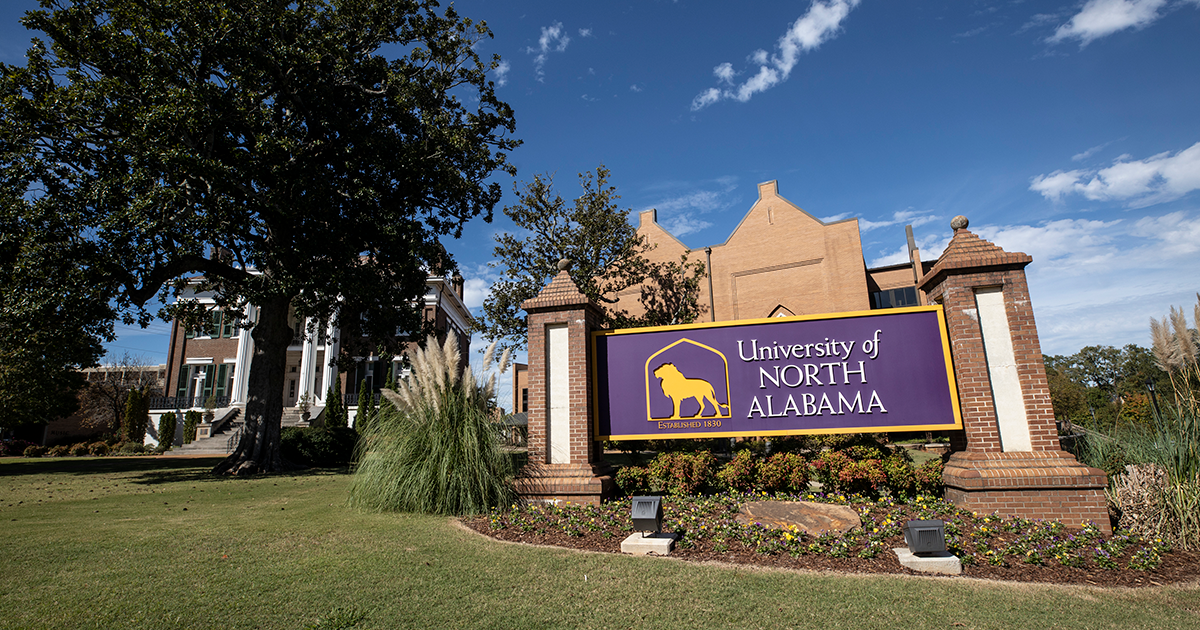 Honors College Named For Delores And Weldon Cole
Mar. 11, 2021
Michelle Eubanks, UNA, at media@una.edu, 256.765.4392 or 256.606.2033
Michelle Eubanks, UNA, at meubanks@una.edu, 256-606-2033 or 256-765-4392
FLORENCE, AL - In a ceremony Thursday afternoon on the University of North Alabama campus, the Honors College was officially named for Delores and Weldon Cole, both UNA alums.
"We are often asked why we are so passionate about the Honors College when we both attended the business school," said Weldon Cole, who graduated in 1960, while Delores graduated in 1958. "We are enormously proud and grateful for the business school, which prepared us to compete with anyone, anywhere. We have observed, however, that the Honors College attracts the best and brightest students, and many of whom will enroll in the business school. Moreover, the Honors College has the potential to enhance the university's brand like no other initiative. Therefore, we know of no better way to support our beloved University."
The Coles are also members of the Honors College Advisory Board.
The UNA Board of Trustees approved the change to the name at the March 2020 meeting. Today's event provided an opportunity for the Coles to visit the campus as well as Honors College students. The Honors College is more than 15 years old, and, in that brief time, it has experienced exponential enrollment growth.
"Delores and Weldon Cole are extraordinary people and have been major supporters of Honors education at UNA for over a decade," said Dr. Vince Brewton, Dean of the Honors College. "Their continued support has been transformational in terms of our enrollment as we expect to surpass the 600-student mark this fall and have Cole Honors College students make up 10 percent of the undergraduate student population at UNA. This critical mass of the highest quality students makes a tremendous difference to the quality of the UNA academic experience."
The naming of the College for the Coles was made possible through the efforts of the Office of University Advancement, led by Vice President for Advancement and Executive Director of the UNA Foundation, Kevin Haslam.
"It was an honor and a privilege to work with Mr. and Mrs. Cole on this opportunity that will allow their names to forever be associated with the Honors College," Haslam said. "They have apassion for the Honors College, and this naming represents a fulfillment of that passion through the Cole's hearts for philanthropy and this great University."
About The University of North Alabama
The University of North Alabama is an accredited, comprehensive regional state university offering undergraduate, graduate, and doctoral degree programs through the colleges of Arts and Sciences, Business, Education and Human Sciences, and the Anderson College of Nursing and Health Professions. Occupying a 130-acre campus in a residential section of Florence, Alabama, UNA is located within a four-city area that also includes Muscle Shoals, Sheffield, and Tuscumbia. UNA Athletics, a renowned collegiate athletics program with seven (7) Division II National Championships, is now a proud member of the NCAA Division I's ASUN Big South Conference. The University of North Alabama is an equal opportunity institution and does not discriminate in the admission policy on the basis of race, color, sex, religion, disability, age, or national origin. For more: www.una.edu and www.una.edu/unaworks/