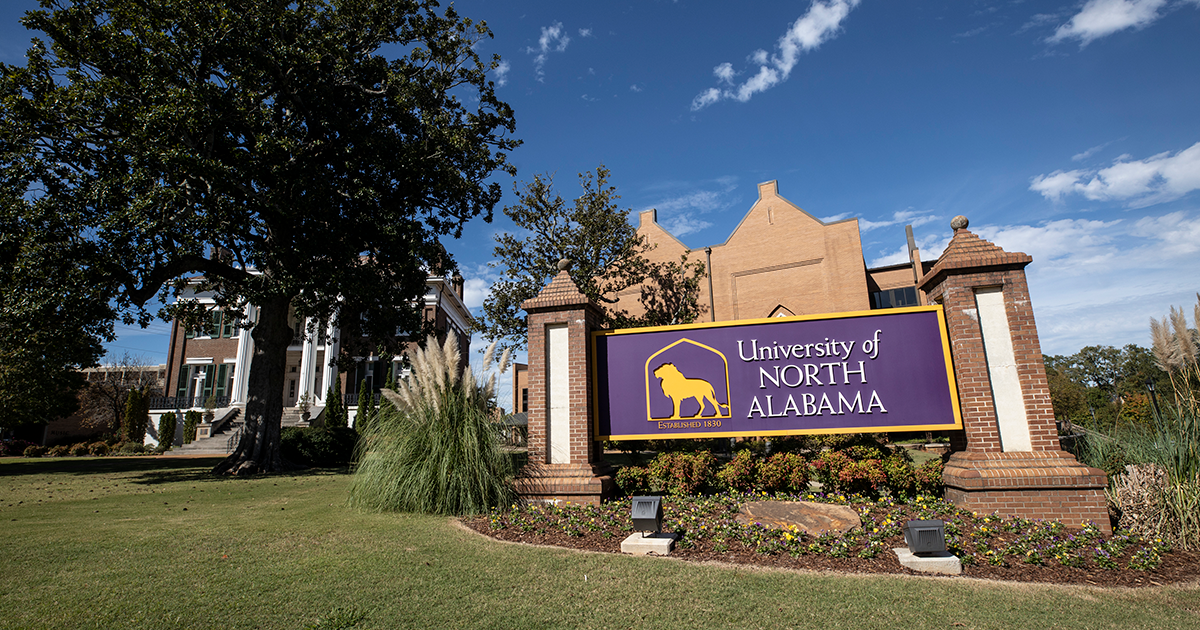 Meet Dr. Carmen Burkhalter, Una's New Dean Of Arts And Sciences
Jan. 14, 2015
Michelle Eubanks, UNA, at media@una.edu, 256.765.4392 or 256.606.2033
Bryan Rachal, University Communications
FLORENCE, Ala. - It's safe to say that Dr. Carmen Burkhalter came to the University of North Alabama with a mission to make a difference. Whether it's exposing more students to the amazing programs her college has to offer ( such as an Industrial Hygiene program - one of only four accredited programs in the country) or heading up a Dragon Boat team to show the community just how involved her faculty is, she's definitely been active in the short time she's been on campus.
With that in mind, we decided to take a different approach and do a question and answer session with the new Dean of the College of Arts and Science at UNA, because it seemed like the right approach.
Q. Name?
A. Dr. Carmen Lisa Burkhalter
Q. Where were you born?
A. I was actually born in Pensacola, Florida, but I grew up in the Columbia, South Carolina, region.
Q. What did your parents do for a living?
A. My dad was a psychologist and my mother was a social worker. I spent my summers as a teenager in Orlando with my dad.
Q. Do you have any siblings?
A. I have a sister and brother, both younger than I.
Q. Are you married, if so what does your spouse do?
A. I'm married to Mike Burkhalter. My husband is a foodie and he's very artistic and fashions himself as a street photographer. He's also really into music, so we're always doing something and he really loves it here!
Q. What attracted you to the job at UNA?
A. I'd spent about 21 years at the University of Alabama, but had spent about 13 years in the dean's office as an associate dean and senior information officer; and I knew that I wanted an opportunity to be a dean. I come out of a model where arts and sciences are together and I believe in that model, and I'm intellectually stimulated by that model. It's fascinating to have one meeting where I'm dealing with art, another meeting I'm dealing with psychology and my next meeting I'm dealing with chemistry. So when I started looking at positions and this became an opportunity, I thought, I'm very interested. I'm interested because at UNA, arts and sciences are together. I felt like my years at UA prepared me for this unique opportunity. After I applied and found out I had made it for a campus interview, my husband and I did what most candidates do, you take some time off work and you drive to the location and explore the area; and we loved it!
Q. What are your biggest challenges as the new dean?
A. A college of arts and sciences provides the strong liberal arts foundation for a whole university campus. One of my goals is to help the faculty in the college communicate collectively we are the engine that helps drive the institution forward; equally, I want everyone inside and outside of the institution to believe in the liberal arts experience for all students not just arts and sciences majors. I think part of my biggest challenge right now is communicating our message and telling the amazing story we have here at UNA. We have an incredibly positive message and we want everyone to know it. Obviously, we're also committed to growing. If the College of Arts and Sciences can continue to grow our enrollment, then everyone else will grow as well.
Q. Where do you see yourself in five years?
A. In five years I would like to see some double-digit growth in the college in the terms of number of majors. I would like to see, probably three to five new, innovative programs that students can major in. Perhaps, some programs that we don't currently offer. I would like for us to have a cohort of friends of the college that will help advise us about job market trends, so we can be prepared to continue to stay in front of changing employment needs. I'd also like for the community and the region to know who were are. Currently, when I meet people they'll often ask what departments are in the College of Arts and Sciences? In five years, if I've done my job, everyone will know what's in the College of Arts and Sciences.
Q. What's your favorite thing about Florence?
A. It's not an easy answer. It has an ambiance. It has an ambiance that is created by the river, but it also has an ambiance that is accentuated by the musical scene and food, and by the spirit of the citizens. I'm always amazed at the number of citizens that participate in activities, like the dragon boat races. That creates an ambiance and a spirit of true community; that's my favorite thing about Florence.
Q. Who or what inspires you?
A. I think creativity inspires me. When I have conversations with creative, or energetic or passionate people about their academic disciplines or even about their hobbies I am so energized. I just thoroughly enjoy it and it's inspirational to me. I'm not one of these people where there is a pop culture icon I find to be inspiring, that's just not the case.
Q. What are some of your hobbies?
A. I like to can vegetables and sauces and soups. I like to can spaghetti sauce; my husband makes the best in the world. When he cooks spaghetti he cooks enough for an army. So out of desperation, I had to learn how to can. He creates gallons of sauce and then I can. I also garden, flower garden that is, and I read a lot. I read almost every day and mostly in the evenings. I also like going to live performances and cultural events.
Q. What is your favorite book?
A. It's Walden. I find the book Walden by Thoreau to be one of the greatest inspirational, calming books ever.
Q. What is your favorite movie?
A. The Dirty Dozen. It is a great movie. I also love the Wizard of Oz.
Q. What's your favorite food or drink?
A. I cannot live without Mt. Dew and French fries. There's no other way to explain a good French fry and good fountain Mt. Dew.
I think most of us can agree on that!
For more information on UNA's College of Arts and Sciences and the degrees and programs offered: http://www.una.edu/artsandsciences/