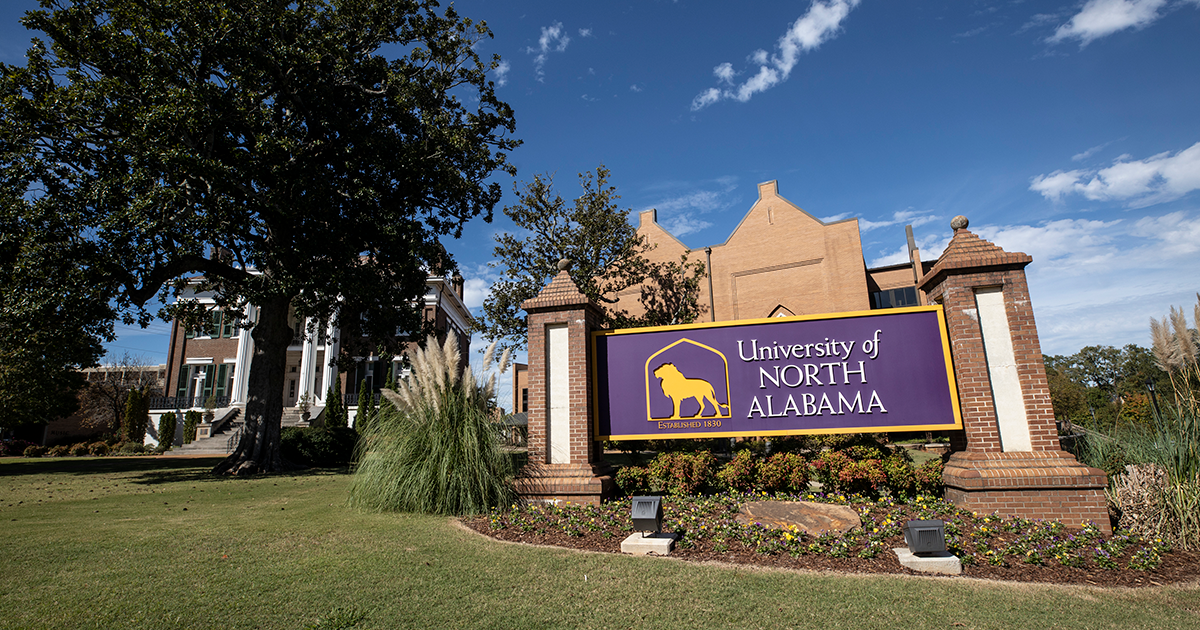 Couple Provide $100,000 Scholarship To University Of North Alabama Through Point Foundation
Aug. 21, 2018
Michelle Eubanks, UNA, at media@una.edu, 256.765.4392 or 256.606.2033
By Bryan Rachal
University Communications
FLORENCE, Ala.- Clark West and Elliott Mitchell took the story of Patti Sue Mathis to heart; so much so, that they put their money behind it.
West and Mitchell recently donated $100,000 to the Point Foundation to establish the Patti Sue Mathis Point Scholarship, which will provide direct financial support to students at the University of North Alabama.
The story of Mathis, who is deceased, has been in the news lately, as her father Nathan Mathis has received publicity for his strong advocacy of LGBTQ issues in statewide political races.
Mathis said his daughter committed suicide in 1995 at the age of 22. Mathis himself admitted to not accepting his daughter's sexuality, but that changed after her death.
According to a recent article in the Chicago Tribune, Mathis said he's now trying to influence the world in her honor, which he said is a way to atone for his own past remarks.
Mathis' advocacy has placed the story of Patti Sue in the public consciousness, including West and Mitchell.
West summarized his feelings in a Facebook post, stating that he also felt feelings of despair and depression as a young gay man in the 70s and 80s because he had no one to turn to. That's why they chose to establish the scholarship.
"This is to honor Patti Sue and her father Nathan," West said in the post.
Because the scholarship was made to the Point Foundation, the initial recipient will be an LGBTQ youth who exemplifies leadership and advocacy for the LGBTQ community in the state of Alabama.
According to their site, The Point Foundation is the nation's largest scholarship-granting organization for Lesbian, Gay, Bisexual, Transgender and Queer (LGBTQ) students of merit. Additionally, Point promotes change through scholarship funding, mentorship, leadership, development and community service training.
While West and Mitchell are not graduates of UNA, they have a long and warm relationship with Dean of the College of Arts and Sciences Dr. Carmen Burkhalter. They said they applaud the University's commitment to diversity and are working with UNA to help establish a new Center for Social Inclusion, which will serve as a hub for diverse communities on the UNA campus.
Dr. Ross Alexander, UNA vice president for Academic Affairs and provost, said the new scholarship will be extremely beneficial for future lions.
"The University is honored to receive this generous support to assist students from this underserved community," said Alexander. "And we're committed to being a progressive, first-choice institution for students of all backgrounds."
The scholarship is designatedfor a UNA student that is also a future leader in the LGBTQ community. To that end, the scholarship lists several requirements, including the signing of a contract of excellence, the maintenance of a 3.3 GPA and execution of an annual community service project benefitting the LGBTQ community and many more.
For more information:https://pointfoundation.org/
UNIVERSITY OF NORTH ALABAMA
The University of North Alabama is an accredited, comprehensive regional state university offering undergraduate and graduate degree programsthrough the colleges of Arts and Sciences, Business,Education and Human Sciences, and the Anderson College of Nursing and Health Professions.Occupying a 130-acre campus in a residential section of Florence, Alabama, UNA is located within a four-city area that also includes Tuscumbia, Sheffield and Muscle Shoals. UNA Athletics, a renownedcollegiate athletics program with seven (7) Division II National Championships, is now a proud member of the NCAA Division I's ASUN and Big South Conferences.The University of North Alabama is an equal opportunity institution and does not discriminate in the admission policy on the basis of race, color, sex, religion, disability, age or national origin.