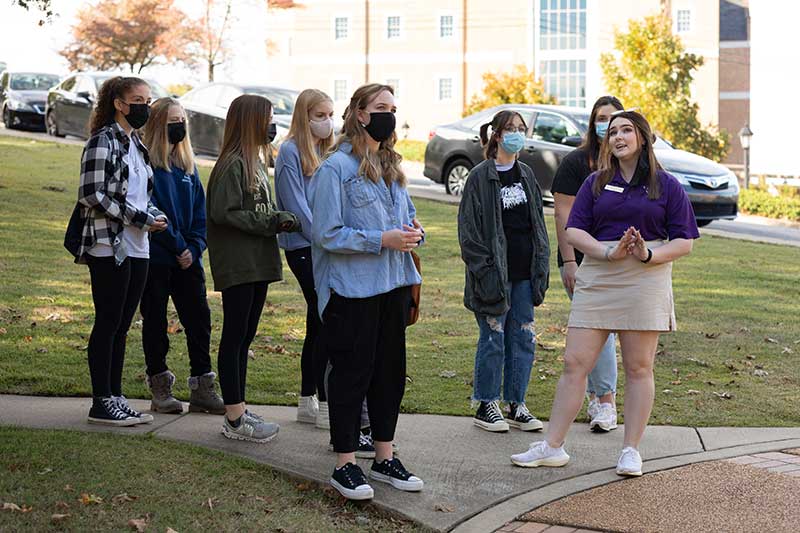 UNA's Early College Offer Students Pathways for Success
Oct. 29, 2021
Ellen McDonald , at media@una.edu
FLORENCE, AL - The Early College Program at the University of North Alabama is an ongoing partnership between the Early College Program Office, the Office of Admissions, and the four academic colleges – the Anderson College of Nursing and Health Professions; the College of Arts, Sciences, and Engineering; the College of Business and Technology; and the College of Education and Human Sciences.
Today, courses are offered only in the College of Arts, Sciences, and Engineering, or CASE.
Already, the Early College Program is changing lives of those who are enrolled, according to Dr. Amber Paulk, the Director of the Early College Program as well as Vice Provost for Academic Affairs and Dean of Graduate and Online Education.
"The opportunity to get to work with high school students and to get them started on the right path is why we're here," she said. "For me, I always say that I care that our Early College students build up the confidence in themselves that they can do this. To get to participate in that – I don't think that there is anything more satisfying to me as a faculty member."
Students within the program enroll in one of two ways: Enroll in courses that are typically online in addition to their traditional high school classes, or participate in a cohort class that is taught by a UNA adjunct faculty member/high school teacher in order to receive both high school and college credit.
Early College makes sure students who participate in the program are receiving the same collegiate educational experience, whether they are on UNA's campus or on their high school campus. This has the added benefit of ensuring UNA maintains accreditation standards.
"One of the ways we thought we could do that is by working with those high school teachers," Paulk said, Vice Provost for Academic Affairs and Dean of Graduate and Online Education. "We offer them the same professional development that we offer to our faculty on campus."
The Early College Program was designed based on a model created by Jason Hubbard, an Early College Faculty Liaison, and Dr. Jeffrey Bibbee, Associate Dean of CASE.
"We believe that the success of our Early College cohort classes lies in the close collaboration between the adjunct faculty members and the academic departments," said Bibbee. "Having UNA administrators and full-time faculty work closely with the teachers and students, as well as
bringing students to UNA's campus, allowed that critical mentoring that we know is necessary to be successful in college to begin well before students come to university full time."
Since Hubbard's initial involvement more than five years ago, he has watched the program grow from 24 participants to more than 700 students enrolled in a variety of courses.
"I am very excited about the future of the Early College Program as it continues to expand," Hubbard said. "I look forward to seeing this program provide the educational opportunities for students who may never have considered higher education as a realistic possibility."
Hubbard said his goal is to help students see that they can succeed in a collegiate environment, especially when many of those enrolled in Early College would be the first in their families to attend college. Adding to the experience is that, for Fall 2021, the Early College courses were offered for free.
"The only cost for students were any textbooks needed for their courses," said Julie Taylor, Executive Director of Admissions and Enrollment Innovation. "For the spring, UNA's continuing cohort courses will be free. Classes will be $100 for anyone else who enrolls."
Early College students say their experience in the program has helped prepare them for their collegiate experience and given them confidence about their ability to succeed.
"I believe the Early College Program is an efficient way to expose high school students to college life," said. Aleah Elkins, a high school senior enrolled in Early College. "Going to college has always been my plan after high school. The Early College Program is teaching me lessons about college ahead of time; therefore, I know what to expect when I attend the University."
In addition to preparing students academically, another goal of the Early College Program is to prepare students for the adjustment to campus life as they are required to come to UNA and learn about the university and its programs. Further, they become acquainted with Canvas, the program used to access course work, and their email account. Students are also able to meet their UNA faculty members and build campus relationships on campus before graduating high school.
"I wanted to take an Early College class because I've always grown up trying to challenge myself," said Chase Andrews, a high school junior within the program. "I also am taking it because I really want to get myself prepared for college. The benefits of this class are amazing. I've gotten better study habits, and I've gained experience of what it's like to be in a college class."
While in the program, students have access to all the resources UNA has to offer. They can use the Math Learning Center, the Center for Writing Excellence, Student Counseling Service, and more.
"We also try to participate in an extracurricular event on campus," said Paul Crawford, a UNA Early College Faculty Liaison. "Hopefully, at the end of their Early College experience, they understand how to approach college work, know how and where to access various University student services, know their way around campus, know a familiar face within UNA administration, have been on campus in a classroom, and have been on campus for an athletic or extracurricular event."
About UNA Early College Program
The Early College Program at the University of North Alabama provides pathways for students to enroll in college courses online or on campus while still in high school.