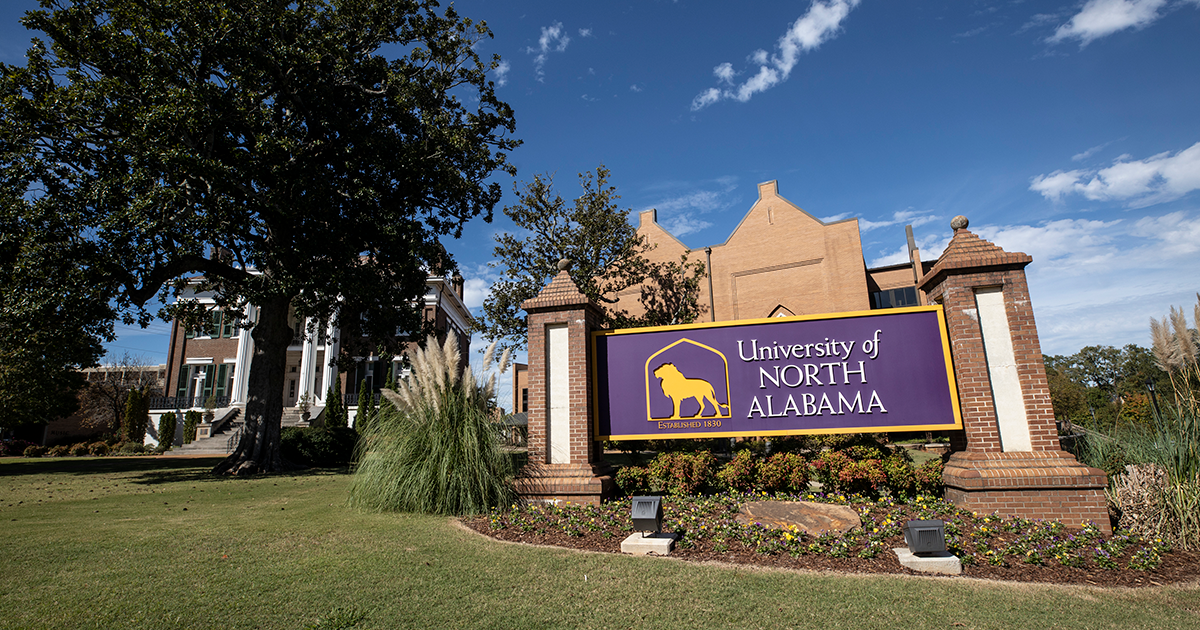 Una Theater Presents Classic British Farce 'charley's Aunt'
Oct. 24, 2011
Michelle Eubanks, UNA, at media@una.edu, 256.765.4392 or 256.606.2033
FLORENCE, Ala. - A family-friendly British farce that is considered an old classic among theater circles, "Charley's Aunt" will be performed by students in the Department of Music and Theater at the University of North Alabama Nov. 3-5 and 10-12 in Norton Auditorium. Directed by Dr. David Ruebhausen, associate professor of theater, the performance follows two characters, Jack and Charley, who are college students at Oxford University in the late 1800s. Both characters fall in love with two young women and arrange a welcome luncheon hosted by Charley's aunt, Donna Lucia d'Alvadorez, who will act as chaperone so they can propose marriage to their girlfriends. When Donna Lucia, from Brazil, cancels the gathering suddenly through telegram, Jack and Charley convince their friend, Lord Fancourt Babberly, to dress up as an old woman and impersonate the aunt so the welcome luncheon can proceed. Complications arise when Babberly, who is dressed in drag, becomes the love interest of Sir Frances Chesney, Jack's father, and Stephen Spettigue, uncle of Kitty, Jack's girlfriend. "It's a very family friendly farce for a reason," Ruebhausen said. "It's complicated, crazy and fun. With the costumes and scenery, it has a very beautiful Victorian setting. We've done a lot of heavy stuff here lately (in the theater department), so this is very lighthearted and fun." "Charley's Aunt" is a three-act romantic comedy that takes place on three different sets, including the Oxford dorms, garden and within a household during the high Victorian period. Ruebhausen said this is the first slapstick farce UNA has performed since "Noises Off" in the late 1990s. Forrest Harlan, a junior theater major, will portray Jack and said "Charley's Aunt" has been a challenging play for him to take on within the Department of Music and Theatre. "This is a great play," he said. "It's hilarious. It's really funny and has a lot of humor that is still relevant today. I've had some difficulties with the British accent, so that's been a little hard, but that's part of the education of theater." Adam St. John, a sophomore theater major, will play the role of Charley. He said learning how to impersonate a proper British accent and master the art of blocking was a challenge he didn't expect. "(Charley's Aunt) is one of those comedies that everyone can enjoy," he said. Written by Brandon Thomas, "Charley's Aunt" was first performed in Feb. 1892 at the Theater Royal in Bury St. Edmunds. After a record-breaking run on stage, the play went to Broadway in 1893 and toured internationally. The play has been transformed for various films and musicals since its original opening. The play will be performed at 7:30 p.m. Nov. 3-5 and 10-12. Tickets are $5 for UNA students, faculty and staff, and $10 for the general public. Organizers will hand out free tickets to "Charley's Aunt" during UNA's Preview Day Nov. 5.
The "Charley's Aunt" cast includes:
Lord Fancourt Babberly - Bryan Hall, of Russellville Jack Chesney - Forrest Harlan, of Florence Charley Wyckeham - Adam St. John, of Florence Kitty Verdun - Summer Akers, of Florence Amy Spettigue - Candace Williamson, of Florence For more information, contact Ruebhausen in the Department of Music and Theater at the University of North Alabama at druebhausen@una.edu or 256-765-4597.
About The University of North Alabama
The University of North Alabama is an accredited, comprehensive regional state university offering credential, certificate, baccalaureate, master's, and doctoral programs in the colleges of Arts, Sciences, and Engineering; Business and Technology; Education and Human Sciences; and the Anderson College of Nursing and Health Professions. The first-choice University for more than 10,000 on-campus and online students, UNA is on a bucolic campus in Florence, Alabama, part of the historic and vibrant Shoals region. Lions Athletics, a renowned collegiate athletics program with seven (7) Division II National Championships, is now a proud member of the NCAA Division I's ASUN Conference. The University of North Alabama is an equal opportunity institution and does not discriminate in the admission policy on the basis of race, color, sex, religion, disability, age, or national origin. For more: www.una.edu and www.una.edu/unaworks/