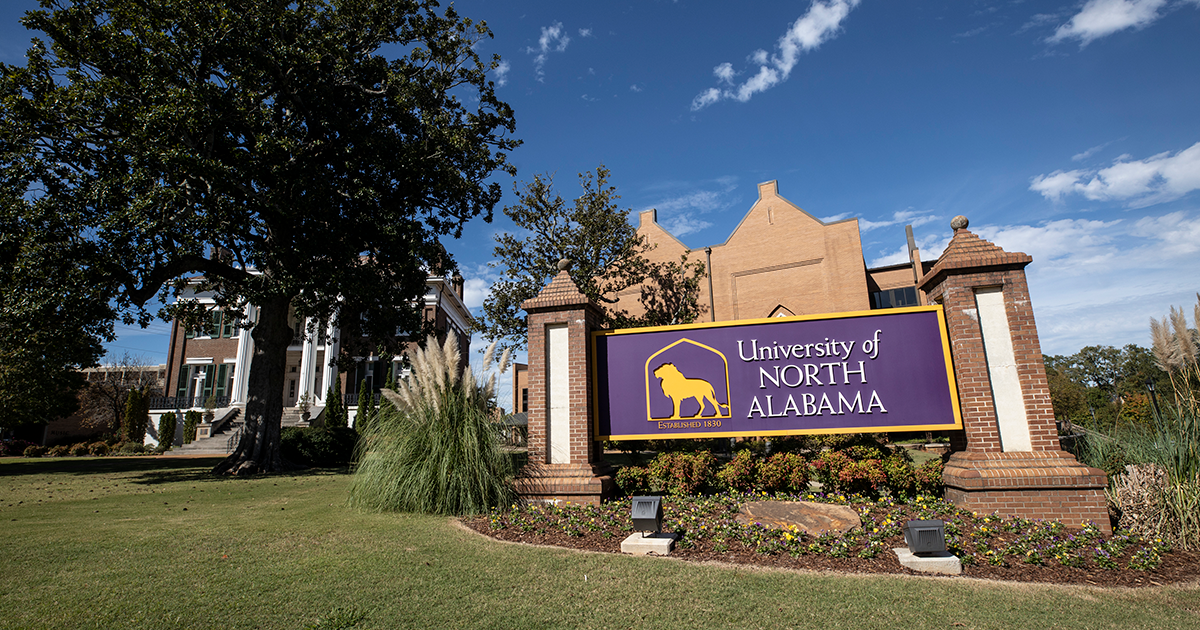 University Of North Alabama Lions Club Seeks Charter Members
Feb. 02, 2015
Michelle Eubanks, UNA, at media@una.edu, 256.765.4392 or 256.606.2033
Barbie Terry, University Advancement
FLORENCE, Ala. - Anyone who has spent time on Campus as a student or employee
of the University of North Alabama has fond memories. With that in mind, the UNA Lions Club would like to enhance and provide that collegiate experience for everyone!
UNA Lions Club Informational meetings will be held Monday, Feb. 9, 2015. The meetings will take place in the Gulliot University Center in the first floor boardroom (Formerly the Bookstore) at 10:00 a.m., Noon, 3:30 p.m., and 6:00 p.m. Interested individuals can attend one of the 30 minute meetings. Each meeting will highlight the benefits of membership and the services provided by Lions Clubs.

Dr. Carmen Burkhalter, Dean of the UNA College of Arts and Sciences, arrived on campus a few months ago with a vision that included students, faculty and alumni, working together to improve the quality of life on campus and in the community. As she shared her mission of bringing students and faculty together outside the classroom to provide community service with alumnus Jerome Thompson (1983), a collaboration of thoughts led to the idea that the UNA campus would be enhanced by the formation of a service organization. Thus, the UNA Lions Club was formed.

Thompson currently serves as membership chair for the Lions Clubs of Alabama. Working closely, with Barbie Terry, college development officer for UNA, Thompson and Terry secured a commitment from Lions Clubs International and permission from the UNA administration to form a club on campus.

Lions Clubs International is the world's largest service organization with 1.39 million members in 46,000 clubs in 210 countries and geographical regions. Formed in 1917, Lions Clubs International (LCI) has developed a strong reputation for community service. Although each club services its community in its own unique way, LCI encourages clubs to focus in four core areas - vision, youth, environment and world hunger.

UNA's Lions Club seeks charter members who are students, employees or alumni of UNA. Members will have an opportunity to provide community service on campus and in the shoals area. Service projects, which will be determined by the membership, may include activities such as, health fairs, vision screenings, youth leadership camps, tutoring, campus clean-up days or food bank collections.

Students who join the UNA Lions Club will be able to include membership on their resumes, make a difference in the lives of others, and begin to network with professors and alumni. Membership in the Lions Club can also be continued beyond the university experience, by simply transferring to one of the 46,000 clubs around the world.

Student membership dues, up to age 30, will be $22 per semester. Students over the age of 30, as well as employees and alumni of UNA, will be assessed a $30 Charter Member fee with dues of $100 per year.

Anyone interested in being a Charter Member of the UNA Lions Club can stop by the informational meeting and complete a membership application. For more information: Jerome Thompson at Hjeromelaw@aol.com or Barbie Terry at 256-765-5082 or bterry5@una.edu.