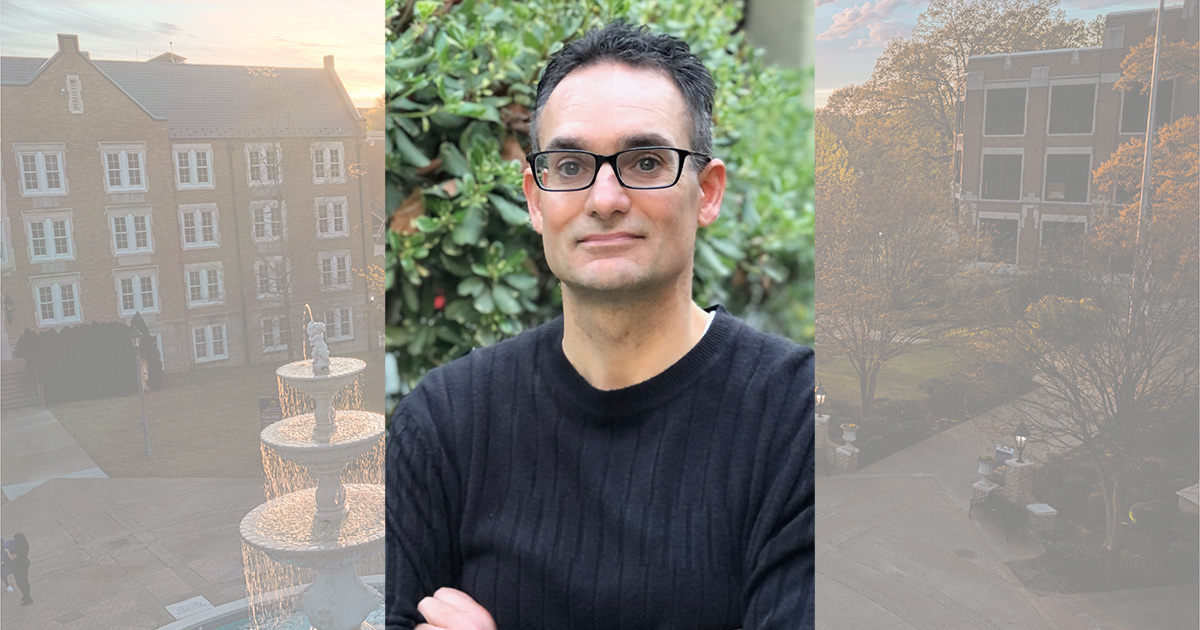 UNA Alum Publishes Science-Fiction Teen Romance
Dec. 13, 2022
Caroline Conkle , at cconkle@una.edu
University of North Alabama graduate Chris Halvorson's novel, Kaitlyn's Wheel, a science-fiction teen romance, is being published by Bancroft Press. 
Kaitlyn's Wheel is the story of Kaitlyn Stokes, who lives in rural Iowa, and Zachary Taylor from the Pacific Northwest, who come together in an unusual way. The novel features a teen romance, with a supernatural and environmental bent, and Halvorson tackles heavy issues, such as familial death and climate change through an optimistic lens. 
Halvorson had an opportunity to share his thoughts on his novel and how UNA has been foundational in his success throughout the years. Here he is in his own words. 
Q: What inspired you to write Kaitlyn's Wheel?
A: One night, several years ago, I witnessed two glowing orange triangular shapes flying over the Pacific Ocean from my vantage point in Palisades Park, in the greater Los Angeles area. I stopped to watch, along with a female jogger whom I had never met – just the two of us there. We said very little, except something along the lines of "What is that?" After a minute or so, the two parallel crafts went flying off at incredible speed toward Malibu and quickly vanished. Without another word, the female jogger and I proceeded to head off in opposite directions. I think she was just as numbed by the experience as I was.
         The day after, I learned that several people in the Palm Springs area had reported seeing military crafts being tested over the desert (about 100 miles away). Regardless, I thought that witnessing a UFO would have been a unique way to romantically connect with someone. I also thought it would make an interesting premise for a novel, but I didn't have any material for what happens after the two people share the experience. Several years later, the story popped into my head while I was doing dishes in the sink. 
Q: What authors have influenced you through your literary journey?
A: There are too many great authors to mention, but a few of my favorites are Jennifer Egan, Michael Chabon, Haruki Murakami, Rebecca Makkai, Jonathan Franzen, Glen David Gold, and Hari Kunzru. 
Q: What classes did you take at UNA that influenced your decision to become a writer?
A: My original plan was to attend law school after getting bachelors' degrees in writing and history. While taking courses in journalism, feature writing, and composition, I discovered a much stronger passion for language arts than I first realized. In my final year at UNA, I took creative writing courses, and that's when I decided to pursue the craft of writing novels and screenplays. 
Q: Why did you choose the Young Adult genre?
A: I decided to make the characters seniors in high school because I remember that time in my life. There was so much to think about then – chiefly, the future and what my purpose was in life, which, in turn, raised many spiritual questions. That said. I didn't really approach the novel as YA, but rather just told the story through the characters' point of view. It's being marketed as a YA teen romance, but there's a cross market appeal to a mainstream adult audience. 
Q: What is the last great book you read?
A: Velvet is the Night by Silvia Moreno-Garcia. It made the NYT Book Review for Top 100 Books of the Year, but I truly bought it (I confess) because of the cover – it's one of the coolest I have ever seen – but the author delivers a heavy-hitting story that takes place during the political and social upheaval of 1970s Mexico. It's terrific.
About The University of North Alabama
The University of North Alabama is an accredited, comprehensive regional state university offering credential, certificate, baccalaureate, master's, and doctoral programs in the colleges of Arts, Sciences, and Engineering; Business and Technology; Education and Human Sciences; and the Anderson College of Nursing and Health Professions. The first-choice University for more than 10,000 on-campus and online students, UNA is on a bucolic campus in Florence, Alabama, part of the historic and vibrant Shoals region. Lions Athletics, a renowned collegiate athletics program with seven (7) Division II National Championships, is now a proud member of the NCAA Division I's ASUN Conference. The University of North Alabama is an equal opportunity institution and does not discriminate in the admission policy on the basis of race, color, sex, religion, disability, age, or national origin. For more: www.una.edu and www.una.edu/unaworks/