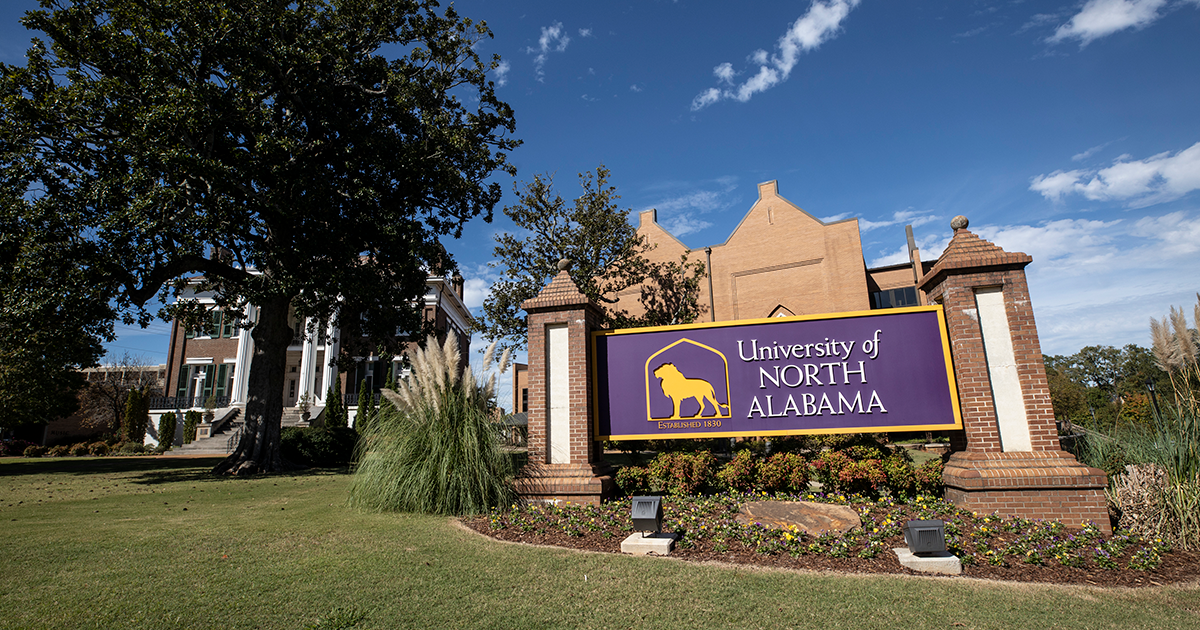 University Of North Alabama's 7,650 Students Shatters Record For Highest Enrollment In School History
Oct. 31, 2018
Michelle Eubanks, UNA, at media@una.edu, 256.765.4392 or 256.606.2033
By Bryan Rachal
University Communications
FLORENCE, Ala.- The official enrollment numbers are in and the University of North Alabama has broken the school's enrollment record.
Officials said the University's current enrollment of 7,650 is the largest fall enrollment in the school's 188-year history, and greatly surpasses the 7,492-mark set in fall 2016.
UNA was able to achieve this growth due to a number of factors, including an increase in transfer and graduate students, primarily in online programs.
"Our online MBA program continues to be a showcase program for the University, with sustained and continued growth," said Dr. Ross Alexander, UNA vice president for Academic Affairs and provost. "It is by far the largest MBA program in the state with over 805 students. We are experiencing steady growth in a number of other programs as well, including the BBA in Professional Management, M.S. in Criminal Justice and M.Ed., to name a few," he said.
An emphasis on online programs is a vital component of UNA's "smart growth" strategy that increases enrollment and generates much needed revenue, but without unduly taxing University infrastructure or expanding the physical footprint of campus; all while supporting the traditional campus environment and student experience.
"We must be a first-choice institution for all types of students and learners-traditional and adult; graduate and undergraduate; online and face-to-face," stated Alexander.
A closer look at the fall 2018 enrollment numbers indicate a 25 percent increase in graduate students and a seven percent increase in transfer students. Interestingly, graduate students now comprise roughly 20 percent of the UNA student body.
Perhaps the most impressive gain though, is in international students.
"International students increasingly view UNA as a viable option to earn a high-quality baccalaureate or graduate degree, or both," said Dr. Chunsheng Zhang, senior vice provost for International Affairs.
International student enrollment at UNA is up 65 percent, when the national average for international students studying in the U.S., is down 32 percent.
"The environment for enrollment remains very challenging, with many universities in our state and region experiencing decreases in student headcount," said UNA president Dr. Kenneth Kitts. "So, we are proud to be breaking records. The quality, diversity, relevance and affordability of our undergraduate and graduate programs distinguish us from our peers, and students are noticing."
UNA extended the fall census date to Oct. 31 this year due to the addition of new 8-week courses in several programs, some of which did not begin until mid-October.
UNIVERSITY OF NORTH ALABAMA
The University of North Alabama is an accredited, comprehensive regional state university offering undergraduate and graduate degree programsthrough the colleges of Arts and Sciences, Business,Education and Human Sciences, and the Anderson College of Nursing and Health Professions.Occupying a 130-acre campus in a residential section of Florence, Alabama, UNA is located within a four-city area that also includes Tuscumbia, Sheffield and Muscle Shoals. UNA Athletics, a renownedcollegiate athletics program with seven (7) Division II National Championships, is now a proud member of the NCAA Division I's ASUN and Big South Conferences.The University of North Alabama is an equal opportunity institution and does not discriminate in the admission policy on the basis of race, color, sex, religion, disability, age or national origin.