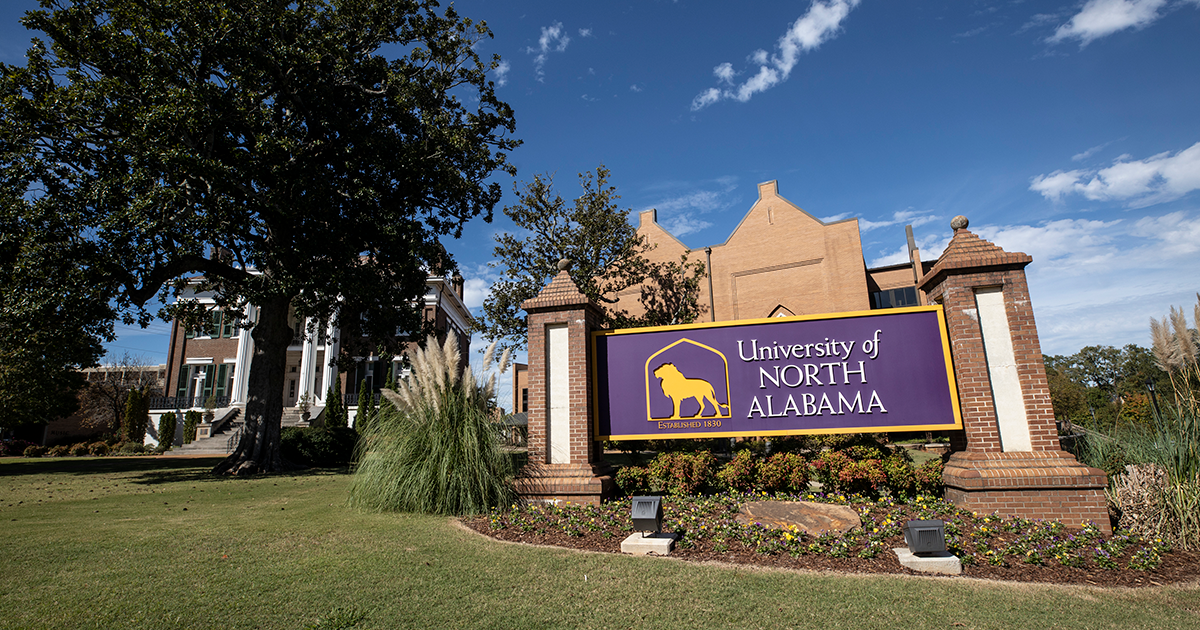 Una Alumni Award Winners Bill Erwin, Tammy Irons Honored During 2013 Homecoming Festivities
Oct. 13, 2013
Michelle Eubanks, UNA, at media@una.edu, 256.765.4392 or 256.606.2033
By Hannah Mask, Student Writer
FLORENCE, Ala. - The Office of Alumni Relations honored two outstanding University of North Alabama graduates as Alumni of the Year during Homecoming 2013.
Bill Erwin, a 1994 alumnus of the university, and Tammy Irons, a 1986 UNA graduate, were honored during the 2013 Homecoming banquet held at the Guillot University Center the evening of Friday, Oct. 11.
Erwin, a first-generation college student, was selected earlier this year to serve as Chief of Strategic Communication for U.S. Army Pacific Headquarter at Fort Shafter, Hawaii.
Erwin worked at WHNT-TV, The
Birmingham Post-Herald and a number of Shoals radio stations for three decades. He also taught public relations at the university.
"I never thought this would happen to me," Erwin said. "I am humbled.There are so many people more deserving than I am.It's a great honor."
Irons, who is also a first-generation college student, has served as an Alabama state senator since 2006. She represents District 1, which includes Colbert and Lauderdale counties.
Irons is a practicing attorney in downtown Florence and a member of the Shoals Chamber of Commerce.
"I am both honored and humbled to have been selected as Alumni of the Year," she said. "No award I have received over the years means more than being selected as Alumni of the Year of my alma mater by the people who know me the best."
Carol Lyles, UNA's director of Alumni Relations, said the criteria for Alumni of the Year include personal success, contributions to society, leadership ability, courage in adversity and love for UNA.
Additional alumni awards for 2013 include:
Lifetime Achievement: Gary Green and Edsel Holden, '57.
Community Service: Joe Cooney, '62, and Yancy Mitchell, '85.
Faculty/Staff Service: Larry Adams, '89, and Tera Kirkman, '98.
Educator of the Year: Rebecca Rockhill, '71.
Military Service: Frank Bush, '75
Friend of the University: Robert and Sylvia Ferguson
Political Service: Greg Burdine, '82, and Mac Buttram, '69
Athletic Hall of Fame: Douglass Hargett, '02, Jeff Hodges, '82, Ricky Johnson, Harvey Summerhill, '94, Nesrin Seckin, '01; and Josh Willingham.
A high-resolution photo of 2013 UNA Alumnus of the Year Bill Erwin is available for media use at:http://www.unalionsden.com/archive/photo.php?id=6967
A high-resolution photo of 2013 UNA Alumnus of the Year Tammy Irons is available for media use at:http://www.unalionsden.com/archive/img/1920/8312.jpg