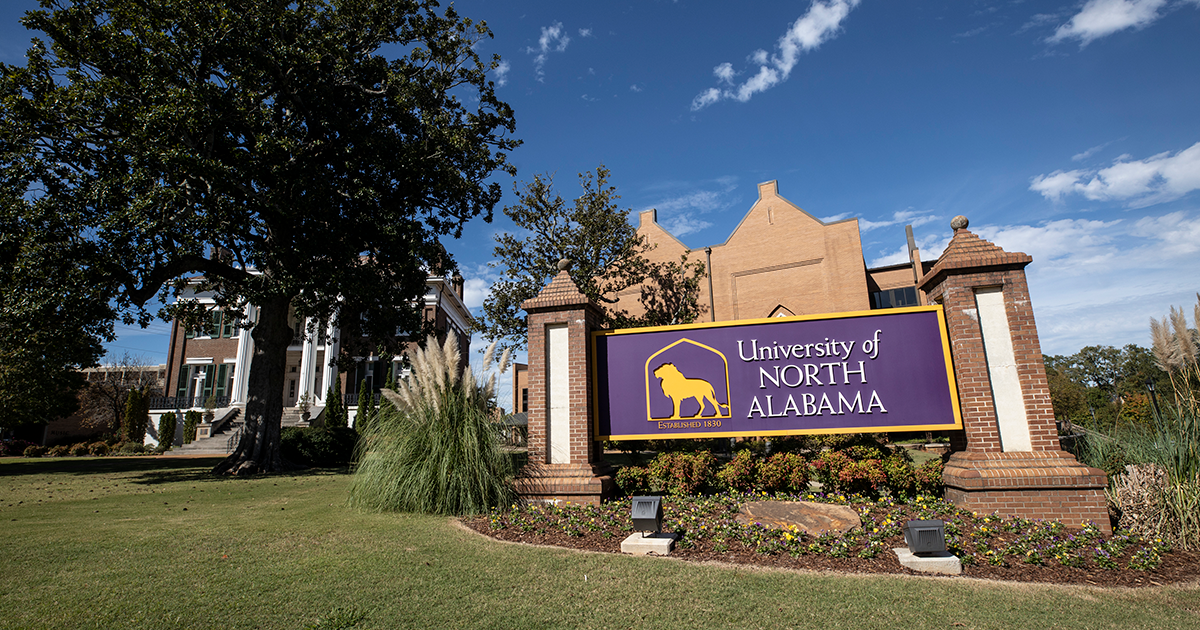 City Of Florence And Una Add Purple Pride To Campus Street Signs
Sep. 28, 2017
Michelle Eubanks, UNA, at media@una.edu, 256.765.4392 or 256.606.2033
FLORENCE, AL.- Mayor Steve Holt and Dr. Ken Kitts are pleased to announce that the street signs around the University of North Alabama will have a little more school pride thanks to a recent partnership between the City and the University. The two entities are working together to change the City street signs around campus from the standard green to UNA purple and white.
An official unveiling of the new signs will take place at 4:30 p.m., on October 4, at the intersection of Lion Drive and Pine Street. The public is invited to attend.
University officials, along with members of the UNA Student Government Association, worked with various City officials to make the dream of purple street signs a reality.
Mayor Steve Holt stated: "UNA is one of the top economic engines for Florence. I have long been a proponent of purple street signs around the University and we are excited to move forward with this project in partnership with UNA. Many thanks to David Koonce and his employees at the Florence Street Department for their design and development of the signs."
"This project is a wonderful indicator of our community's support for UNA,"said Dr. Ken Kitts, UNA president. "The new purple street signs will serve as a constant reminder that this is 'Lion Country,' and they will be a source of pride for our students and alumni for years to come," he said.
Kitts added that prospective students notice "little touches" like this as they consider making the Shoals their home and he thanked officials from the City of Florence and the UNA Student Government Association for their leadership in this collaborative effort.
At this time, twenty standard street signs will be replaced with the new UNA purple signs. Additionally, the overhead street signs on Court Street will also be replaced with purple signs from Tennessee Street to Tuscaloosa Street.