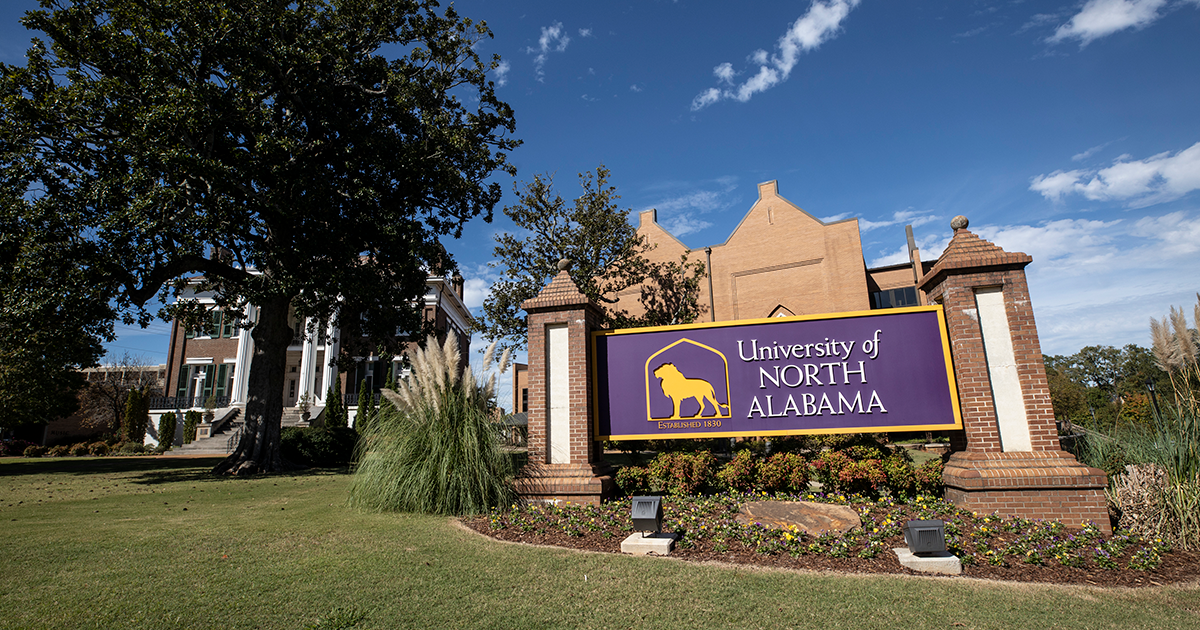 Una Student Fulbright Recipient Also Wins Prestigious David L. Boren Scholarship
Apr. 24, 2019
Michelle Eubanks, UNA, at media@una.edu, 256.765.4392 or 256.606.2033
Matthew Price
Premier National and International Awards
FLORENCE, Ala.- Barbara "Jimmie" Waites, one of UNA's four Fulbright winners this year, is also UNA's first recipient of the David L. Boren Scholarship funded by the National Security Education Program and must now choose which award she will accept.
Waites, a marketing major with minors in international political economy and innovation engineering, joins over 200 recipients nationally who will study critical needs languages in countries important to U.S. national security. Additionally, Boren recipients owe one year of federal service in an area of national security upon graduation. Waites has been awarded $20,000 to study in China at the Chinese Language Institute at Guangxi Normal University in Guilin.
Boren scholars use the scholarship to primarily study language, and Waites admitted that was her focus.
"My Mandarin studies are limited in the States, so I knew I had to apply to an immersive language program to improve my fluency," she said.
With greater Mandarin fluency, she hopes to work in national security as an International Trade Specialist for the Department of Commerce.
"All Boren Scholars must fulfill their government service, in exchange for their scholarship funding," Waites said. "To get a leg up in the federal sector, I knew I had to set myself apart from other applicants and the Boren Scholarship allows me to do that."
During her year in China, Waites will study Mandarin as well as Chinese politics, economics and culture.
This was Waites' second time applying to the scholarship, andDr. Matthew Price, Director of Premier National and International Awards, said that Waites' perseverance paid off between applications.
"Jimmie was an alternate last year which was really impressive," he said, "but she kept working on her application materials and her hard work paid off."
This scholarship will afford Waites opportunities to build her knowledge and experience regarding policy as well as service.
"The Boren award provides a serious leg-up to those interested in pursuing public service," said Dr. Leah Graham, associate professor of political science with a specialty in international affairs.
As a Boren scholar, Waites will get the benefit of working with staff at the National Security Exchange Program who are dedicated to job placement in an area of national security.
Waites said it was a long road to becoming a Boren Scholar.
"Three years ago, Dr. Price reached out to me and told me that I should apply for the Boren Scholarship. Curious, I researched the program. When I started reading the applicant credentials for this scholarship, I felt inadequate and dropped out of the running."
However, she said Price kept encouraging her to apply.
"The following year, Dr. Price reached back out to me and told me I needed to apply for the Boren scholarship and would not let me drop out this round, and I became an alternate and I felt defeated."
Over the summer, Price took her application to a conference with Boren committee members to get feedback and see how to improve the application the next year.
"Dr. Price really went out of his way here," Waites said. "We took this feedback and used the resources from my prior Boren application and crafted a winning application. Dr. Price believed in me three years ago and helped me reach my potential by encouraging me to apply for these prestigious scholarships that I did not feel adequate to apply to. Without the assistance and support from Dr. Price, I would have never applied for the Boren Scholarship, let alone be a Boren Scholarship Recipient."
While winning a Boren Scholarship is an amazing feeling, Waites is now faced with a dilemma: She has to choose between either Fulbright or Boren.
"When I was making my post-graduation plans, I planned as if I would not be awarded the Boren or the Fulbright scholarship," Waites said. "I never fathomed being awarded even one of the scholarships, so being a recipient of both is sublime. This is an extremely difficult decision. They are both wonderful, prestigious scholarships that will positively impact my academic and career journey."
Waites will make a decision by the end of April, but in the meantime will celebrate these two amazing achievements.
Price said that Jimmie "should take her time and celebrate her hard work and know whatever choice she makes, she will make a lasting impact on the world."
For students interested in applying for the Boren Scholarship or Fellowship, please contact Dr. Price atmprice2@una.edu.
UNIVERSITY OF NORTH ALABAMA
The University of North Alabama is an accredited, comprehensive regional state university offering undergraduate and graduate degree programsthrough the colleges of Arts and Sciences, Business,Education and Human Sciences, and the Anderson College of Nursing.Occupying a 130-acre campus in a residential section of Florence, Alabama, UNA is located within a four-city area that also includes Tuscumbia, Sheffield and Muscle Shoals. UNA Athletics, a renownedcollegiate athletics program with seven (7) Division II National Championships, is now a proud member of the NCAA Division I's ASUN and Big South Conferences.The University of North Alabama is an equal opportunity institution and does not discriminate in the admission policy on the basis of race, color, sex, religion, disability, age or national origin.