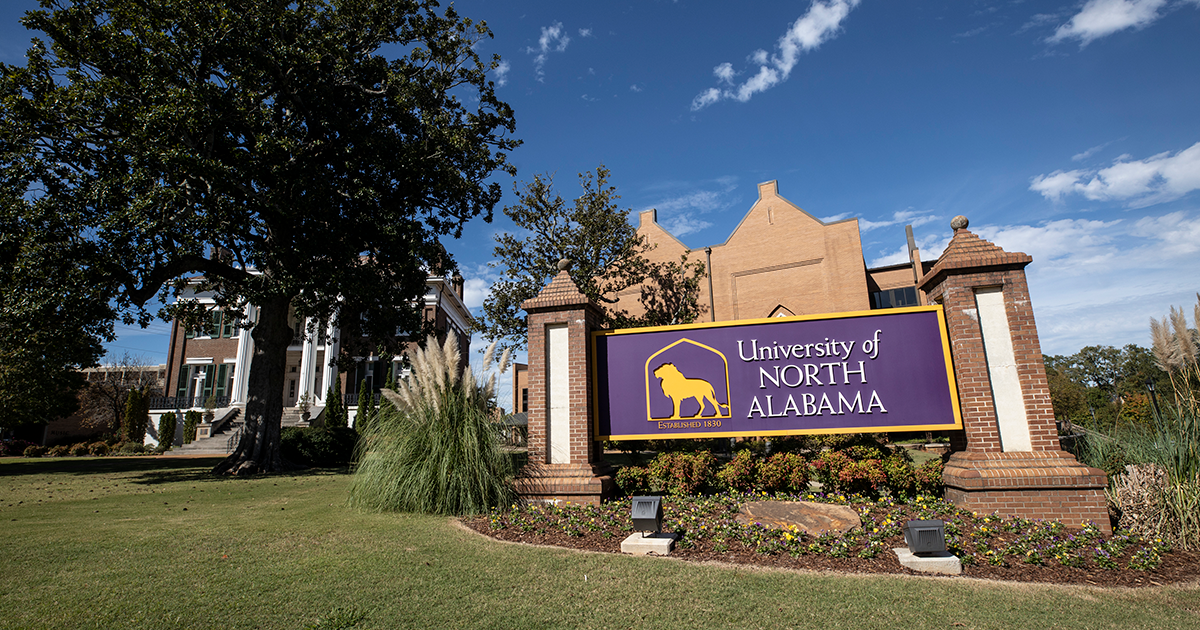 Una Alumna Nails It On Popular Netflix Reality Show
Jun. 10, 2019
Michelle Eubanks, UNA, at media@una.edu, 256.765.4392 or 256.606.2033
FLORENCE, AL - It wasn't Emily Cook who made the first contact with producers of the popular Netflix reality television show "Nailed It." It was her sister. In fact, the University of North Alabama alumna never really saw herself - or her baking skills, for that matter - as up to the challenge of a show like "Nailed It."
Not too long after that initial email, however, Emily found herself having a Skype interview and submitting a nine-minute video of her cooking an Easter cake that she would then take to her grandmother's house in Myrtle, Miss., where Emily lives.
"I guess it all started in March of 2018, and, by the middle of June, the producers had called to tell me they wanted me on the show," she said. "It was a fast process. They wanted me to fly out to Los Angeles, and they filmed our episode over three days. It was a cool experience to film a TV show, one I never thought I would have."
Each episode of "Nailed It" features three home bakers with a terrible track record taking a crack at re-creating edible masterpieces for a $10,000 prize. While the projects don't always come out looking like their inspiration, whichever amateur baker comes closest to a successful dessert by the end of the episode takes home the cash. Comic and actress Nicole Byer, along with renowned pastry chef Jacques Torres, host the culinary competition. "Nailed It" is in its third season on Netflix.
In addition to "Nailed It" being Emily's first time on a reality show, something she says has made her into a short-lived television star, it was also her first time to travel via airplane and to visit California.
"You know, I had to calm down because I was really nervous," she said. "But I had to focus on the show and cooking. On the day we filmed the competition, I knew I needed to read the instructions thoroughly, but I still forgot to grease the pans I was using."
Emily's "Nailed It" episode is "Cake-O-Phobia," and, as part of it, she had to create a bug cookie as well as a creepy clown cake.
"Our episode is all about phobias," she said. "I was able to choose the wasp cookie, and I hate them because I'm allergic to them. But I won that challenge, so I got to wear the 'Nailed It' Baking Gold cap. Next, we had to bake the clown cake, and I won that challenge, too. It was really difficult because it had to be pink and blue and cotton candy-flavored. I was worried about getting that right, so I forgot to grease the pans."
Along with the prize money, Emily also got bragging rights of being called the "Nailed It" champion. And while she's not exactly sure what she plans to do with her prize winnings, she said the $10,000 could help cover her student loans for the history degree she earned while at UNA. She graduated in December of 2018.
"I am thinking about teaching high school and then getting my Master's in history to, potentially, teach at the college level," Emily said. "But looking back on the experience, I would say I'm a better baker because of it. I now know that hot water can be used to fix a lot of things, such as melting better for buttercream icing."
To view the entire episode, follow this link: https://g.co/kgs/RbB9rS
About The University of North Alabama
The University of North Alabama is an accredited, comprehensive regional state university offering undergraduate and graduate degree programs through the colleges of Arts and Sciences, Business, Education and Human Sciences, and the Anderson College of Nursing and Health Professionals. Occupying a 130-acre campus in a residential section of Florence, Alabama, UNA is located within a four-city area that also includes Muscle Shoals, Sheffield, and Tuscumbia. UNA Athletics, a renowned collegiate athletics program with seven (7) Division II National Championships, is now a proud member of the NCAA Division I's ASUN Big South Conference. The University of North Alabama is an equal opportunity institution and does not discriminate in the admission policy on the basis of race, color, sex, religion, disability, age, or national origin. For more: www.una.edu and www.una.edu/unaworks/